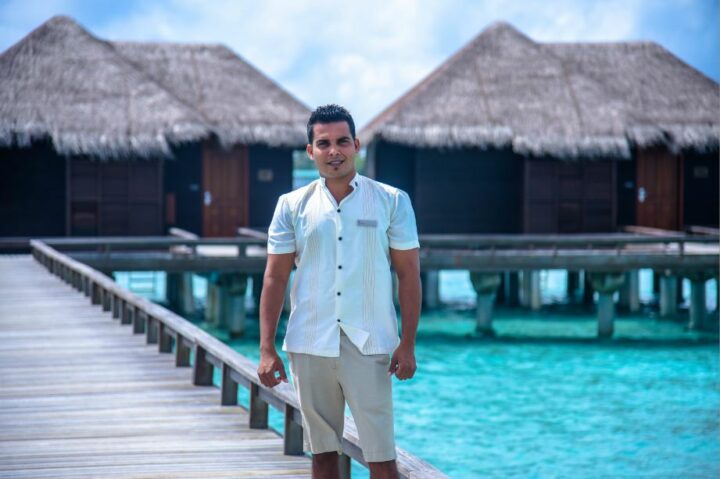 Mohamed Shameem, Housekeeping Supervisor, Sheraton Maldives Full Moon Resort & Spa
Dedication, hard work and perseverance are essential in order to advance on the corporate ladder, and Mohamed Shameem has it all. Born in 1989 in Nadella Island of Gaafu Dhaalu Atoll, Shameem always had an interest to work in the hotel industry. Since his time undergoing secondary education, Shameem had a dream, to one day work in the tourism industry, specifically in the housekeeping department. And it was the qualities of dedication, hard work and perseverance that allowed him to conquer every challenge and fulfil his aspirations to not only work, but become a success and an inspiration to others in the hospitality industry.
The story of Shameem is interesting in more ways than one; it was not just a dream he finally fulfilled, but one he tackled without any prior education or training. Imagine setting out on a journey, leaving everything behind, and pursuing a passion without any previous knowledge in the field. Shameem's first job was an administrative post at the Island Court on his home island. During his time, he searched for opportunities that would take him on a ride towards fulfilling his dream of one day making it in the hospitality industry. It was December 2010, when such an opportunity came knocking on his door.
His first job in the hotel industry was as a Public Area Attendant at Sheraton Maldives Full Moon Resort & Spa. "I chose to join Sheraton Maldives due to the many opportunities for growth provided by the property. It was the perfect place to build a career in the industry. And I am very proud to work in an international hotel chain," says Shameem.
It was time for Shameem to build a career, and without any previous experience, it was baby steps, hard work and non-stop training that helped him carve himself into what he is today. Reaching and fulfilling goal after goal was an uphill battle, and making it to the post of Housekeeping Supervisor at an international hotel brand is no easy feat.
After one and half years working as a Public Area Attendant, Shameem was ready to take on the next step. After discussing with his superiors, Shameem began learning the tradecrafts of the housekeeping team and room attendants. "It was not easy. Yes, I was allowed to do cross training as a room attendant, but only after fulfilling my duties and responsibilities as a Public Area Attendant. So, every day after attending my official duties, it was time for training to become a Room Attendant," he says.
"I was training hard, asking questions and learning everything about housekeeping. Yes, it was a busy schedule, but soon, I was confident that there were more ways I could serve my superiors and the management," he adds. Soon, he would bag another milestone in his career, as a vacancy opens up in the Housekeeping Department. Shameem was promoted to the post of Housekeeping Room Attendant, and with that, he started on his next mission.
"I never wavered in my mission. Again, it was time for hard work. I needed to prove myself to my colleagues, supervisors, the management, and more importantly to myself. My focus was on delivering what was required of me, and training to become better every day. Sheraton Maldives is the best place to build a career in, and I believe that nothing will be handed down to me unless I work hard and earn it," Shameem explains his resolve.
All the hard work and dedication was realised two years later when Shameem was promoted as a Senior Room Attendant. But he was not ready to settle down yet and took it upon himself to learn and train himself for his next target. Again, it was self-education, of course with the help of his colleagues and superiors. "It was all about asking questions and learning what my supervisors were doing," he explains.
Only after six months serving as a Senior Room Attendant, once again Shameem's perseverance pays off, as he is promoted to his current position as a Housekeeping Supervisor. "It's not about being perfect, but all about putting an effort. When you put your best every single day, that when you move forward. I believe that's how you move up the corporate ladder," says Shameem.
What does it take to be a good supervisor? I ask Shameem. "It is about developing your team and instilling strong communication skills. Without the ability to communicate your desires clearly, your staff would not know how to accomplish the tasks you delegate to them. They look at you for inspiration," he replies.
"If you seem fearful, then your staff will assume you don't know what you're doing, which will lead to a negative workplace. But if you display confidence and positivity, then your staff will see you as a skilled leader, and your team will be able to effectively complete their tasks. The most amazing feeling is when you get positive feedback and respect from your co-workers, and the encouragement you receive from your managers and the management."
As the housekeeping supervisor, Shameem now carries huge responsibilities on his shoulders; ensure the guest rooms are clean, orderly and attractive; supervise, assign duties and inspect the work of his teammates, investigate complaints and take corrective action, and ensure all housekeeping supplies are in stock. It also encompasses training new staff, preparing assignments, and coordination between the other departments.
"As the housekeeping supervisor at Sheraton Maldives, my foremost and final duty is ensuring that our guest rooms are in top-notch before guests arrive. My job is to ensure that our guests are satisfied with their stay at our property," he says.
Shameem is currently training himself under his next target, to climb the next step in his journey and become an Assistant Manager in the Housekeeping Department. He is currently fulfilling the duties of the Housekeeping Coordinator and the Minibar Supervisors when they are unavailable.
"At Sheraton Maldives, we have a very helpful management, especially for those who seek to grow, by providing plenty of opportunities to build their careers within the company. Through this opportunity, I would like to express my heartfelt thanks to my management for the trust they have in me and my work, and for the opportunity to grow," he says.
But that's not all when it comes to moving forward. "A dream doesn't become reality through magic. It takes sweat, determination and hard work," he adds.