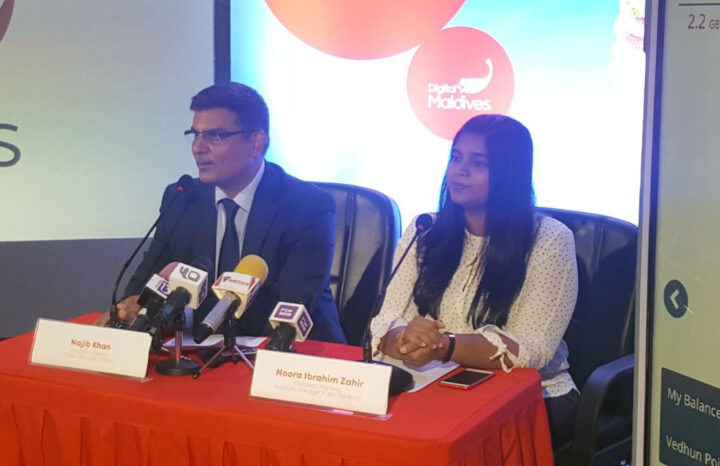 Ooredoo gives customers freedom to create custom mobile plans
Telecom provider Ooredoo Maldives has launched Magey Plan, its new digital platform which gives customers the complete freedom to create their own customised mobile plans, as per their communication needs.
"Our commitment to Digital Maldives is to enable new conveniences and life-enriching experiences through digital technology," says Najib Khan, Chief Executive Officer of Ooredoo Maldives.
"The launch of Magey Plan is another important milestone in this journey, as it provides a first of its kind flexibility to local customers. Through our digital platforms on the web and mobile app, customers are now able to create a 100% customisable solution for their communication needs, which brings unprecedented convenience and value for money."
To ensure inclusive access to our customers across the Maldives, Ooredoo Magey Plan can be used by anyone, at any time through My Ooredoo portal on the company's website. The service will also be available on My Ooredoo App within a few days, on both iOS and Android. Both prepaid and post-paid customers can benefit from this flexible solution which allows them to pick and choose their every requirement, from data, calls, SMS and even IDD, Ooredoo Maldives says in a statement.
How to use Magey Plan:
Log onto My Ooredoo, and click on Magey Plan icon.
Select mobile data allowance, available between 100 MB to 1000 GB.
Choose your requirements for local calls, up to 20,000 minutes each for on-network and off-network.
Select SMS requirements, up to 25,000 SMS.
The validity of data, calls & SMS can be selected individually. This includes 1 day, 3 days, 7 days, 15 days or 30 days
Magey Plan gives exclusive benefits for IDD callers with a special IDD rate of just MVR19.
The total charge for customised Magey Plan can be viewed as you customise your plan. To activate, tap on "Create Magey Plan".
For more information on Magey Plan, visit ooredoo.mv/mageyplan
Ooredoo Maldives provides a wide range of innovative voice and data services tailored to the growing needs of today's consumers and businesses. Guided by its vision of enriching people's lives and its belief that it can stimulate human growth by leveraging communications to help people achieve their full potential, Ooredoo has transformed the telecommunications industry for the people of the Maldives.