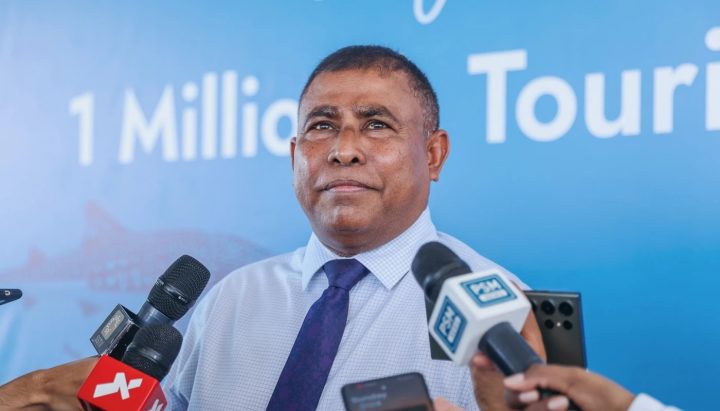 Priority is to boost tourism revenue, socioeconomic benefits, minister says
Tourism minister Dr Abdulla Mausoom said on Sunday that the priority is to increase the revenue generated from tourism to the state and the socioeconomic benefits of tourism to the people.
Speaking to reporters after a ceremony held at Velana International Airport (VIA) Sunday morning to welcome the one millionth tourist of the year, Mausoom said that although the government keeps track of tourist arrival numbers, the priority is to boost the revenue and socioeconomic benefits of tourism.
"How much revenue does the state earn? How much in tips and service charge do employees get? How much profit the government gets from the rest of the industry? Those are the aspects we need to pay attention to," Mausoom saids.
Mausoom said despite a slight downturn in the number of tourists in May, tourist arrivals have bounced back, with the number expected to increase even further in the coming months.
Maldives on Sunday welcomed the one millionth tourist of the year.
Britain's Anton Pavlov became the one millionth tourist of the year when he arrived with his wife and son on a British Airways flight Sunday morning. The family will spend a two-week-long vacation at Vakkaru Maldives resort in Baa atoll.
As per the latest figures released by the tourism ministry:
On an average, 5,102 tourists arrive in the Maldives every day
Tourists spend an average of 7.7 days in Maldives
38 international airlines operate scheduled flights to Maldives
The top five source markets are:
India – 115,837 tourists
Russia – 115,334 tourists
UK – 83,942 tourists
China – 74,348 tourists

Germany – 68,484 tourists
According to the ministry, there are 1,251 tourist facilities with 60,942 beds in operation.