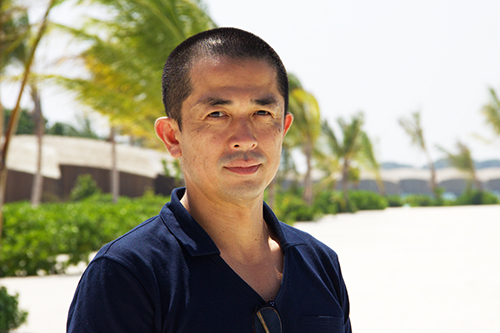 Profile: Yuji Yamazaki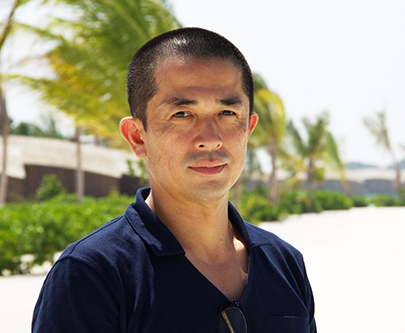 Enjoying the distinction of being the architect of the world's first 100% solar-powered luxury resort.
The Japanese-American, Yuji Yamazaki designed the five-star Club Med Finolhu in the Maldives, a landmark green resort opened for business in late January.
Yuji was born and raised in Tokyo. Grow­ing up in the midst of a construction boom in the 1970s, architecture and design played a formative role in Yuji's childhood.
"Construction has always been in my life. My father is a contractor," he noted.
After finishing high school, Yuji moved to the United States to attend the School of Visual Arts and Fashion Institute of Tech­nology, State University of New York, and he earned a Bachelor of Fine Arts degree.
Early in his career, Yuji discovered a gift for architecture and mulled over a change from interior design.
Yuji later studied architecture and be­came a licensed architect in New York State, as well as earning a Master's de­gree of landscape design from Columbia University.
As an associate at Janson Goldstein, Yuji created projects for Giorgio Armani, W Hotel, The Breakers Hotel and Calvin Klein. His projects at Vignelli Associates included the Roma Termini Station, the Harbor Circus in Kobe, Japan, au­ditorium seating design for Walt Disney Concert Hall in Los Angeles, the Murano Glass exhibition, Millennium Message art installation for the Smithsonian Institu­tion, and train car interior design for Fiat.
Yuji went on to establish his design firm YYA (Yuji Yamazaki Architecture PLLC) in New York and is currently working on projects throughout the world.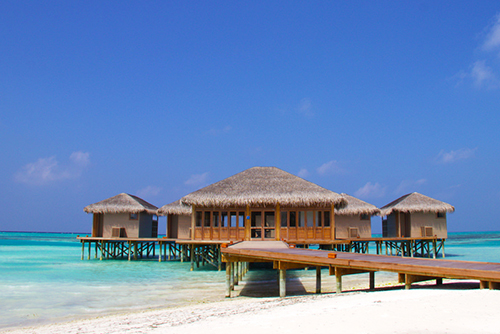 FINOLHU PROJECT
In 2010, Yuji made the acquaintance of tourism pioneer 'Champa' Hussain Afeef while on vacation in the Maldives at the latter's Meeru Resort.
Two years later, Yuji received a call from Afeef with an offer to work on the Finolhu project.
"At first I couldn't believe such a big oppor­tunity Mr Afeef was giving me," he recalled.
"But at the same time I understood what he wanted to bring to this project. He wanted somebody from outside because he knows many architects from this region. He has built so many resorts so he can do easily without my help. This time he want­ed to do something new and different. So that made me very excited."
Yuji felt "fortunate and lucky" to be in­volved in the project, "although I have worked on city hotel projects such as W Hotel in New York and the Andaz Hotel in LA, I've never dreamed about designing on this scale – an entire island," he said.
In the course of the development, Yuji made 13 trips to the Maldives, ranging from short visits of two days to longer stays lasting weeks.
Yuji also travelled to Bali, Indonesia to supervise the fabrication of furniture for Finolhu, which was designed by French designer Mariam Hall.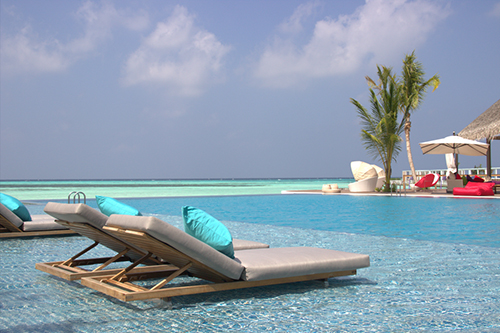 GREEN SUSTAINABLE DESIGN
One of the first things Afeef told Yuji was his intention of making Finolhu fully solar powered.
"So in terms of design and architecture, I had to take the clean energy aspect into consideration," Yuji said.
"If you look at the guest rooms, all the walls are thick and highly insulated, thermally insulated so that when they use air-condi­tioning the cool air stays in."
In addition to thicker roofs to keep the heat out, Yuji noted the placement of vertical fences that cast a shadow on the rooms, reducing inside temperature by five degrees.
"So again that helps reduce the consump­tion of energy. It looks good. But every ele­ment has a function," he explained.
Other energy-saving measures include the use of LED and compact fluorescent bulbs as well as shutting off major air-condition­ing and lights by motion sensors.
The shape of roofs become the icon of the resort. The roofs of the rooms and other buildings meanwhile have an eye-catch­ing, curved shape – a unique or distin­guishing feature Yuji hopes guests would find memorable.
"The guest room has this nice, gentle curve and the reception has a wave. People can vaguely associate it with the Dhoni (Mal­divian boat), coconut palm leaf, or some shelled creature that crawls on the beach," he suggested.
Yuji expressed satisfaction with the overall design and observed that the resort's jetty has a "very futuristic look."
"For the purpose of structural stability, we chose steel, white steel frame and flat, clear glass photovoltaic panel just to have a contrast, but once we're in the island we wanted to use more natural material like wood and thatch," he explained.
Incorporating solar panels while avoiding industrial-looking structures was a chal­lenge, Yuji added.
"The idea was to welcome customers with solar panelled canopy when they arrive, so it was important to have it there but at the same time without being too industri­al-looking, but more Maldivian, more invit­ing," he said.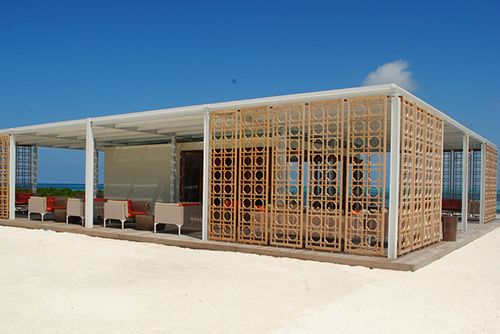 A TEMPLATE FOR THE FUTURE
A decision was made early on to keep the solar panels front and centre instead of hidden from view, Yuji continued, af­ter which it was determined that 67,000 square feet of the island would be devoted to the panels.
"I hope that this is going to be the template moving forward in the future of the Mal­dives. If you can dedicate 12% of the land space it can be done," Yuji suggested.
Solar panels with a storage battery gen­erating 900 kilowatts on an average sun­ny day are sufficient to provide electricity for 100 guests and 100 staff, in the case of Finolhu Villas.
Yuji noted that this ratio of 200 people oc­cupying a 12.6-acre island is about same population density as Miami, Florida.
"If they can dedicate 12% of roof space, it is possible to have 100% renewable ener­gy from solar panels in Miami. But the USA has a more complicated municipal pro­cess. In Maldives however, it is simpler and takes only a commitment from a business­man like Mr Afeef to realize the project on this scale," Yuji said.
Noting the likelihood of technological ad­vances for solar energy in the future, Yuji said he liked "the idea of unfinishedness" of Finolhu.
"This is just a snapshot of 2014. This solar panel resort is a work in progress. Maybe next year or two years from now they will come up with better solar panel systems, smarter batteries," he said.