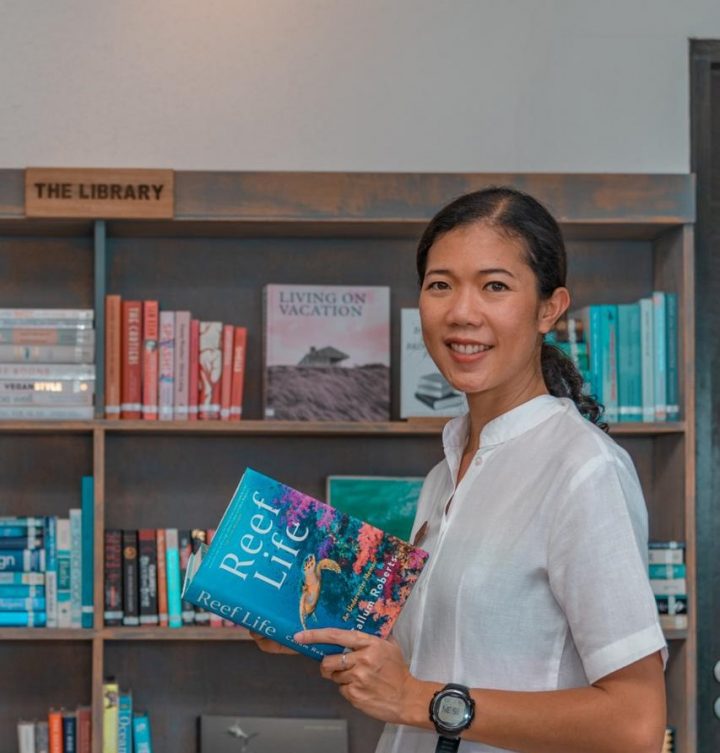 Sarocha, Sustainability Manager and Resident Marine Biologist at Grand Park Kodhipparu
Resting within the crystal waters of Northern Male' Atoll, Grand Park Kodhipparu is strongly committed to achieving environmental and socio-cultural sustainability. They strive to practice internationally recognised best practices in sustainable hospitality and tourism in order to achieve gradual development in their environmental and socio- cultural performance.
One of their quite notable as well as impressive achievements include receiving The Green Globe certification for the second year in a row. This certification is a structured assessment of the sustainability performance of the hospitality industry. Grand park Kodhipparu hopes to be one of the leading sustainable and responsible tourist destinations.
In addition to this, they also conducted several projects since the opening of the resort in 2017 for their sustainability performance such as coral plantation, water preservation and recycling. To aid in this, Grand Park Kodhipparu hired Sarocha Pakeenuya as sustainability manager and resident marine biologist as of May 2021.
Hailing from Thailand, Sarocha has always wanted to explore marine creatures from across the world. Hence the job at Grand Park Kodhipparu is the opportunity of a lifetime for her. Visits to the beach with her father every summer sparked her interest about life in the ocean and the more she dove into marine life the more fascinated she became. The interest for marine life grew and it led to the need for her to get closer to the ocean and observe life under the water. This was achieved through diving which she started in 2010.  Currently, with the aim of teaching sustainable tourism practices to tourists, she is working on responsible snorkelling in collaboration with the dive centre by elevating responsible snorkelling and diving practices. This takes them one step forward on the road to achieving 'Responsible Manta tour operator' from Manta Trust.
When asked, she mentioned her best quality as passionate and elaborated by saying that she is passionate about marine creatures and sustainability and that she tries to increase sustainability to minimise negative impact on the environment. Her career started in 2017 at Four Seasons Resort Koh Samui as a way to introduce herself into work related to marine life. At this resort she was offered a new position and she took this chance to establish a coral restoration and conservation project. This fuelled her passion to share marine conservation work with people from around the world. These events lead to a realization that the most efficient and effective yet from a completely different angle is to work sustainability in the hospitality sector.
Some of her previous experiences include working as a projects manager at the Phuket Hotels Association and Project coordinator at the Deutsche Gesellschaft für Internationale Zusammenarbeit (GIZ). During her third year of Marine Biology at Chulalongkorn University she joined the Reef Biology Lab. The main focus of this lab was on coral propagation and sexual reproduction. She worked alongside her professor senior students by helping them collect data, conduct experiments, and analyse data on lab projects for their thesis. Even after her graduation she continued to work alongside her professor as a research assistant. On top of this she also volunteered at the Mobulid Fishery Project and Ecological Assessment Consultancy for the Government of Philippines.
At Grand Park Kodhipparu she is currently working on a coral restoration and a waste management project. Her project is based on the gardening concept of restoring coral reef through asexual propagation to increase coral coverage and complex structure. Coral frames are beneficial as they can grow coral in places where coral would have been unable to grow, such as sandy areas. Thus increasing coral cover and providing a habitat for fish and invertebrates. An interesting thing that she found was the reef around the island and she found a lot of new coral recruitment in this area.
Her advice to people aspiring to work in the same industry is to "never give up and to let your passion for marine life and conservation be your motivation". This is her secret to being fully satisfied with her career.