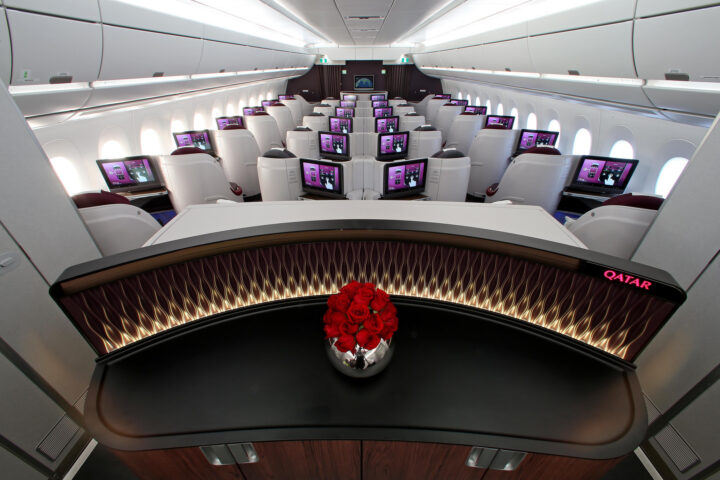 Qatar Airways Group reports higher profits for 2016
Qatar Airways Group has announced a 3 billion QAR operating profit for fiscal year 2016 – nearly three times higher than fiscal 2015 profit of 1.1 billion QAR, resulting in an 8.6 per cent operating profit margin, up nearly six percentage points from the previous year.
The company reported a net profit of 1.6 billion QAR, resulting in a net profit margin of 4.5 per cent. Net profit for fiscal 2015 was 1.1 per cent, at 374 million QAR.
According to the airline, Qatar Airways growth rate (CAGR) in ASK term since the relaunch in 1997 to 31st March 2016 is 28 per cent.
"Qatar Airways continues to lead the industry in all aspects of the business, from our strong financial performance to our award-winning on board product. Our fiscal 2016 year was the best yet for Qatar Airways Group, and our results reflect the discipline and dedication of the more than 39,369 men and women who proudly represent our airline and its associated brands," said Akbar Al Baker, Group Chief Executive, Qatar Airways.
For the year ending March 31, 2016, Qatar Airways Group reduced its expenses 1.5 per cent and increased its cash and bank balance from 5.5 billion QAR to 12 billion QAR, despite the significant growth in operations and an adverse movement in foreign currency exchange.
Over the course of fiscal year 2016, Qatar Airways added 13 new destinations and increased its overall network to more than 150 destinations on six continents. The airline was also the global launch customer of the Airbus A350XWB, the most technologically advanced aircraft in the world, and was the first commercial airline to fly it to the United States. A350 serves three continents; North America, Europe and Asia.
The airline also celebrated delivery of its 25th Boeing Dreamliner, and now operates a fleet of 29 Boeing 787s. Celebrating another milestone in the fleet, the airline celebrated the delivery of its 50th Boeing 777, the backbone of its international network.
Qatar Executive, the private jet division of the Qatar Airways Group, became the launch customer of the Gulfstream G650ER, the world's largest and fastest aircraft of its size. Qatar Executive now has two G650ER aircraft of the total order for 30 Gulfstream family aircraft.
Qatar Airways' home and hub, Hamad International Airport (HIA), served a record number of travellers for the calendar year 2015, its first full year of operations, with more than 30 million people served, while simultaneously being named Middle East Best Airport for the second year in a row, and for being the first Middle Eastern airport to be named to Skytrax's World's Top 10 Best Airports.
HIA, managed by Qatar Airways Group, also introduced a new mobile app to help travellers navigate through the shopping, dining and other experiential opportunities that await them at the airport, and continue to advance the use of technology to create a "smart airport" that puts more control into the hands of the traveller.
Qatar Airways Cargo had a record-setting year, growing to third-largest cargo operator in the world as of October 2015, and continuing to expand both its fleet and product line-up. Over the course of fiscal 2016, Qatar Airways Cargo increased its dedicated freighter destinations to 54, adding Dallas, Budapest, Prague, Ho Chi Minh City, and New York to the network. In addition, with the airline's commercial growth, QR Cargo increased available tonnage world-wide by double digits this year.
Qatar Airways also launched flights to a number of high profile destinations during fiscal year 2016, including daily flights to Los Angeles in the United States and Sydney in Australia, further strengthening its overall route network relevancy to travellers world-wide. The airline's connectivity to the United Kingdom also increased to 73 weekly flights with the addition of Birmingham, its fourth United Kingdom destination.
Closer to home, the Doha-Dubai Shuttle was introduced, the first-of-its-kind flying between the two cities, a customised service responsive to the specific needs of this heavily trafficked corridor.
According to the airline, 17 new destinations will be launched in the 2016/2017 fiscal year.
Qatar Airways, the national carrier of the State of Qatar, is one of the fastest growing airlines operating one of the youngest fleets in the world. Now in its 19th year of operations, Qatar Airways has a modern fleet of 186 aircraft flying to more than 150 key business and leisure destinations across six continents.
Qatar Airways is a member of the oneworld global alliance. The award-winning alliance was named the World's Best Airline Alliance 2015 by Skytrax for the third year running. Qatar Airways was also awarded World's Best Business Class, Best Business Class Airline Lounge and the Best Airline Staff Service in the Middle East at the Skytrax World Airline Awards 2016.
Qatar Airways was the first Gulf carrier to join global airline alliance, oneworld, enabling its passengers to benefit from more than 1,000 airports in more than 150 countries, with 14,250 daily departures.
Qatar Airways Cargo, the world's third largest cargo carrier, serves more than 50 exclusive freighter destinations worldwide via its Doha hub and also delivers freight to more than 150 key business and leisure destinations globally on 186 aircraft. The Qatar Airways Cargo fleet now includes eight Airbus 330Fs, nine Boeing 777 freighters and two Boeing 747 freighters.