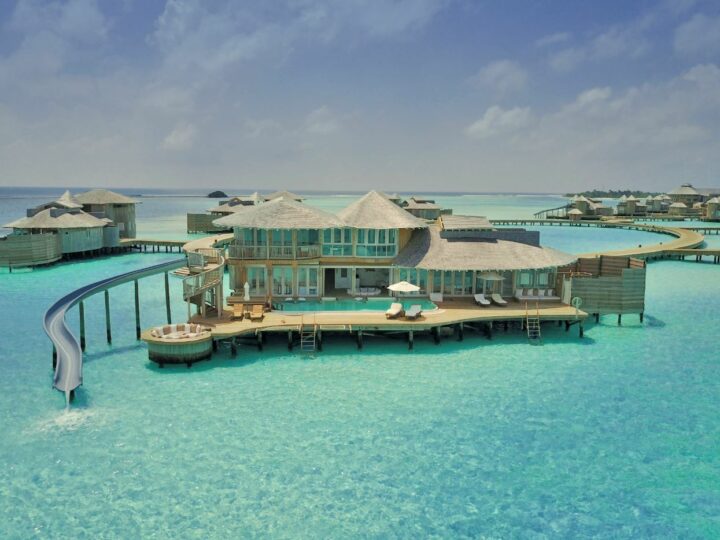 Riyan
The name itself portrays an important aspect in architecture: Riyan (27") is the most convenient size traditionally used in architecture and primary linear measurement in building houses and boats. And it is at the core of the services offered at Riyan Pvt Ltd – a multi-disciplinary consultancy firm based in the Maldives – with over 22 years' experience under its belt.
Riyan was the fitting name to describe the services of five young graduates, with their intent on filling a gap in the design service sector which relied heavily on foreign consultancy firms at the time. Riyan Pvt Ltd (Riyan Design & Management Consultants Pte Ltd) was formed in 1997 as the answer to the shortage of locals specialising in architecture, engineering, quantity surveying, building services engineering, project management, etc.
Developments in the country at the time was booming; development of islands as tourist establishments was on the rise, while other projects such as schools, water & sewerage network, and harbour development in local islands were also ongoing. "All of these projects were overseen by foreign consultancy firms then. The opportunities for local talent to excel were limited," says Ibrahim Hameez, the Managing Director of Riyan Pvt Ltd.
The idea was to build local talent to take over the services provided by foreign parties, and today it is an idea that has proven to be one of the leading multi-disciplinary consultancy firms in the Maldives, providing design services combined with effective project management solutions. Over the past two decades, Riyan has reached many heights, expanding its capacity in terms of its service portfolio and human resources.
What started as a design solutions provider has today evolved into one that delivers the full cycle of services under one umbrella. Employing around 45 technical staff including engineers, architects, quantity surveyors and project managers, in addition to 20 associate consultants, 15 site-based engineers and 14 support staff, Riyan has one of the largest pool of professionals in the built industry in the Maldives.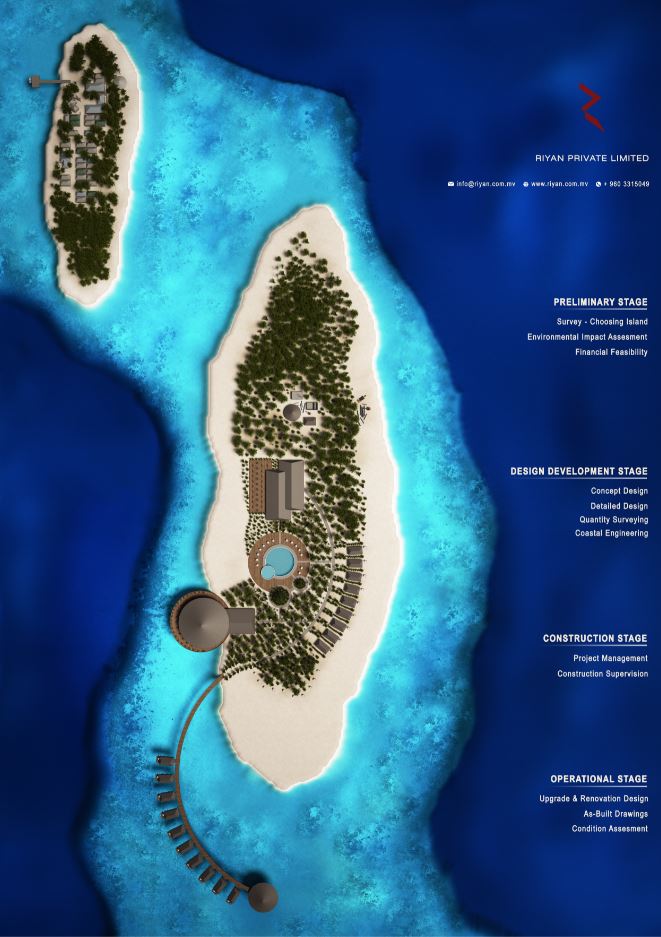 "Our biggest strength lies in our capacity to provide complete multi-disciplinary consultancy services to existing resorts in need of refurbishments and new resort development projects," says Hameez. "Our teams are equipped with the knowledge of the location and environmental conditions of the islands, and with the expertise to determine the best possible location for a new resort development project, and the best-suited development strategies for the island of choice."
In an industry where due diligence is vital to avoid a potential nightmare during construction and the operation of the resort, Riyan excels in offering a full consultancy package backed by experience and knowledge. "For instance, for a new investor, or for an already established one, a full spectrum of services by a well-established local firm is vital for the success of their project. And that is exactly where Riyan comes in," Hameez explains.
With some of the biggest names in the hospitality industry in its portfolio, Riyan has been involved in some of the largest resort development and refurbishment projects in the country. Some of its notable projects include those with One&Only, Soneva, Amari, Robinsons and the new resort development project in Bolidhuffaru Lagoon.
Located in South Malé Atoll, the ongoing project in Bolidhuffaru Lagoon will see the development of a five-star plus luxury property by Vita Heights, part of Dubai-based DAMAC Properties. For the approximately 32 hectares' project, Riyan provides consultancy in master planning, architectural, structural engineering, MEP engineering, interior design, and ICT and security system, in addition to landscaping, and project management services.
Riyan is currently engaged in the concept design, architectural, structural and MEP design for a renovation project in Soneva Fushi located in Baa Atoll as well as the two new property of Soneva Jani & Soneva Secret Soneva has been a long-standing client of Riyan, with the company providing detailed designs for the proposed additional rooms for Soneva Fushi resort in 2004. [In 2014, Riyan also worked with the ONYX Hospitality Group on the development of Amari Havodda Maldives in Gaafu Dhaalu Atoll. Riyan provided the conceptual and detail design along with the consultancy services for the approval of the design for the five-star, 240-bed property built on a 10-hectare island.
Riyan strongly believes in sustainability, the community and human resource development. When it comes to sustainability, Riyan is working to attain the Leadership in Energy and Environmental Design (LEED) certification—an internationally recognised green building certification system—to ensure all its works are on par with best environmental practices.
Design Consultancy for Amari Havodda

Design & PM consultancy for a new resort development project in Bolidhuffaru Lagoon
For Riyan, its human resource development work commenced with the inception of the company. It has been instrumental in building an educated and trained workforce, investing in human resource development while acquiring the technical expertise required to deliver its services.
"Our internship programme is possibly the most sought after in the field. We have been instrumental in building some of the most acclaimed professionals in the industry today. It is a proud fact that nearly 90 per cent of our staff started as interns, and climbed up to become industry professionals," Hameez adds.
In 2018, Riyan joined the fight against plastic pollution and climate change, eliminating the use of single-use plastics, opting for environmentally sustainable options, while also partnering with Parley for the Oceans in their fight against ocean plastics. "We have also partnered with Soneva in designing waste management centres for local islands as part of our CSR initiatives," Hameez explains.
"We are also in the process of designing a park designated for the elderly, in partnership with Maldives Pension Administration Office (MPAO). Additionally, we are providing technical assistance to Maldives Association for Persons with Disabilities in advocating for better accessibility of public spaces and services for people with disabilities."
Looking ahead, Riyan is dedicated to upholding professional values in its line of work, while contributing to the development of future industry leaders. It remains committed to staying true to its name and its mission to remain a key contributor in the development of the Maldives and bring positive change in the future.
For more information, call (960) 331 5049, email info@riyan.com.mv or visit www.riyan.com.mv.