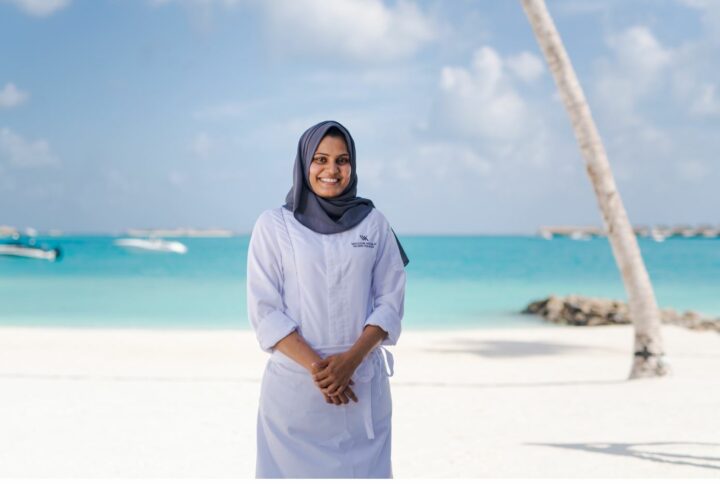 Young Hotelier: Aminath Hameed, Commis One Pastry Chef at Waldorf Astoria Maldives Ithaafushi
Hotelier Maldives: What inspired you to become a pastry chef? What initially attracted you to work in hospitality?
Aminath Hameed: Back in 2012, just out of interest I decided to take cake decorating classes, while I was working as a corporate sales officer in Ooredoo Maldives. Slowly it became an online cake shop and I used to try a lot of internet recipes and post it on my Instagram. In 2014, I was given an opportunity to do a ramazan TV bake show by EVO Home. It was at that point that I realized the career I wanted to pursue and I started making steps in the direction to become a professional Chef. I left my job and started studying. In 2016, I joined Conrad Maldives as a pastry intern. Within three months I was offered a permanent position and started my journey in the hospitality industry. In my two years working for Conrad Maldives, I worked in both desserts and bakery.
Hotelier Maldives: Can you describe a day in your life as a patissier at Waldorf Astoria Maldives? What are some of your work routines?
Aminath Hameed: I am currently working in the chocolate section as a chocolatier and also in the dessert section when required. Everyday Is a new challenge for me and a learning experience. We use the best chocolate in the world and there is so much to learn and practice on a daily basis. My routine flows from making chocolate works on a daily operation,special chocolate amenities for VIPs when required and handcrafting petit fours and bonbons to be served in our fine dining restaurants.
Hotelier Maldives: Have you had a mentor during your career? If so, what have you learned from them that you utilise in your role?
Aminath Hameed: My current executive pastry chef has been an incredible mentor to me since I joined Waldorf Astoria Maldives. He introduced me to the chocolate world and continually encourages me to be at my best everyday. His daily advice will be to never compromise on the quality no matter what. It is always on my mind and whenever I make anything I always have an eye for perfection and ensure the highest quality of chocolates and desserts are created from our Kitchen.
Hotelier Maldives: What aspect of your role do you enjoy the most and what do you find challenging?
Aminath Hameed: The best part of my job is the freedom to be creative and learn new practices every day. Working for such a luxury brand as Waldorf Astoria, each day the operations are extremely busy and there is no room for mistakes as our guests expectations are sky high. This can be a challenge, however definitely in a positive way. You have to motivate yourself in order to consistently improve and to stand out in the crowd.
Hotelier Maldives: Can you tell us about some of your career highlights?
Aminath Hameed: I have achieved a handful during my four years in the hospitality industry. My first win was a bakery award in the 17th Seoul International Bakery contest in South Korea in 2015 while I was still a student. I have won several awards in the dessert and young chef categories in FHAM and Hotel Asia 2016 and 2017. I was awarded 1st place in the HILTON SEA Food and Beverage masters dessert challenge at the hotel level and 1st runner up in the country level competing against seven different hotels from three countries in 2017, the awards were held in Sri Lanka. In addition, I was awarded the most promising talent award in the Asian pastry cup in 2018 held in Singapore.
Hotelier Maldives: What advice would you give to aspiring young hoteliers looking to work as pastry chefs in the Maldives luxury hospitality industry?
Aminath Hameed: The most important thing is to love what you do and work towards your goal. We have numerous resorts and hotels in the Maldives, with many new  properties also set to open this year. There are a lot of opportunities in the luxury  hospitality industry. My advice to young hoteliers would be to never lose your focus in what you do. Keep learning and loving life at the same time.