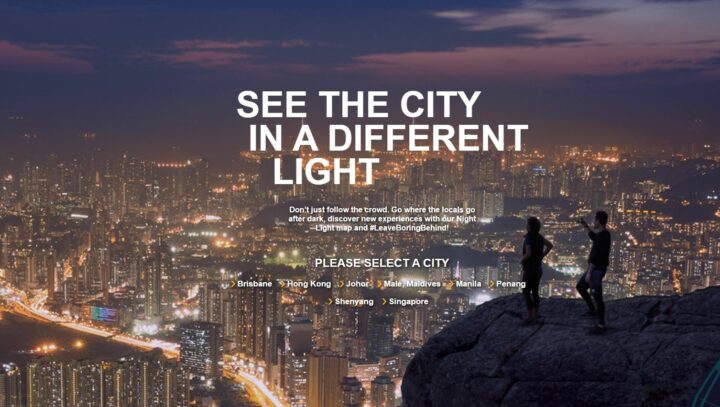 Shangri-La International Hotel Management unveils Night Light
Hotel Jen, part of Shangri-La International Hotel Management, unveils its first experiential programme, Night Light, which will run across all Hotel Jen properties in Asia Pacific. Designed to help guests who wish to be immersed in a destination and explore safely after dark with a carefree mind, Night Light is anchored around a 'living' interactive map and invigorating weekly activities organised by the hotels.
"Hotel Jen caters to urban adventurers who are passionate about discovering new places, cultures and experiences," said Marisa Aranha, vice president of sales and marketing for Hotel Jen. "Through this new 'Night Light' programme, we are encouraging our guests to head out and explore the thriving activities that each destination has to offer between sunset and sunrise. There's more to a city after dark than what is featured in conventional guide books and we want to provide a new perspective for busy business travellers, unabashed night owls and curious families through curated insider insights."
Night Light Map
Each Hotel Jen property on the hoteljen.com website features an interactive and 'living' map that continuously aggregates data from social check-ins and selected hashtags. The Night Light map in each city presents noteworthy and interesting hotspots after dark with filters (Touristy Things, Local Hangouts and Jen's Picks) that viewers can use to remove the noise of cliché activities and uncover experiences off the beaten tourist track.
The online map lights up every night after sunset and is powered by the city's inhabitants, including a select group of local influencers, "Jensetters" who share their insider knowledge with a focus on the home-grown art, local flavours and native rituals.
Night Light Events
Every week, each Hotel Jen offers activities at the hotel or around the city allowing guests to observe local pastimes first-hand or discover the destination from an alternative angle as they get their adrenaline going.
Hotel Jen Brisbane: Wake up the senses and welcome the day with a kick start at a sunrise boot camp led by a certified trainer.
Hotel Jen Hong Kong: Night owls can follow the locals on a reinvigorating walk to the famed Victoria Peak, while early birds might prefer a leisurely hike in the pristine Tai Tam reservoir to catch the sunrise.
Malaysia: Rise and shine with aqua Zumba and enjoy the tranquil sunrise views at Hotel Jen Puteri Harbour, Johor or get pumped up for the evening with sunset aqua aerobics at Hotel Jen Penang.
Hotel Jen Malé, Maldives: Hone your mind and sculpt your body with early-morning POUND fitness classes by the infinity pool on the rooftop.
Hotel Jen Manila: Early birds can borrow a sports kit from the hotel for a group run at sunrise around the Cultural Center of the Philippines, while songbirds can sing their hearts out in the evening with a live band at Lobby Lounge.
Hotel Jen Shenyang: Stretch those muscles during the cooler months with a yoga dance class, followed by a massage. Alternatively, jump high and get smashing in a badminton showdown near the hotel.
Singapore: Get reinvigorated with sunset yoga by the rooftop pool at Hotel Jen Orchardgateway alongside breath-taking panoramic city views. At Hotel Jen Tanglin, come sunset, guests can choose between an invigorating aqua aerobics session in the hotel's pool and a workout in the tranquil Singapore Botanic Gardens, a UNESCO World Heritage site.
Leave Boring Behind
Hotel Jen celebrates the alternative twist that inspires curious travellers to leave boring behind through unconventional perspectives, lesser-known insights and spontaneous experiences. Each Hotel Jen enables its guests to seize the stay, meet the locals and unravel the city through experiential programmes focused on:
Native Rituals: Uncovering local customs, insider knowledge and city secrets
After-Hours: Exploring alternative city experiences from sunset to sunrise
Jen-Why Art: Discovering emerging artists and interactive creative experiences
Set.Eat: Championing home-grown food producers and local flavours
To see the city in a different light, visit www.hoteljen.com/night-light-map or follow the social conversations using the #LeaveBoringBehind and #NightLight hashtags.