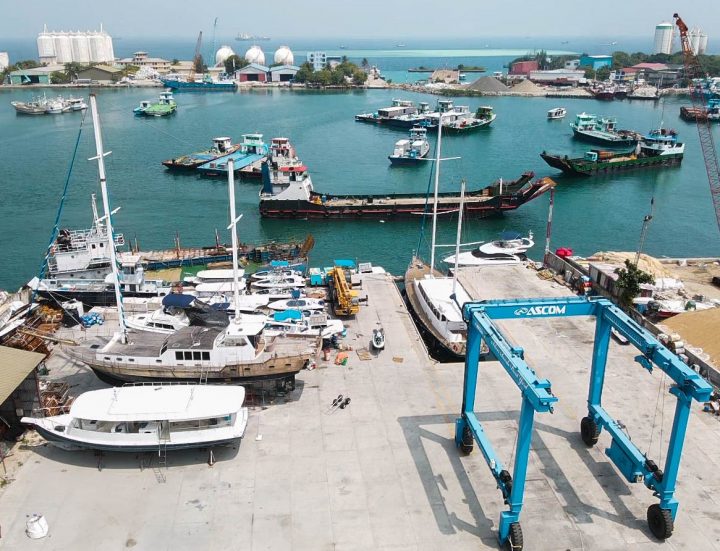 Silver Sands Boat Yard – Built to Precision
From Silver Sands, Sea Gear to Pure Shores
More than two decades ago, Silver Sands began its journey as an inbound travel agency. As the business expanded, the company began to offer an innovative "total solution" service to resorts. Its concept of operating the dive & watersport centers, fishing activities and excursions by providing an all-inclusive package including equipment and vetted professionals, was well accepted and Silver Sands now operates in 14 luxury resorts. Among the equipment, the company provides whichever type of vessel is required by the resort, be it a yacht, speed boat or a dhoni.
For the maintenance of these operations, the company had to purchase and store a lot of extra equipment and gather spare parts over the years. Acknowledging that most resort operations around Maldives would be in need of similar high-performance products, Silver Sands decided to streamline the procurement and create a shop to cater to its own and other operations' needs. This was how Sea Gear was born.
The Sea Gear showroom was opened in 2013 and its concept of offering only high-quality products at affordable prices was quickly embraced by local fishermen, watersport operations and resorts. Having the experience of over a decade in the business, Silver Sands wanted to ensure that only the best brands would be used in its own operations and made available to others. Sea Gear offers the most renowned international brands of fenders, ropes, filters, hardware, watersport & dive equipment, safety gear and boat maintenance products. In recent years, Sea Gear has expanded its range into beach wear and other lifestyle items.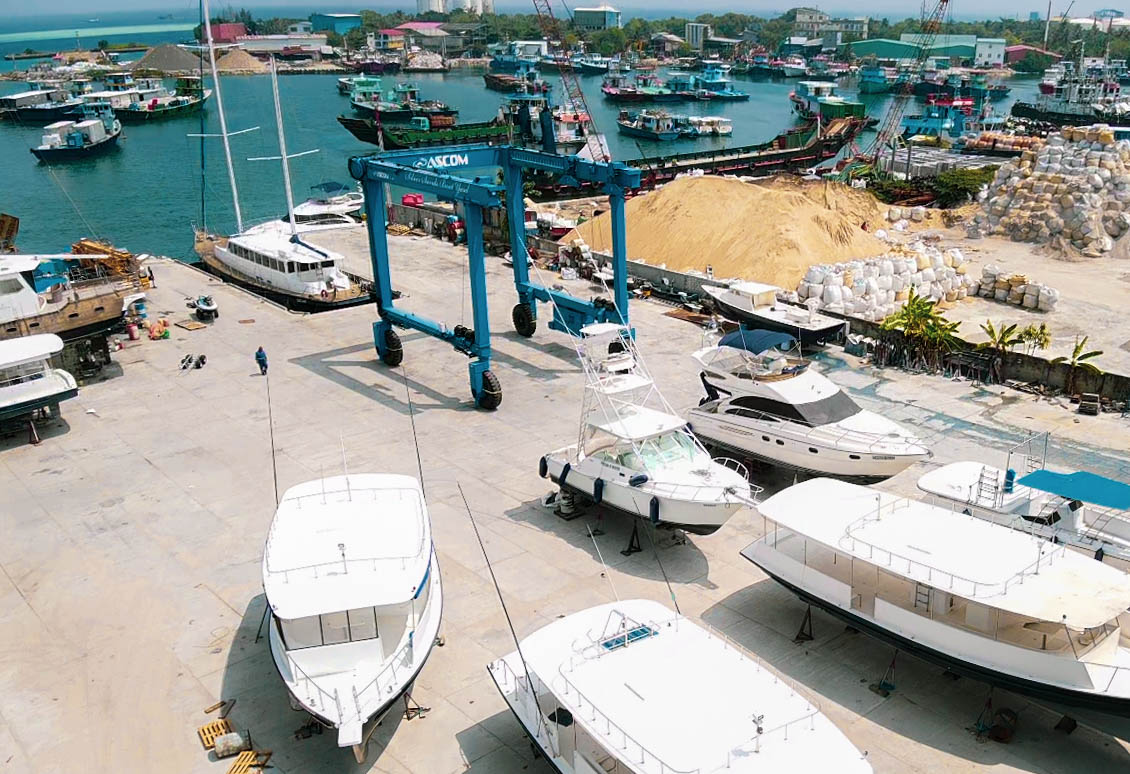 Eventually, the Silver Sands fleet grew to more than a hundred vessels spread across the atolls. As these vessels needed to be docked for maintenance or repair, the concept of starting its very own shipyard emerged.
About Pure Shores
In 2010, the company acquired a commercial land on the island of Thilafushi, Kaafu Atoll and the "Silver Sands Boat Yard" was inaugurated and operated under the subsidiary company name Pure Shores Pvt. Ltd.. Initially for the first five years, the shipyard was utilized for the maintenance of their internal fleet as well as designing, experimenting and building new innovative boats for Silver Sands.
In comparison to similar service providers, Pure Shores began its shipyard operation with an incredible advantage as its parent company had a very strong background of knowledge. After a decade of experience in operating the vessels, working closely with guests and dealing with resort and maintenance requirements, Pure Shores could base its new boat designs on practicality, quality and knowledge.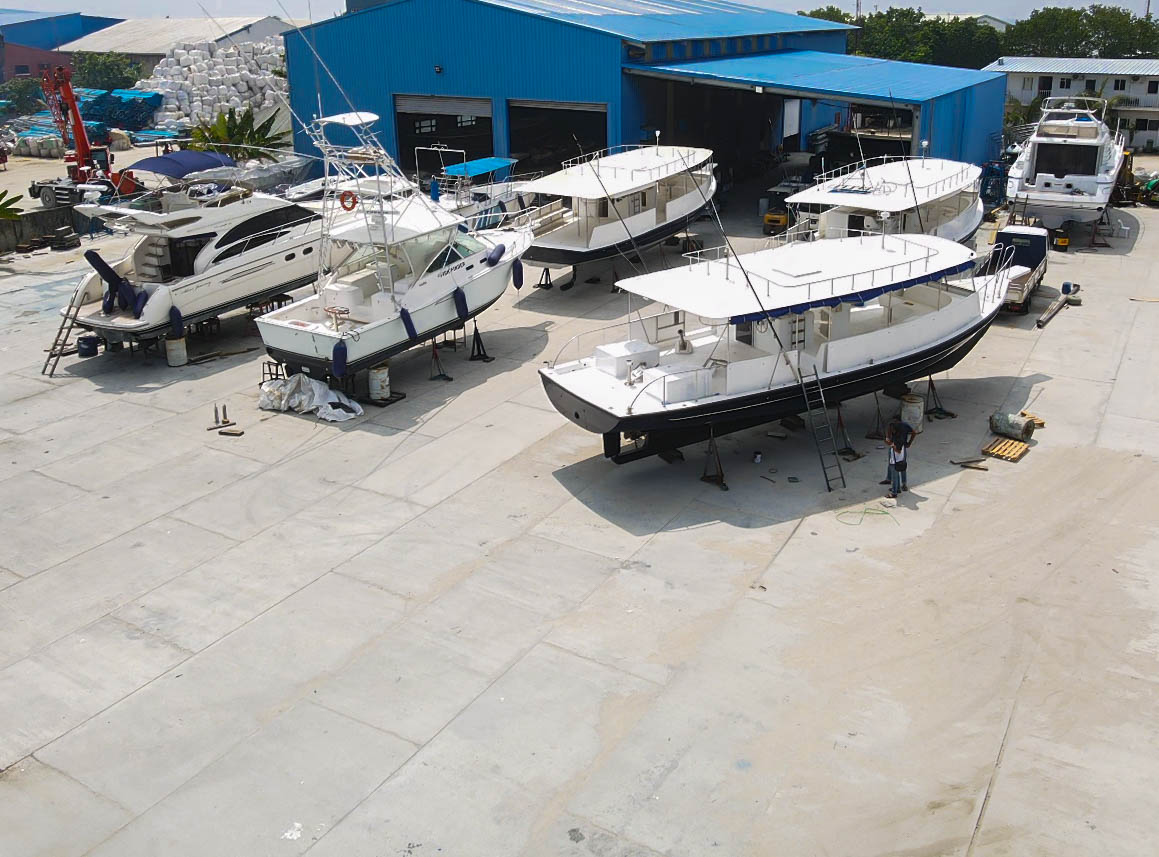 Another advantage is that since the majority of the boats built by Pure Shores belongs to the Silver Sands fleet, it is always easy to identify any flaws of their own production. Therefore, any weaknesses can quickly be perceived and corrected. Testing the vessels thoroughly is part of the process that the team of boat designers and builders' use to achieve precision and excellence. They constantly work on enhancing the overall design, quality, practicality and execution of their newly built vessels. Over the past years, Pure Shores has moved past mere traditional dhoni and has built masterful dive & fishing dhoni, para sailing-boats as well as glass-bottom-boats constantly expanding into other practical designs.
Pure Shores Pvt. Ltd became a fully independent entity in the year 2020 and has fully opened its services to the general public. It is especially focused on providing excellent service to resorts and other hospitality & tourism related businesses in the Maldives who seek vessel repair and maintenance of the highest possible standard.
Services Offered by Silver Sands Boat Yard
Silver Sands Boat Yard offers a range of services conducted by experienced professionals. It includes a safe boat lifting service with a remotecontrolled 100-ton boat hoist (ASCOM). All types of repairs and maintenance solutions are available on request. Customers who want to use the boatyard facilities but bring along their own workforce can use the docking service and rent utilities and tools.
The use of high-quality products in combination with expertise is the recipe for success.
The shipyard has the capacity of catering between twelve to sixteen vessels up to 89 feet in length at any given time. Supply of equipment and spare parts are provided in collaboration with Sea Gear. Silver Sands Boat Yard offers several workshop services; including carpentry, fiberglass work, welding, engineering and the marine electrical workshop.
Pure Shores offers all sorts of services, ranging from handing over fully equipped vessels including safety gear, engine and other accessories to merely repairing or servicing vessels. The company is very flexible in catering to its customers' requirements. Pure Shores Pvt. Ltd is looking forward to continue to service, repair and build many vessels in the future.
We hope to see you and your boat soon!