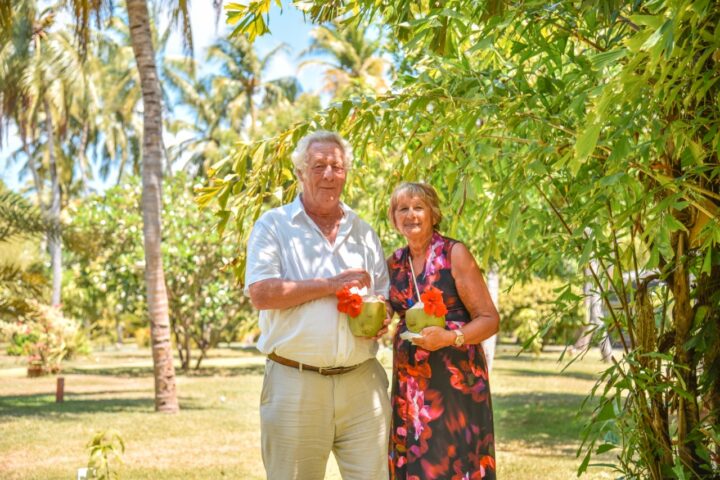 Sketches from Sun Island
(With additional writing by Balsam Iyaz)
Colin and Margaret Dale's 30th Visit to Sun Island Resort & Spa
Earlier this year, just before the country closed its borders to travellers, a British couple with a passion for travel clocked up their 30th visit to their favorite holiday spot; Sun Island Resort & Spa, on Nalaguraidhoo Island in Ari Atoll, the Maldives.
Since their first visit to the island in 2005, Colin and Margaret Dale, from Stratford Upon Avon in Warwickshire, have returned up to three times a year – staying between a week and a month at a time!.
"If you find a place that you love, where you can relax, then why not go again," said Colin.
"When you add up all the holidays we have had here, I think we have spent over a year on Sun Island.
"It just suits us, we have been coming to Sun Island for 15 years now and if you had asked me five years ago about going to another resort, when we were going two or three times a year, we might have considered it but now we just go once a year and it would feel very odd if we stayed anywhere else. It just feels like a home from home."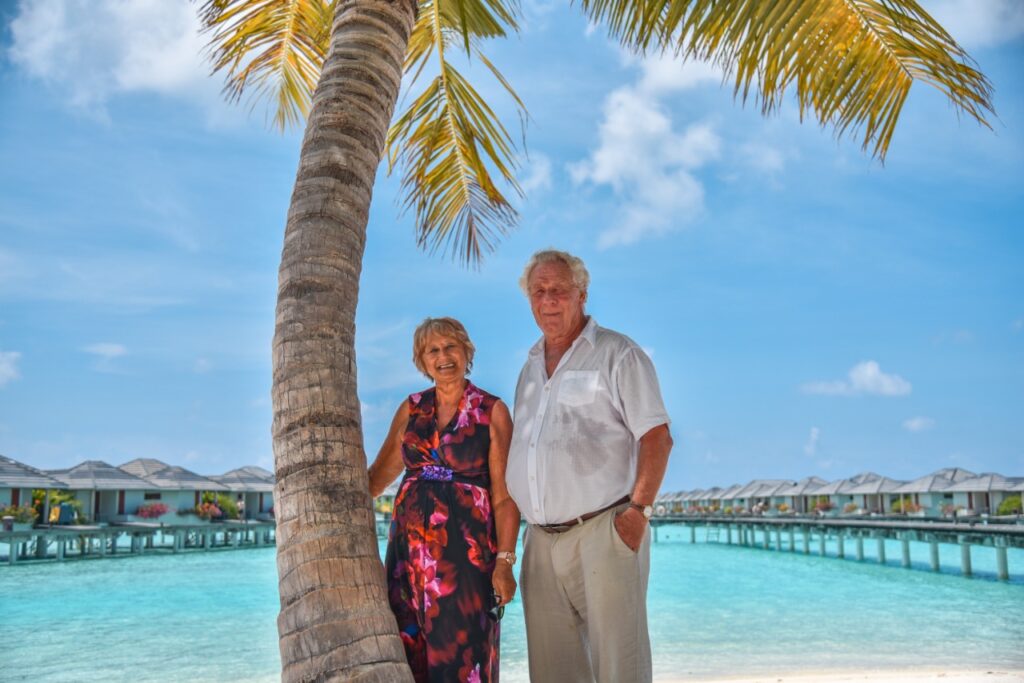 After both losing their first partners to cancer in 1998 – having been married over 30 years, Colin and Margaret, who at the time lived in different parts of the UK and had never met, picked themselves up and decided to independently holiday in a place they thought they would like.
Fate led them both to the volcanic island of Ischia off the Amalfi coast of Italy, where they met in 2000. They fell in love and were married in 2001.
Colin and Margaret share a mutual love of islands and this is what drew them to the Italian isle close to Capri.
Realising that life is too short they both decided to live life to the full taking as their motto: "Whatever the question, the answer is yes."
Applying this maxim to their shared passion for travel they have visited over 100 countries on different continents. They took their honeymoon in Jamaica and then visited Antigua in the Caribbean for a holiday where they were recommended to visit the Maldives.
The Indian Ocean paradise had always been a destination on both of their bucket lists but it was only when a fellow holiday maker suggested they should put it to the top of the list that they decided to take the plunge and go for it.
Colin said: "We had seen the photos and heard about the beautiful sandy beaches, verdant jungle and the clear aquamarine waters of the Maldives, but it was only when we got talking to a couple in the Caribbean about where was next, and we told them that we had a list and the Maldives was on it and at their advice we decided to put it to the top of the list.
"When we saw a brochure of Sun Island Resort and Spa, we decided we just couldn't wait any longer!"
Colin and Margaret chose Sun Island, owned by Villa Hotels and Resorts, because it is large enough to have lots of facilities but secluded enough to relax. There is always something to do, giving it more appeal than a sun, sea and sand holiday – and also because it is affordable.
"Our first visit involved a fairly dramatic journey as we diverted to Sri Lanka and then arrived in the Maldives in the early hours of the morning in the middle of a thunderstorm with black skies. We wondered where on earth we had come to, but we went to sleep and woke up a few hours later, opened the curtains and just thought – wow!
 "We just fell in love with the place really. We treasured it so much that the next year we decided to book again and upon arrival we were treated as old friends. With each subsequent visit, we made friends. Over the next 15 years of visiting, now we can safely say that we know everybody on the island. We get treated like royalty now. We are part of the Sun Island family."
 A usual day at Sun Island for Margaret and Colin involves relaxing at the beach, going for a calming swim in the pool and simply enjoying the greenery at the golf course.
Each day the couple enjoy the breakfast buffet at Maaniyaa Restaurant which serves a diverse range of authentic local cuisine and dishes from across the globe throughout the day.
At night, they particularly enjoy getting dressed up for an evening meal and at Sun Island they have their pick of four à la carte restaurants offering everything from classic Italian, Thai to Indian and fresh seafood.
The couple have dined underneath the stars seated on the wrap around deck overlooking the ocean. As guests of their friend, the former Food and Beverage Manager Mohammed Samah, they enjoyed an exclusive table in the treetops where they were served homegrown produce and delicious fresh seafood. They have also sampled wonderfully tasty Indian food at the Southern Star restaurant.
However, Colin particularly enjoys eating the fresh lobster at the Island Barbeque Seafood restaurant. They both love the Italian Ristorante Al Pontile – due to their shared passion for Italy.
The resort is the couples haven where they can unwind after stressful work. Colin, 75, has retired from his position as a chartered quantity surveyor but now has his own business working as an architect.
Colin also sketches as a hobby. During his stays in the resort, he has drawn sunset scenes of swaying palm trees at Sun Island.
He has also captured images of the sights on trips to the neighbouring islands of Fenfushi, Dhigurah and Maamigili over the years.
One of the main reasons that they like Sun Island Resort & Spa is because it is a place that they can relax and feel safe.
"There is nowhere else on the planet I think where I feel I can wander around without a care in the world," said Colin.
Another important reason why they keep coming back is the people.
"The staff are so welcoming and genuinely happy to work there. They are kind, polite and helpful, and we really enjoy being around them," added Colin.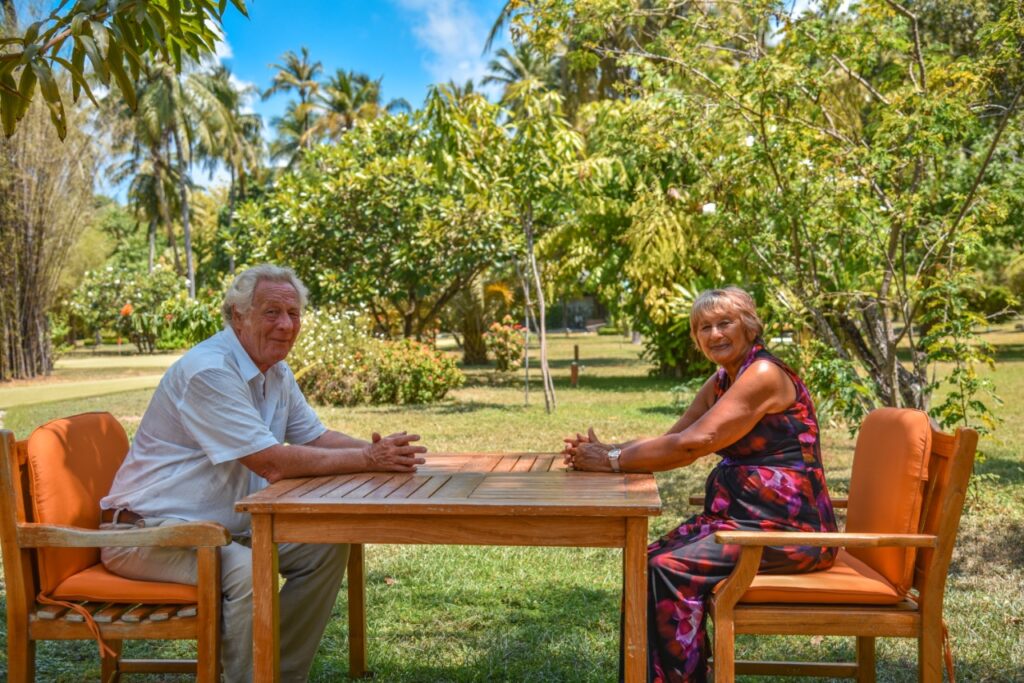 Since Colin and Margaret have been regularly visiting for over 15 years, they have got to know everyone on the island, watching individuals grow and start their own families. As a result, most of the staff see them as their second grandparents.
They still fondly remember their first waiter Dhombe who made a memorable first impression. Since then, they have enjoyed the company of many Maldivians.
They have made friends with everyone from the beach boys to the General Manager.
And they are still in touch with most of the Maldivian staff, even though some have spread their wings and moved on to other resorts.
So respected are the couple on the island that Colin has been asked to give out prizes at staff events and competitions. Upon one of their longer stays at Sun island they were invited as guests to the wedding of one of the Maldivian staff members they had made friends with called Muaz. They were due to return to the UK, so they decided to fly back for another week to attend the wedding and they really enjoyed the experience.
Muaz, Samar and their friend Nafiz from the resort have also visited Colin and Margaret in the UK. It just so happened that the Maldivians were sent to England to complete their training for their hotel qualifications, and their test centre was in Birmingham, so they stayed at Colin and Margaret's home.
Over the years the couple have seen many changes to the island. They greatly welcomed the Araamu Spa being built and love to spend time there enjoying various treatments. The spa won the World Luxury Spa Award 2013.
Colin and Margaret have been guests in most of the resort accommodation, but they particularly enjoy staying in the water bungalows. They have also noticed that the resort has grown. Today it accommodates 462 guest rooms in the shape of standard and superior beach bungalows and 72 water properties comprising of sunset villas and standard water bungalows, set in the turquoise lagoon.
The couple last visited Sun Island back in February this year, just before Covid-19 struck. They had planned to book again but now they are not sure about visiting anywhere due to the virus.
"We probably aren't going to go to the Maldives this year, or indeed anywhere else because of Covid-19 but we will definitely visit again – God willing," said Colin.
Next year Sun Island may be on the cards for their 20th wedding anniversary but they still haven't decided yet for health reasons.One thing for sure is that the Maldives hold a special place in Colin and Margaret's hearts. They have visited other places in the world, but they say that nowhere else quite compares to the archipelago.
"Since we have been to the Maldives, we have visited many other countries, but it is difficult to measure up to," added Colin.
"We went to St Lucia in the Caribbean and we found it lacking the same magic as the Maldives. I cannot put my finger on it, but the Maldives just has that little something extra.
"Sun Island is our own idea of paradise. We don't want to share a holiday here with other family members or friends back home as it is something unique to us. When you had one life and then lost it and then you get a second chance, you become protective of the people that you love and the things that are yours. Travel is our shared passion and the Maldives is our special place and we will keep coming to Sun Island for as long as we can."
---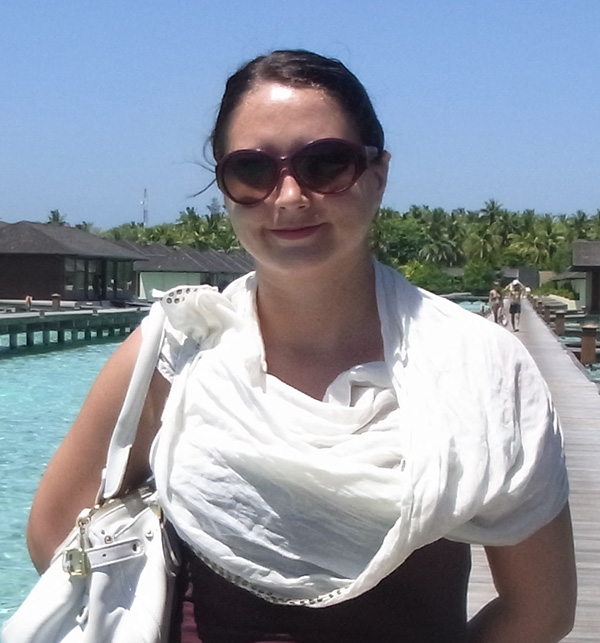 Donna Richardson is a columnist for Hotelier Maldives. She is an international travel, aviation, and business journalist and public relations consultant. Donna lived and worked in the Maldives and her insightful work in profiling the unique culture of the islands, its resorts and independent travel network has appeared in Wanderlust, MSN travel as well as Travel Mag and Go Nomad. Her work has also been published locally in Trans Maldivian Airways' (TMA) In-flight and Maldivian's Vara magazine. Donna can be contacted on: dmlrichardson@outlook.com