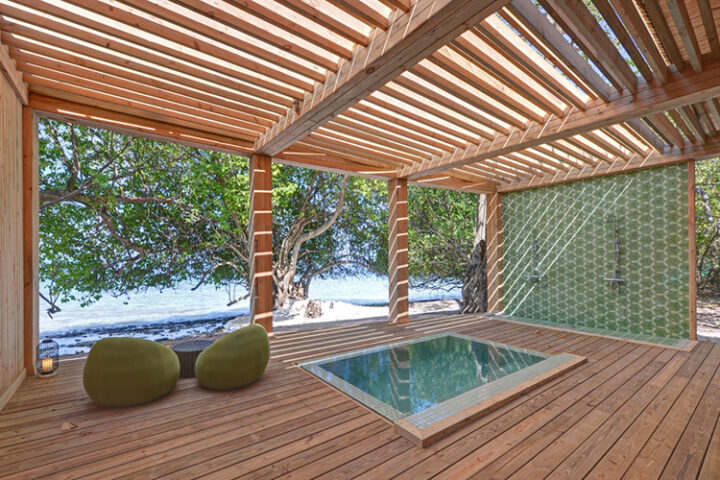 Spa Review: Javvu Spa at Amilla Fushi – a vibrant, community space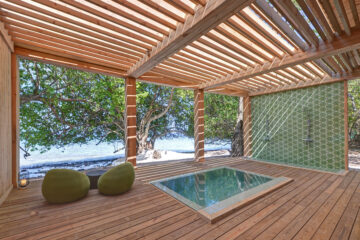 If there's one thing I notice during my trip to the recently opened Amilla Fushi, it's that they are allergic to reception counters. Gone is the notion of waiting your turn to speak to a receptionist and in its place comes the experience of being welcomed within your own home. Nowhere is this more evident than at the island's Javvu Spa.
The entrance to the spa is an open-plan community-style space and the vibe is convivial and homely. A long nail bar looks out to the sea beyond, a chill-out lounge area provides a spot to chat about treatments whilst a reclining easy chair offers a great corner for a pedicure. A beauty bar in the centre is where guests can dabble with new products, and where impromptu workshops arise. A salon area tucked away to one side provides a slightly more secluded space for those looking for some serious me-time. Not a reception desk in sight.
Outside there's space to relax by the sea and at the heart of the spa is an ancient banyan tree, which gives shade to the yoga pavilion. Ten treatment pods are set further inside the spa grounds, whilst the gym, sauna and hammam area overlook the ocean. The spa's concept, curated by The Small Maldives Island Co.'s Director of Wellness and Spas, Lisa Jody Manser, stems from the idea that a spa should cater to both sides of human nature – our need to retreat from life, but also our propensity to socialise, chat and hang out.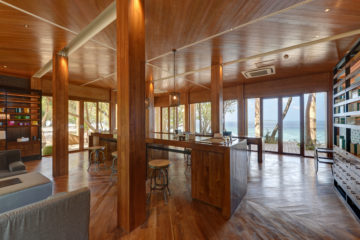 In response to this notion, Lisa has cultivated a vibrant, eclectic space at Javvu Spa. There's no forced tranquillity or pseudo-zen façade, no faux-jungle noises soundtrack playing in the background, and there's absolutely, categorically no hushed voices. Instead, Javvu feels like a village, where all are invited. "People shouldn't feel like they have to book a treatment to come here. Guests can just flop down with a book in front of the ocean and enjoy a tea or a juice and listen to some jazz," Lisa says. "After a while, some might say 'well, I might just have a steam' or 'that yoga class looks cool, I think I'll join it'."
Of course, the spa is a place of deep relaxation too and when you're settled into one of the treatment pods, the vitality of the community area is dialled down to create moments of genuine calm. However, these treatments are not the beginning and end of the Javvu experience. In the spa world, the word holistic is bandied about unashamedly but here the experience feels exactly that – holistic; rounded. This is not a place where you come at your allotted time and leave straight after your appointment. Here, Lisa has created a space that caters to the many-faceted human beings that we ultimately are. You can choose to sip a herbal tea here but if a glass of champagne is more your style, then that's available too. "It's all about balance," Lisa says. "If you want to have a glass of champagne, then follow it with a wheatgrass shot. It's about finding that sweet spot in between what you want and what you need!"
With Lisa's wealth of experience in the spa and wellness industries (she was the area spa and wellness director for Six Senses Spas for several years) it's unsurprising that the products and treatments here have been handpicked from across the globe and represent the crème de la crème of innovative spa and wellness offerings. Facials are by QMS – a German medicosmetic company, body treaments are by Ila, hair is by Louise Galvin (for gents its Gentlemen's Tonic) nails are Margaret Dabbs and all massages were specially designed for Amilla by London-based Pure Massage.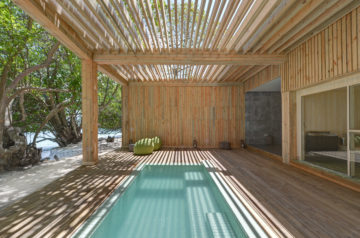 Incredibly, Amilla prides itself on offering a complimentary 50-minute massage to every guest, every day. As such, treatments are classified like dishes on a restaurant menu. When it comes to massage, the four 50-minute Pure Massage treatments constitute 'mains' and extra 'side dishes' or 'a-la-carte' options can be added on.
Today, Lisa recommends I try the Pure Massage Jet Lag treatment and I'm introduced to Laura, from Italy. The massage begins with a scalp massage and long, dynamic stretches; both executed without oil (another reason not to rush back to your room after a treatment – you don't feel like a buttered piece of toast). It continues with a back massage that's invigorating – perfect after a long-haul flight or even just after a swim.
At the end of the session, Laura chats to me about my terrible writer's back and I hear first-hand why Lisa calls her team 'specialists' rather than 'therapists'. "You're left-handed and you use a laptop rather than a computer, am I right?" she inquires. I nod, open-mouthed. Laura then proceeds to show me different stretches to do at my desk and encourages me to set a timer to remind myself to do them.
As I return to the communal area and chat with other guests over tea and listen to some jazz, I realise that there's nothing conventional about the way Javvu Spa functions. It's a destination in its own right, without pretension and without swank. If Amilla Fushi describes itself as 'your island home', then Javvu is the garden.  It's where the family congregates on a beautiful day but it's also where they pause for reflection. The result is a space where you can come as you are – and maybe just leave a little different.