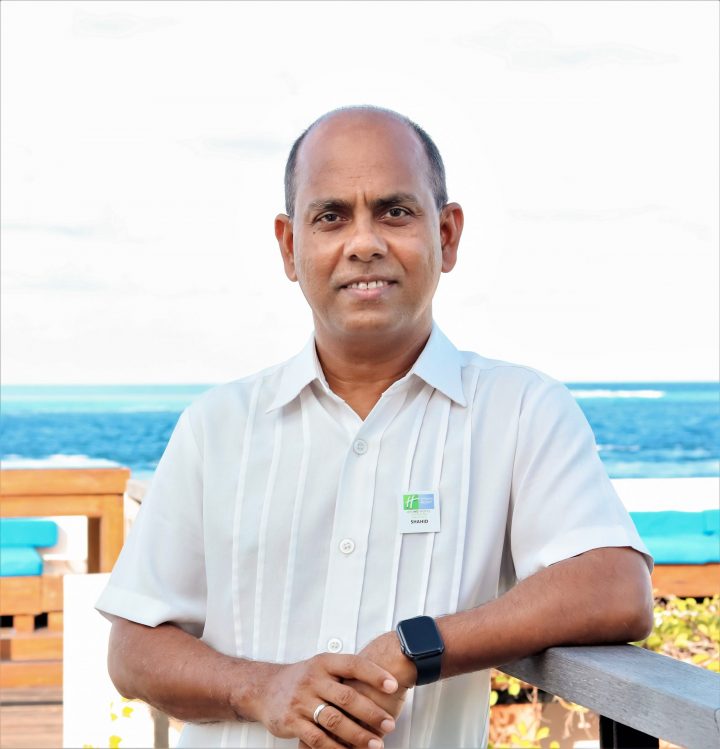 Struggle and Success: The Story of Hussain Shahid, Executive Assistant Manager, Holiday Inn Resort Kandooma Maldives
Achievements may take different forms, different scales, and there are many sacrifices and challenges behind it. Hussain Shahid's greatest win isn't a trophy, neither it is a title or a promotion. For him, his greatest achievement is people. Hotelier Maldives looked closer into his twenty-three year old story in the hospitality industry.
The Beginning
In 1990, Shahid was employed in the Ministry of Trading Industries in a section called Foreign Investment Services Bureau, which made him acquainted with almost all foreign investors at the time. During his work, Shahid met the chairman and CEO of Soneva, Sonu Shivdhasani, whose resort Soneva Fushi had redefined luxury tourism in the Maldives.
After more than eight years of working for the government, Shahid decided to expose himself to the resort industry. Hence, when the time was right he approached Sonu for a job opportunity. Fortunately, Sonu was on the look for someone to manage Soneva's Male' office and Shahid was hired as Office Manager and Personal Assistant to Sonu.
In mid-2000, Soneva started the works to take over Lankanfushi, which later became Soneva Gili. While moving from Male' to resort and vice versa, Shahid realised he wanted to go out of Male' and work in a resort. With the opening of Soneva Gili, he was given the permanent position as Executive Secretary cum Administrative. This was Shahid's first assignment in a resort, the start of a successful career.
Climbing up the Ladder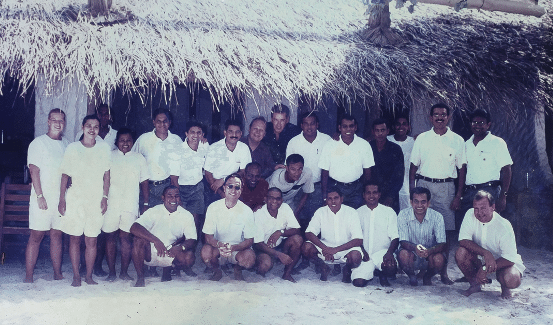 Shahid worked in Administration Department at Soneva Gili for over a year, until his bosses observed his talent in Human Resources. They saw something in him that was very good with people. With the position of HR Assistant Manager vacant, Shahid was asked to fill in temporarily.  "That got me into Human Resources. Then obviously you try to learn and you try to prove that you can do it and the rest fell into place."
In 2004, the Indian Ocean tsunami caused the resort to halt operations. It was a life changing moment for Shahid. He was told to keep the motivation going on for the 200 and 300 people that were left behind working on a project. Every morning, he started telling them stories to motivate them and inspire them. This eventually revealed his potential in training people. After the resort reopened in 2005, he was made permanent Training Manager and he was trained to train.
Another couple of years passed and upon asked by his bosses where he wanted to be next, Shahid expressed his goal to be HR Director. He remembered his boss's exact words: "If you are to lead the HR division, you have to live, feel and experience as an expatriate." Shahid was up for the challenge.
He went to Six Senses Koh Yao Noi in Thailand and witnessed its preopening, which led him to believe that he can work abroad as an expat. He was then assigned to Six Senses Zighy Bay, Oman in 2006 as the pre-opening Training Manager. This was the toughest opening of his life.
"When you didn't get mobile signal, you had to go around thirty to forty meters into the mountain towards Al Sharjah and everyone will be there in evening after work because that's the only place you get a small bit of mobile signal to talk to your family. It was a very tough time. It was no man's land," he said, proud of the successful opening.
After two years abroad and almost a decade with the Six Senses company, Shahid wanted to return back to the Maldives. At the time in 2007, Six Senses and Soneva has expanded rapidly with around twenty-five resorts around the world. With this, he believed that the company had lost its edge. "Why am I working for this company? The longer you can answer this question you can remain. But this question was getting cloudy for me."
Hence, Shahid was searching for an opportunity in Maldives when he saw Shangri-La's Villingili Resort & Spa looking for an Assistant Director of HR. He applied and was quickly hired. The opening took place in 2008. Again a tough project and also the largest operation handled by Shahid, having a team of 675 staff. After a year at Shangri-La, Shahid felt the need to move closer to his family in Male' Atoll.
Things turned around for him in 2009, when Kandooma Tourist Resort announced its rebranding to Holiday Inn Resort Kandooma Maldives, an IHG property.
The IHG Journey, from HR to Operations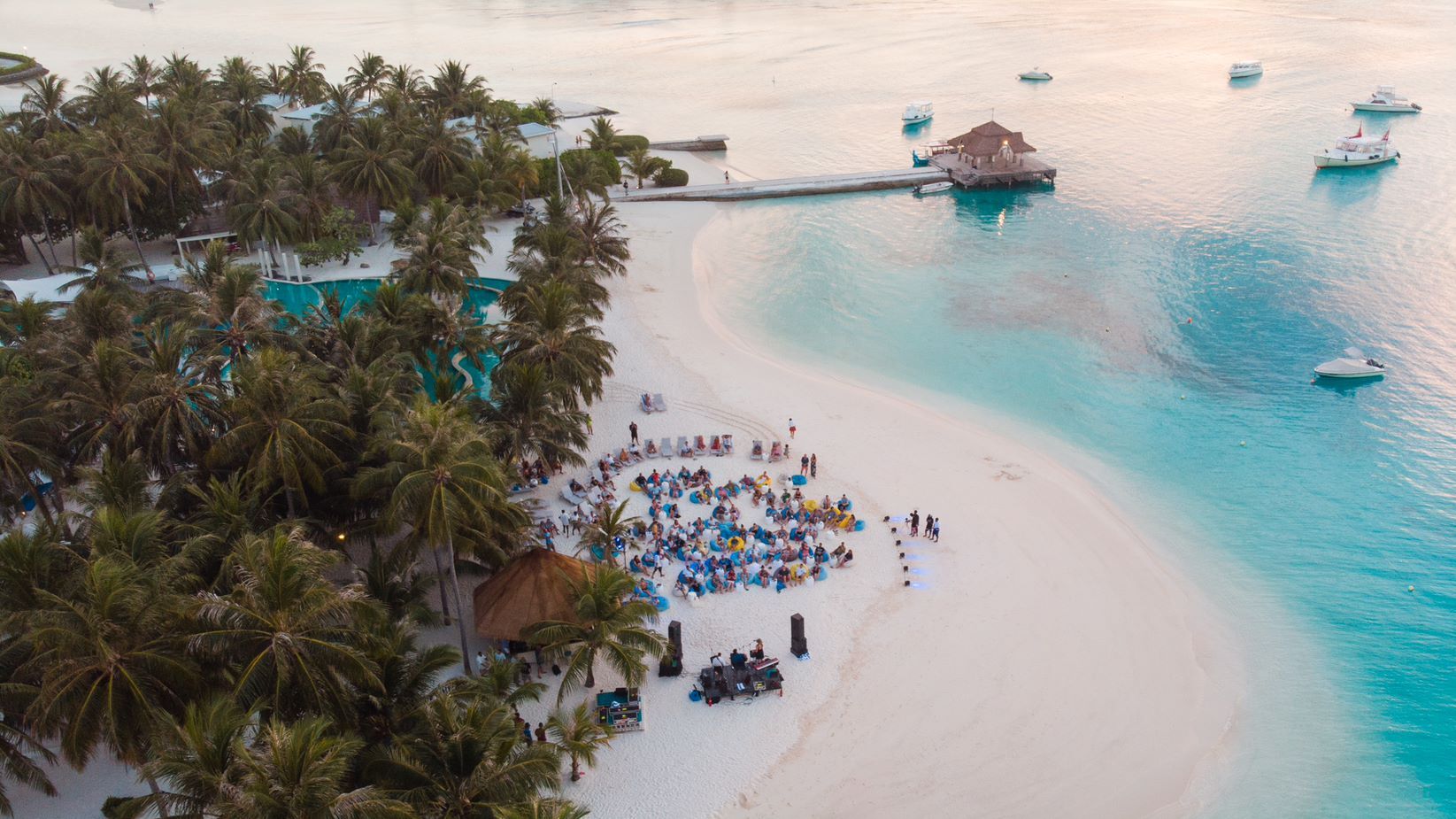 Twelve years ago in December 2009, Shahid joined Holiday Inn Resort Kandooma Maldives as Director of HR. After a couple of years of spearheading the HR department, IHG recognized his keen interest in operations. At the time he had eighteen years of experience in HR and Admin and had completed an MBA program, so he wanted to take a move forward.
"How many people have you heard cross-functioning from HR to operations? That's a very rare story to hear. You hear F&B Managers, Front Office Managers and Room Division Managers move to operations and become a General Manager. But I had never heard someone transition from HR!" he said.
It was 2017 when he took the challenge and made a bold decision to change from a fixed 9-5 job to an all-day, flexible, no two-day is the same type of work. He was assigned the role of Resort Manager with the title Executive Assistant Manager.
As second in charge, Shahid works with the General Manager to handle operations from restaurants to boats to managing generators to water plants. Due to his background in HR, the Head of HR at the resort also reports to him. Shahid starts the day with rounds of the resort, ensuring that all areas of resort operations are ongoing. His first and foremost duty is ensuring that people are ready to serve the guests. There's one thing in particular he never misses. "There's no day I will not go into the staff canteen first. To see if the breakfast is there for the staff and that they're looked after."
People – Biggest Challenge and Success
Talent and resourcing people are the biggest challenges for Shahid. "In twenty-three years we have tried different ways to cater this problem. There's no long term solution. As long as Maldives' current system of managing education and educational institutions is as it is, we will not find a solution. I know, it is fifty years for Maldives tourism this year, but I am very open to say that we are way behind in people development compared to many countries."
"You cannot change some people's paradigms once they are sixteen or eighteen years old. You need to start from the bottom of the educational level."
During Shahid's experience, he has identified a significant deficiency of skills and professions in Maldives. He expressed that he hasn't got a single local application for a kitchen position in the past couple of years.
However, what's amazing is that, his biggest challenge is also what he considers as his greatest achievement.
"I'm very proud that there are many people out there, in many resorts, that I have hired as interns. Some call me and say that they are now Hotel Managers. And they are younger than me! I can't express how happy it makes me. Many people call me and express their gratitude. I consider myself a good coach and a good mentor."
Following his strong belief that a person requires a balance of both education and experience for a successful career, Shahid has given advice to many of his team members. He is proud that he can look back and see hundreds of people that are thankful for his coaching and mentoring.
Another achievement, a significant boost of motivation in his career was a special award by IHG. During the first three years at Holiday Inn Resort Kandooma Maldives, Shahid faced many challenges that were outside resort operations. He went beyond normal day-to-day HR duties to solve problems related to a neighbouring inhabited island. To recognize his efforts, Shahid was given a special award at the IHG Annual HR Event. "I was very pleasantly surprised. That was the first and last time somebody received that award. It gave me a boost of another ten years to stay here!"
Balancing Personal Life and Work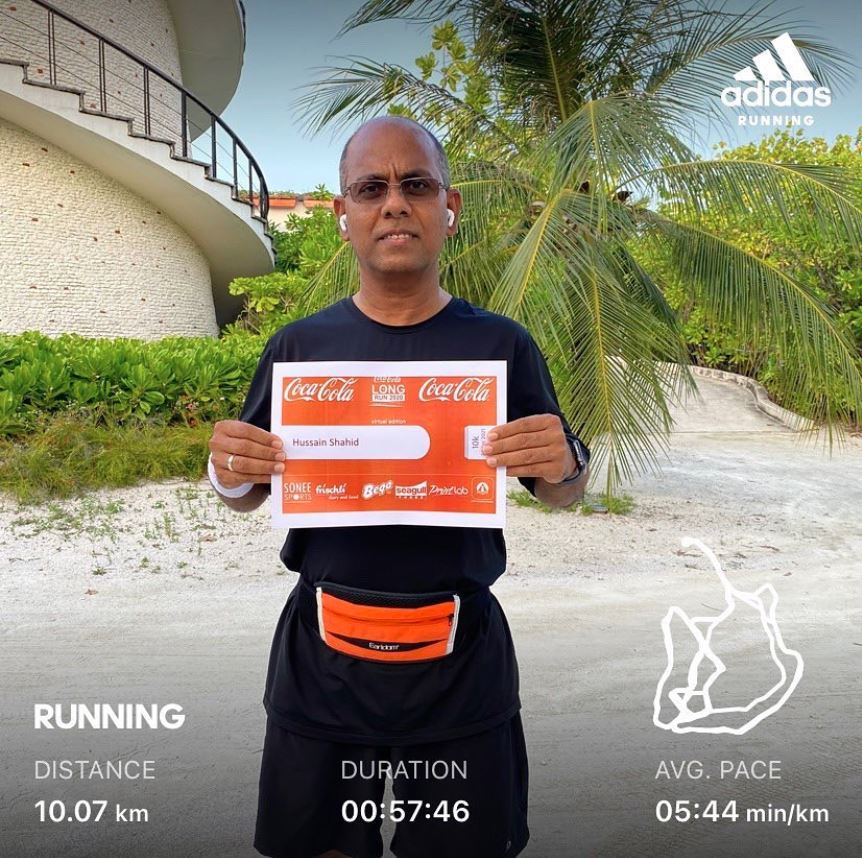 Throughout his career in the hospitality industry, Shahid has spent many years away from his family. He also noted that working at a resort can make anyone feel lonely. However, things were easier for Shahid because when he joined the resort sector, he was quite mature; he was able to deal with loneliness.
During his time off work, Shahid spends time listening to music, focusing on his fitness and drawing. He advises that it is very important to give yourself time and take care of yourself and never get boredom get to you. When it comes to family time, Shahid's position of work since Soneva Gili has allowed him to bring his family to the resorts. This way he is able to spend time with his children and wife during the holidays.
Key to Success
Shahid believes that to move forward in career requires discipline. "If you don't have a certain level of discipline, your career will not be sustainable. Like anything else, your career needs to be sustainable. And I believe the hospitality industry is still about grooming, discipline and language; using non-abusive, non-intimidating, non-hostile and non-threatening language."
The second factor is a balance of education and experience. "I believe that the Maldives education system should actually change to mix these two up." As current chair of the advisory committee at Faculty of Hospitality & Tourism Studies (FHTS), Maldives National University, Shahid sees how much they can integrate education and experience. Providing education for people who have experience but no certificate, and providing experience for those with education but no experience.
Future Goal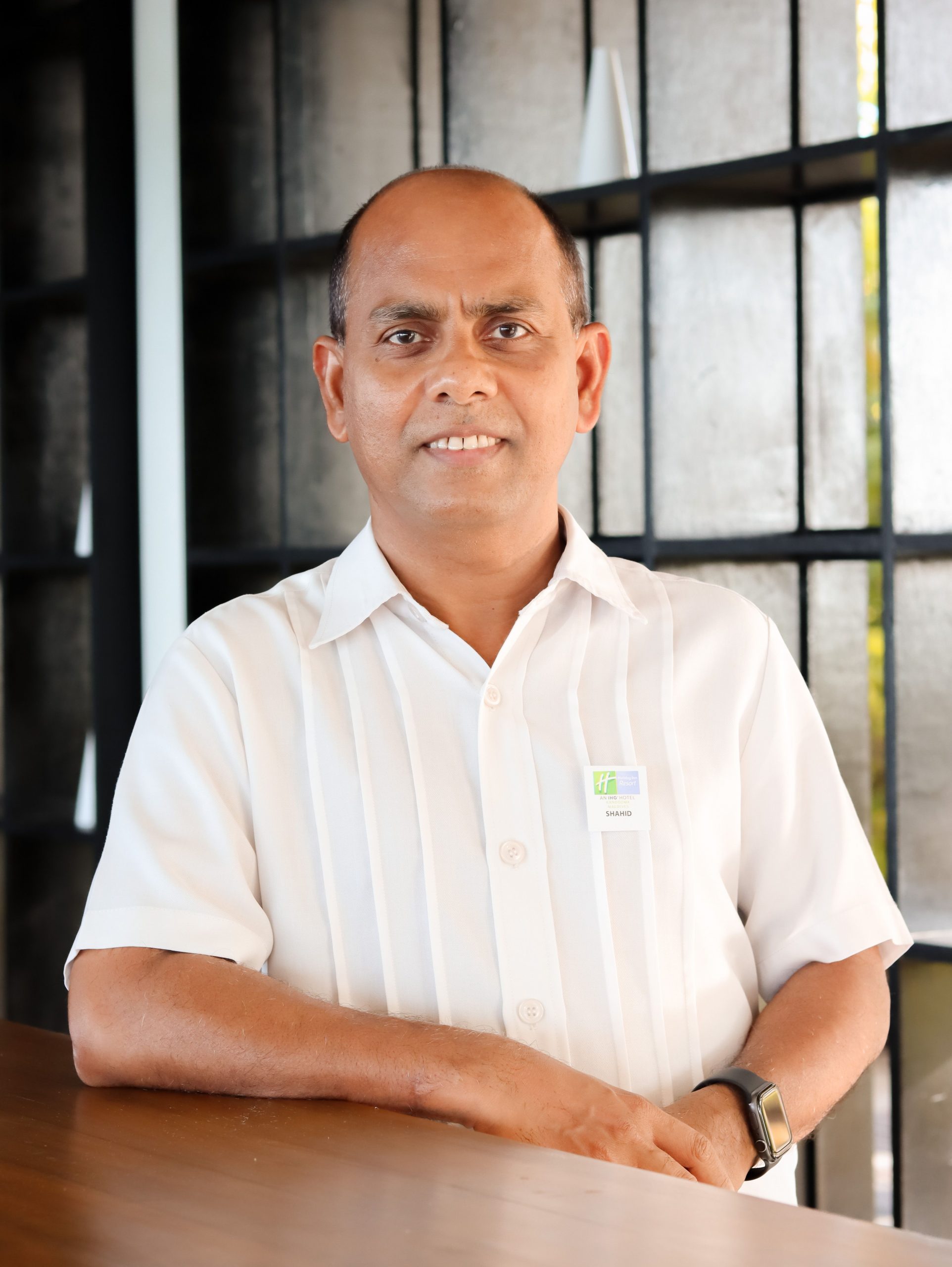 When he was assigned Resort Manager, Shahid knew he didn't want his career to stop there. He wanted to be the first Maldivian General Manager of a large international brand in the country.
That still remains a dream he wants to pursue.
"If the pandemic was a person I would slap it on the face," he laughed. "It slowed down my progress a lot. Just before the pandemic, I was enrolled in a 'General Managers Potential' programme run by IHG. I started the first training and with three more phases left, the pandemic hit in early 2020."
Now almost two years later, as the resort has started to ramp up operations, the company has resumed works to develop his career. Shahid started the course last October online and was working towards completing the necessary projects in December 2021. The plan is, if things go well in the industry, Shahid will be assigned a project abroad as a task force General Manager, in a mobile location for him. After proving he can handle a smaller, medium-scale project, he can come back to the Maldives to take over one of the project IHG manages in the destination.