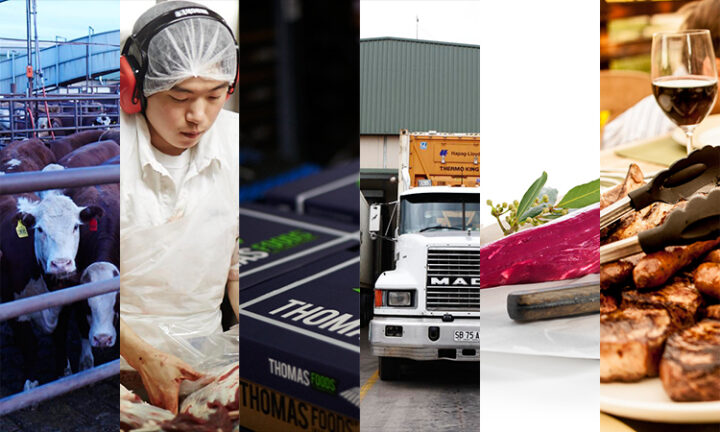 Supplier Stories: From Farm to Fork – a story of care and attention to quality
Nashiu Zahir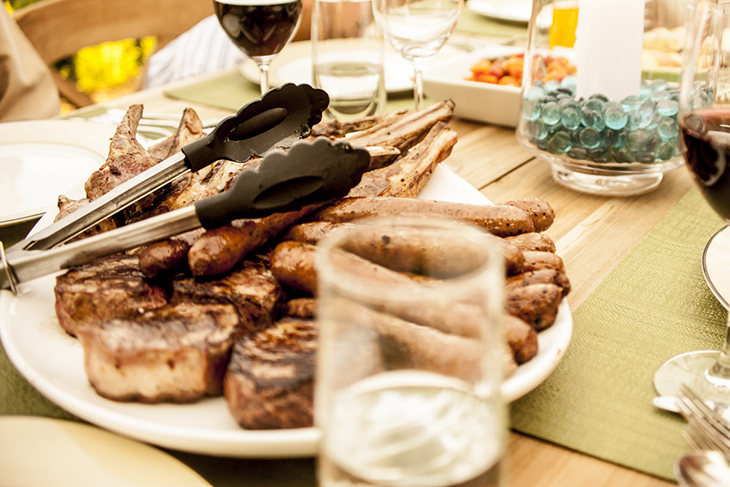 The 10th issue of our Hotelier Maldives print edition was dedicated to profiling a selection of the country's most well established F&B suppliers. Many of these companies have been operating since the beginning of the tourism boom in the Maldives, and are the cornerstones upon which the Maldivian hospitality industry is built. Here we share the profile of United Food Supplies.
There it is – your rack of lamb, warm on your plate, bones sticking fashionably out, doused in its juices, sprinkled with rosemary, with its entourage of sauted vegetables – baby tomato, zucchini – pickled olives stuffed with feta. After that deliriously delicious first taste, a few stray thoughts flicker: where did the meat come from? How did it get here?
Some questions have answers and these just happen to be among those that do. Let us rewind and trace the journey while you eat.
Your lamb is in the kitchen, being prepped for its final presentation. It is cooked to perfection and seasoned, and put in the company of luscious vegetables. A while before that it was taken out of the chiller. Then it was defrosted and cut to its final appearance.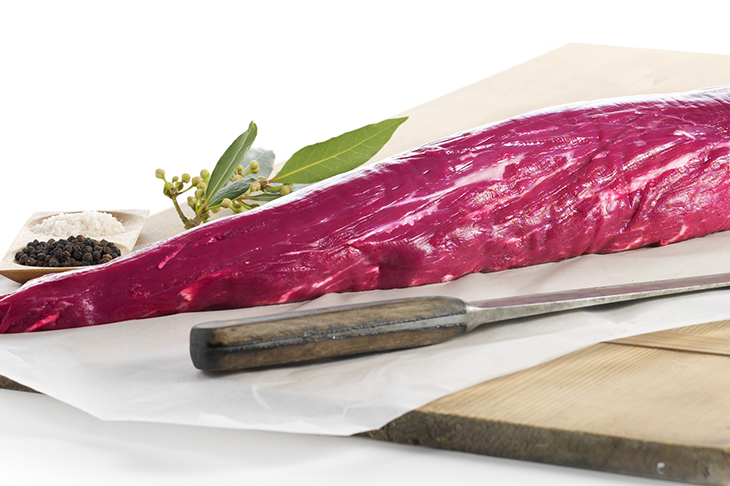 Go back a few nights and you will find it in a package, waiting at the United Food Supplies' temperature controlled warehouse in Hulhumale', the country's largest such facility. The facility has a capacity of 3,000 tons and began operating just recently at the end of August. From here, warehouse staff check the offer sheet that details what the resort would like to purchase. And the goods, with your rack of lamb among them, are then delivered to the dock in a refrigerated vehicle. There it is met by the resort's own transportation vessel, capable of handling cold goods.
Rewind a week or two; (it does not take long for stocks of frozen meat products to be rolled, the turnover of such products at United is very high) the scene is the busy port area of Male'. Customs officials are releasing the container carrying your precious cargo. The container's temperature is regulated. It even has a special recording device that can display the history of temperature fluctuations from when it was loaded at the port of lading till the present. United's staff break open the seal of the container. Its goods are then transferred to United's vehicle and transferred to Hulhumale' cold, whilst ensuring that the cold chain is not broken. They are received and taken swiftly to the storage facility.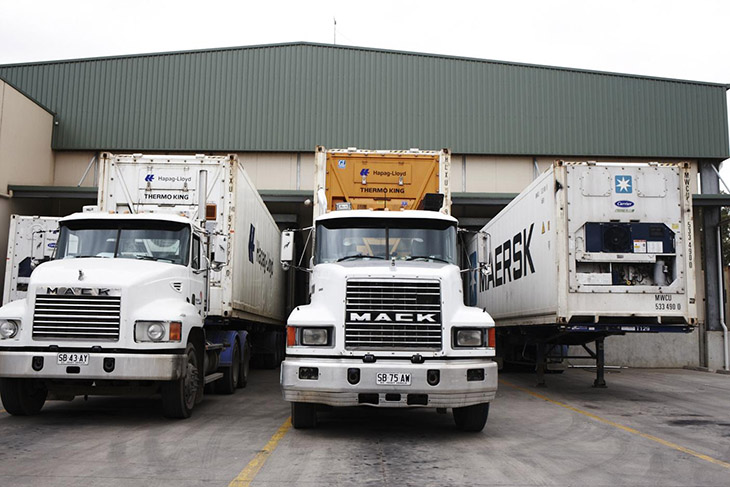 Now, time to go back a couple of months. There are cartons being loaded into a container at Adelaide port, Australia. Each carton is labelled with an individual barcode. When entered into a system, these codes can reveal a slew of key information including the production date and time. The container is then closed and a seal is placed on the lock which can only be opened by bolt cutters. This ensures that the goods inside are not tampered with. The laden ship then cruises off into the blue, calling at different ports en route to Male'. The journey is several thousand kilometres long, arduous, and can take anywhere between twenty and forty five days.
A few days prior; the scene is a chiller of Australia's largest family owned meat processing company, Thomas Foods International (TFI). This is where your meat is hanging. It has been there for twenty four hours. The air temperature is in the region of 0 degrees centigrade. If it drops below -1 degrees, the surface of the meat can freeze, and its appearance can be affected. Primary chilling is complete when the warmest point of the carcass has reached a temperature of about 7 degrees centigrade. Interesting fact: meat hardens if chilled too quickly, due to contractions of muscle tissue.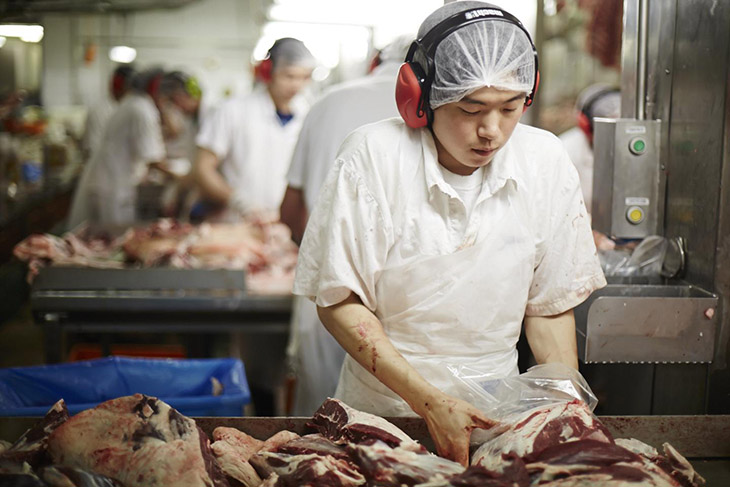 Staff check the temperature of the meat, which is then deboned in the deboning room. It is further cut, packaged and cartoned. It is now ready to be transported to the docks.
A day or two prior, the meat is still alive; it is a creature with eyes, a nose, a mouth, legs and wool. A word of caution: this is not for the faint of heart. The year old sheep is in a slaughterhouse. It is stunned with a cattle gun, and is still alive (the eyes of the beast are checked for signs of life) when the Muslim butcher, following a prayer, slices its neck with a clean blade while facing Mecca. Your meat is now halal, which is expected if you are Muslim. Then the carcass goes into the chiller where it is checked on several crucial aspects – the colour of meat and fat, bone density, et cetera – indicators of its quality and how it shall be graded.
A few days earlier: your rack of lamb is part of a frisky four legged creature, loping and grazing in a verdant South Australian pasture. It is markedly unaware of the fate that awaits it. This joyous animal will soon be transported in a cattle truck to a market where it will be bought by an agent of TFI. You can almost pity the poor beast; almost, because it tastes so very good.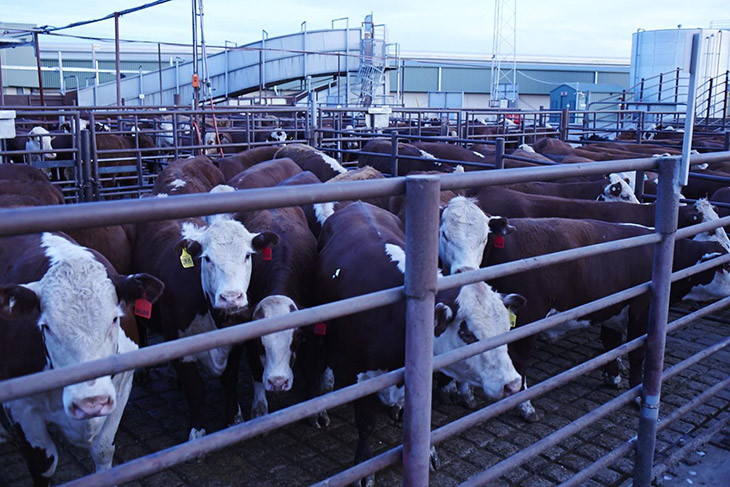 About United Food Supplies
The company started back in December 2007 when a shareholder of a prominent business took an interest in resort supplies, and decided to specialise in temperature controlled goods. With a smattering of staff and sharing an office space with a sister company, United invested in a chilled warehouse. It started to make a name for itself in the market, through its competitive pricing and reliability.
Initially United started off with a few resorts; the company matured quickly, wiggling its way into a market dominated by older, larger companies. Within a year of establishment, the company achieved HACCP certification; it was the first supplier to do so thus setting a trend. Such certification led to the trust of reputed hotel brands in the country, who wanted only the best for their guests.
Today United counts nearly all resorts of the Maldives as clients. With a dedicated team of 70 people and the largest cold storage facility in the country, United aims to maintain its excellent record and continue to look ahead, keeping abreast of changes.