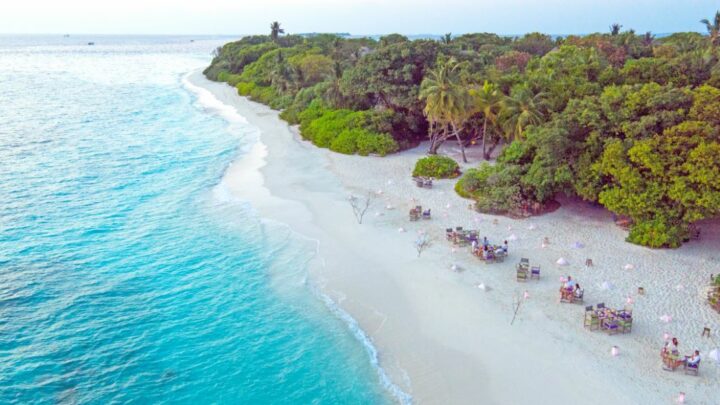 Building a Business with a Conscience
In honour of the World Tourism Organization (UNWTO) naming 2017 as the International Year of Sustainable Tourism for Development, we look into the success of companies that have paved the way for sustainability in Tourism.
The now-undeniable truth of the matter is, the days when sustainable development was heralded as a mere passing trend catering to niche markets such as eco-travel enthusiasts are long over. Today sustainability sits at the forefront of business development initiatives with an increasing amount of companies lining up to claim their stake in the driving force behind corporate successes such as the multiple award-winning Soneva brand."We believe that sustainability in tourism looks into the triple bottom line of society, environment and the economy," says Ahmed Moomin, Community Manager at Soneva Fushi Resort in Maldives, during 'A Case Study: Soneva and Sustainability' presented at the Hotelier Maldives' Wellness Summit 2017. "It's not just about making money but also about the environment and the community."
So what are the ways businesses adapt to sustainability? 
Camp ya Kanzi in Kenya, built using only local materials that had naturally fallen of trees, is another model of sustainable development not only owing to their unique architecture but they also employ local Masai for construction work, and source their energy through photovoltaic panels and their water, which is their scarcest resource, is sourced from the rain using their special catchment system.
In Puerto Rico, The Hix Island House uses solar panels to power both their electricity and hot water, and use recycled water from their guests' showers and basins to feed the guavas, bananas and papaya that grow nearby.
It's not just economically and environmentally vulnerable countries that are stepping up to the plate though. In addition to waste management, water saving and social responsibility programmes Italy's LeFay Resort boasts some incredible figures for their consumption of renewable energy; 100% for electrical energy, 85% for thermal energy and 100% for room cooling and air cleaning.
The URBN Hotel is China's first carbon neutral hotel using energy efficient light and cooling systems, even decorated using recycled or locally sourced materials. Another front-runner in eco-tourism, the Ramada Eco Beach Resort in Australia has also invested in a number of sustainable initiatives including a self-sustaining solar power plant, an on-site water recycling plant and even offers energy monitoring systems for guests to use in their eco-villas to monitor and adjust their individual consumption.
Alright, we've seen how it's done. But how do we measure sustainability?
There are a lot of different things to consider when you're talking sustainability – the economics of the operation, construction activities, monitoring facilities, purchasing protocols, pest control methods, energy-saving practices, water, waste management, the health and well-being of guests and staff alike, the ecosystem that your business exists in and the community that it depends upon, just to name a few.Due to the nature of hospitality as a business, and the fact that our technical knowledge and expertise with respect to sustainability and development is continuously and rapidly expanding, it is vital that we build businesses in a more heartfelt manner; to be considerate of the unique ecological nature of the hotel's location, study tangible examples of best practices that can be replicated and to grow in a manner that is flexible and adaptable to changes that may occur within the community and environment, whilst monitoring the positivity of your impact and improving upon it as much as you can."At Soneva we've created a Total Impact Assessment that measures our economical capital (operational expenditure, payroll, investments), natural capital (land use, water, carbon emissions, energy), human capital (human capital creation, human capital externalities), taxes) production, people, property) and social capital (Soneva learn to swim, Soneva eco camp),", explains Gordon Jackson, Soneva's Waste to Wealth Manager, during Soneva's presentation at the Hotelier Maldives' Wellness Summit 2017."Although we are using resources we try to look at our carbon footprint, which we're pleased to report we've reduced by nearly 20% since our base year of 2009."  Jackson further elaborates that the secret behind achievements of HICAP's Sustainable Investment category winner 2017 were the various projects developed over the years as well as the via the support of the many guests who buy into Soneva because they believe in their philosophy.
Fair enough. But, how profitable are sustainable business practices?
Sonu Shivdasani sums it up well: "The next generation of luxury holidaymakers, with their ever-connected, hyper-informed, global lifestyles, will be even more demanding of the industry."The future that Sonu spoke of seems already to have arrived. Last December, the United Nations General Assembly declared 2017 the Year for Sustainable Tourism for Development, marking a global recognition towards the need to build a more responsible and socially conscious tourism sector. It is also indicative of how aware the global community is becoming about hotel sustainability and environmental concerns.And as travellers become more sophisticated, hotels gearing up to stay ahead by implementing responsible sustainability policies that make business sense and that make a difference. In a world where resources are becoming scarcer every day, it seems that strategies such as waste management and supporting local communities actually end up paying for themselves."We strive to set a benchmark for responsible tourism and think of ourselves as strong advocates that travel and tourism can have a positive impact on the planet and on conservation," concludes Soneva's Moomin. "We aim to demonstrate that sustainability and sustainable practices are what's good for business, as well as for the planet".With Soneva and other multitude of other luxury and budget hoteliers around the world incorporating an array of sustainable development practices as part of their daily operations and corporate social responsibility, whilst filling room capacity all year long and acquiring as dedicated a fan base as they have, it definitely seems to be the formula for success and perhaps the only formula to truly 'sustain' your business and bear through the changing times and climates alike.