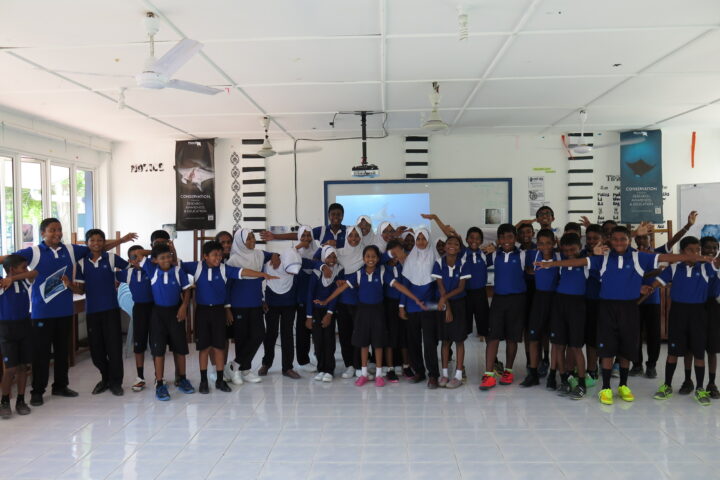 The Manta Trust and Four Seasons hold marine education event for local school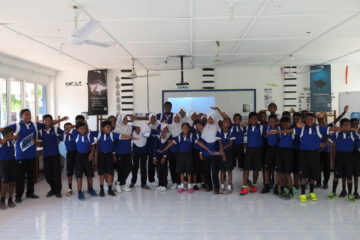 From July 31st to August 1st, the Manta Trust and Four Seasons Marine Discovery Centre (MDC) teamed up for a two-day marine education event at Bodu Huraa School in North Male Atoll. Over 100 children aged between 6-12 years old attended the camp and participated in games, activities and lectures aimed to increase their knowledge of marine conservation and stewardship.
"Each day began with a manta ray research and conservation exercise to help the group learn more about the threats to manta rays around the world. The children became manta biologists and played 'Match the Manta' using our brachial spot index. This taught them how Manta Trust research helps collect information on manta populations to protect the species," explains Clare Baranowski, event organiser and marine biologist at the Manta Trust.
The campers then learnt about the threats to sea turtle hatchlings in the Maldives by playing 'Hatching Tag'.  This included highlighting the adverse effects of littering on marine life and each child was responsible for collecting and throwing away their litter throughout the day.
During the afternoon, each group visited the MDC at Four Seasons Resort on Kuda Huraa and assisted in making of a coral frame.  After an educational talk on protecting turtles and corals, the children visited the turtles currently in our care.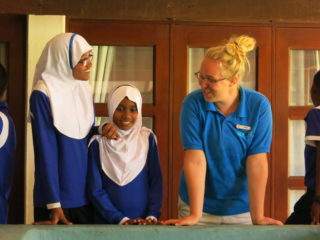 Every participant then took a recycling game pack home so it is hoped their learning experience will be extended to their families.
Sam Hope, MDC manager commented on the event: "The camp was a brilliant success and it was amazing to see the kids so enthused about conservation.  The MDC intends to continue collaborating with the Manta Trust's outreach projects and will implement a longer term relationship with the school in the future."