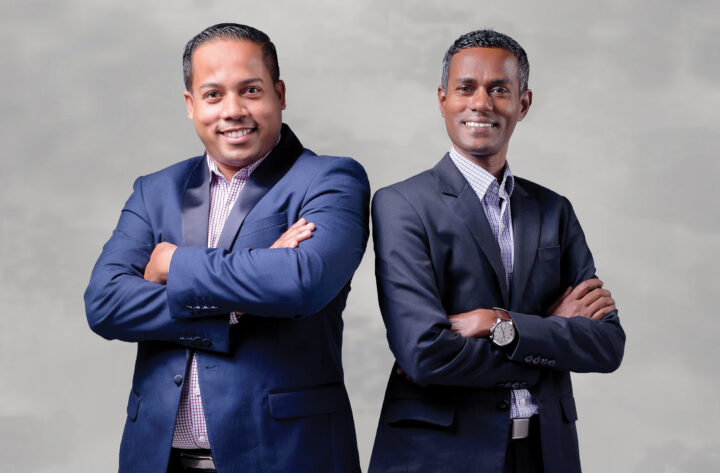 The Relevance of Service Excellence
In the cover story for issue #27 of Hotelier Maldives, we discuss the relevance of superior service, and how it helps customers as well as organisations to grow, live and serve others. Further, Afeef Hussain (Regional Director of Training, Development and Quality Assurance at LUX* Resorts & Hotels) and Mohamed Athif (Director of Human Resources at Kandima Maldives) explain how their teams work on the principles of providing superior service to have a sustainable competitive advantage in the hospitality industry. We also discuss maximising the effectiveness of HR function and Service Excellence so as to increase business revenue.
Building a superior and sustainable service culture is a vital and multifaceted project that can deliver positive social consequences and long-lasting commercial results. While the luxury island tourism industry often distinguishes itself through ornateness, the extravagance found in the hospitality industry can also be redefined in terms of experience.
Several elements contribute to the success or failure of your service programme. If you are pursuing a revolution in the service culture of your organisation – desirous of changing the mindset and actions of a large group to provide a better service to customers and colleagues – than consider where your current efforts are supporting you by getting it right or exasperating you by getting it wrong.
The problem with HR training
While many organisations spend heavily on service training often substantial results are not achieved. Research by Ron Kaufman; author, keynote speaker, and founder of the customer service training company, UP! Your Service advocates this is because training teaches someone how to do something in a specific situation.Training, by its nature, is tactical, prescriptive and differs between functions and departments. His extensive research on superior service is supported by Afeef Hussain, Regional Director of Training, Development and Quality Assurance at LUX* Resorts and Hotels, who sat down to discuss the relevance of service excellence with Hotelier Maldives."Employees often feel uncertain when they encounter a situation they have not been trained to handle. When training gaps occur, it leads to an increase in the time and resources taken to resolve the issue, without a guarantee of a desirable outcome for the customer," says Afeef.
Building a culture of service excellence
Organisations that build a superior service culture create an environment with a shared understanding of fundamental service principles and common language to speak about and deliver superior service. Kaufman advocates for a Superior Service Culture, where everyone is educated, motivated, recognised and rewarded for creating increasing value for customers and colleagues.
Both Kaufman and Afeef are firm believers that while service excellence is essential, a superior service culture requires deliberate design, development and sustenance. "A proven architecture of superior service, education, leadership, training, development and support can be applied to successfully bring about a culture of service excellence throughout your organisation," says Afeef.
Why Bother?
When organisations provide a superior service – and heighten the service experience – value is created for customers beyond the prices of a visitors stay or features such as the natural beauty of the islands. "The service provided from the moment of arrival to departure differentiates you from the competition. This leads to a sustainable competitive advantage," explains Afeef.
"Service culture was our company's virtue during challenging times, such as those in 2008. While facing adversity, LUX* took a positive approach and devoted itself to great service for its customers and people."
Until 2008, LUX*, (formerly known as Naiaide Resorts) was performing well. It was profitable and consistently had high levels of occupancy. During the period, Naiade invested in a number of resorts in the Maldives and Mauritius. At the same time, Naiaide Resorts was hit hard by the global economic crisis.
Rather than letting negativity take root leading to greater losses and poor employee morale, Naiade was successfully able to rally its troops to give a paramount commitment to service. With this transformation, the group has seen consecutive quarter-on-quarter improvements in its financial service. The group's financial performance was mirrored by winning multiple accolades for service excellence including Indian Ocean Leading Hotel for LUX* Maldives for World Travel Awards 2017.Service training and development programmes
Whilst training and development are important for both hospitality and non-hospitality establishments, Afeef notes how training works at the LUX* team, due to his extensive experience in leadership development – will surely impact hospitality professionals, especially those serving in middle to senior management positions.
"Management is vital to focus as I firmly believe in 'everything rises and falls on leadership'. Therefore if the leadership is not in line, we will not be able to lead and strive to achieve excellence," says Afeef.Afeef notes that while management level professionals require training on management skills, other employees receive a significant portion of training which include two key parts. One is sessions conducted under the title of "training." This training programme, based 'On the Job' training sessions is specific skills related and covers areas such as Waiter or GRO service skills and other technical skills. The second part is 'Service Education' under which education of team members on soft skills and mindsets needed to provide a world-class service culture.
To assist with this, Afeef customises the training based on the need and changing of business needs. This training programmes, which is based on detailed research and Afeef's extensive experience, covers areas such as Growth Mindset, Emotional Intelligence, Presentation Skills, Time Management, Leadership Programmes and series from John Maxwell Books, Up Your Service Superior Service Culture Series and many more.
Whilst underlining the tangible success of training, Afeef notes that success manifests when others acknowledge the individual's achievements made in performance. "The success of training is defined by the individual's ability to learn, grow and develop to their full potential," Afeef explains.
Another factor that Afeef and his team pay special focus to when designing training programmes is their client's brand. "In every single programme, the DNA of LUX* Resorts and Hotels which is our Vision, Purposes and Values are included to ensure consistency in our brand and service culture message," Afeef adds.Service excellence and the hospitality industry
Established luxury hotels have come to be associated with stiff-upper-lip service and stuffy opulence.  Lighter hospitality for this small island country meant breaking away from these to offer a more effervescent experience without compromising upscale sensibilities. Afeef and Mohamed Athif, the Director of Human Resources at Kandima Maldives, both shared insights on the principle of providing superior service whilst addressing the changing role of recruitment and having a sustainable advantage in the hospitality industry.
During the discussion about sustainability in hospitality human resources, Afeef said: "The role of HR has changed significantly over the years. HR is no longer seen as an 'administrator' or 'auditor' – the HR manager is becoming an increasingly integral part of a hotel's long-term business strategy.
"For example, let's say a vision like 'we make each moment matter' and a purpose like 'helping people celebrate life' is turned into observable and trainable commitments. LUX* Resorts and Hotels has deciphered the code by observing these standards, and teaching, coaching, managing, maintaining and celebrating them. This is how we turn the passion for service into measurable performance standards."
Athif adds to the discussion by noting the importance of personal career goals. He says that the initial thought process of hiring the best candidate on paper was replaced by the hire of employees that fit into the company ethos and would work to develop a successful career path for themselves and their associates.
Afeef went onto note that the LUX* team, come from different backgrounds, experiences and countries and come with mixed adaptations of whatever LUX* requires. "Flexibility in learning, unlearning, and relearning to understand the qualities of LUX* is essential to meet the property's vision and values," says Afeef.
Athif adds that it's important to give back to employees so as to stand apart from the many resorts in the Maldives. In addition to the different ways of remunerating people – employee benefits, pension schemes and employee welfare – you can have a companywide initiative or take frequent polls to find out how to accomplish personal, as well as company goals. "Everybody wants to increase productivity as well as become a better employer. It's a fact of life," says Athif.
While people are essentially the same and thus learning needs don't change no matter where they are, Afeef highlights the unique culture of the Maldives along with the many different cultures that are in play within the country's tourism sector. According to him, humility and high levels of motivation are cultural traits of the Maldivian people.
"What's so great about working with Maldivians is that everyone's quite humble and quite keen to learn. While education and talent are plentiful, Millennials want to accomplish career goals. We analyse the skills needed to succeed, we create a learning environment that enables individuals to bring their experiences forward and what we do is built onto and add value to those cultural traits," he says.Athif adds that it's important to welcome happy personalities to the team. A happy personality is another cultural trait of Maldivians and from a guests' point of view, it would be extremely intriguing to have a Maldivian national greet them and engage with them. "From an HR perspective, a happy personality would bring about productivity and motivation to the workplace," explains Athif.Tools for HR leaders to succeed in the future
As HR professionals seek to add strategic value to the business, both Afeef and Athif agree that the time has come for HR professionals to adopt new ways to equip staff to serve the customer and the CEO. Afeef comments: "HR professionals may not be involved in providing service to external customers, they are in a powerful position to cultivate customer focus and equip staff throughout the organisation to have a business mindset. Because of the inherent characteristics of the hospitality industry, for hoteliers like LUX* Maldives, customer-facing staff are critical business assets."
Afeef adds that while resources and best finances do not lead to results, the group of professionals whose mindset are framed upon learning, perseverance and personal growth were more likely to succeed than the group who focused on talent, luck and resources. Athif notes that the way forward is for HR professionals to be knowledgeable and aware from a business perspective for the entire business to be strategic. "Without this mindset, the decks are stacked against an HR professional due to the existing viewpoint of the HR stereotype," he says.
Afeef also highlights that in spite of the emergence of new responsibilities, the massive task of recruitment still falls in the human resources remit and HR managers are consumed with the year-round challenge of attracting and retaining the right staff. He adds that the stabilization of the cost of hiring people would be maintenance and sustenance of staff.
Athif notes that for an organisation to stay competitive its HR department must lead cultural transformations rather than using consolidation and cost-cutting methods to make the firm profitable.  He adds: "To boost the morale of HR professionals, senior management should encourage HR to take calculated risks to take the business to the next level."