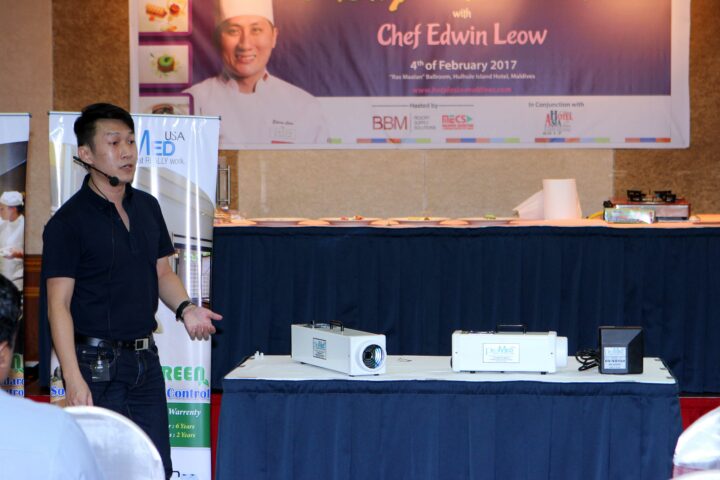 Time to say goodbye to bacteria, germs and bad odour- BBM
Is bacteria, germs and bad odour giving you trouble and causing health problems? It is time to say goodbye to bacteria, germs and bad odour, said Best Buy Maldives (BBM), the exclusive sole-distributor of ProMed USA Ozone Generators in the Maldives. The product line – the first of its kind to be introduced in the country – was launched as part of the Special Masterclass in Pastry with Chef Edwin Leow, held in Hulhulé Island Hotel.
ProMed USA Ozone Generator provides solution to odour control and improves Food Safety standard for F&B industries. "It is the only green solution to odour control, and permanently kills germs and viruses on contact, in addition it permanently destroy bacteria, fungus, mold and mildew too," Geeth Anuradha – Head of Industrial Materials at BBM said. "This product is especially important in the country's hospitality industry. Hoteliers are to provide the best experience to tourists staying with them. With ProMed USA Ozone treatment I believe we can help hoteliers to achieve this goal easily."
ProMed USA Ozone Generator keeps air smelling fresher, cleaner and eliminates all odours including garbage, alcohol and tobacco within minutes. "Hotel rooms, restaurants, lobbies, lounges, and many other public areas can be easily cleansed of odour using this product," he added.
"The units are lightweight and portable, and only require about 10-minutes to treat an average hotel room, and it can easily fit on a housekeeper's trolley," he further explained. Tobacco and food odour in the hotel room can be easily removed. Application in a food processing area helps odour and bacterial control, installing in chiller improves shelf life of fresh produce, reduces spoilage and prevent offensive odours.
"Odour caused by renovations such as paint and lacquer can also be quickly eliminated," Geeth said. "Cigarette and other tobacco products, heavy lingering perfumes, garbage and food waste smells can be eliminated easily by shock treatment of ozone in hotel rooms and bin centers in resorts in about 10 to 60 minutes." It is designed for private homes, rental properties, offices, hospitals, clinics, nursing homes, food markets, F&B areas, and agricultural and meat processing and packaging facilities.
How does it work? Ozone is the second most powerful sterilizing agent in the world and one of the most effective eliminators of odour, mold, germs and other pathogens. ProMed USA Ozone Generator produces ozone using UV light. When ozone comes in contact with germs, bacteria, viruses and odour, it permanently destroys and kills by oxidation.
Is it safe to use? The United States Environmental Protection Agency (US EPA) determined that ozone concentrations in continually occupied spaces below 0.08 ppm (parts per million) are perfectly safe. United States Occupational Health and Safety Organization (OSHA) and Singapore National Environment Agency (NEA) have set a 0.10 ppm standard for ozone levels in continually occupied spaces over an 8 hours period.  Normal concentrations of ozone produced by the ProMed USA Ozone Generator are generally between 0.01 and 0.02 ppm; one-fifth of the US EPA, NEA and OSHA threshold. Any ozone left in the air will quickly revert back into oxygen (usually within 30-45 minutes).
Why not use an ionizer instead? The difference is that ionizers do not kill dangerous pathogens and bad odour. Bacteria and other germs are captured in a filter, which require frequent replacement or cleaning, and can be expensive and time-consuming. ProMed USA Ozone Generator does not have expensive filters to clean or replace, providing simple maintenance, low operating cost, durability, long life, sterilization and permanent odour removal. "ProMed USA – manufactured in Canada – comes with a 6-year warranty on the ozonizer and 2-year warranty on the UV tubes," Geeth added.
BBM is also working with ProMed USA to introduce ProMed USA Ozonated Water Generator in the Maldives, which has its applications in the food processing industry, restaurants and other F&B outlets. It produces ozonated water which kills 99.999% of pathogens within just 15 seconds of exposure.
Used in Most hotels in Singapore, some of the top ProMed USA Ozone Generator customers include the Marine Bay Sands, Ritz-Carlton, St. Regis Hotel, Shangri-La Hotel, JW Marriot, Grand Hyatt Hotel, Hotel 81, Four Seasons Hotel, Changi Airport, in addition to many hotel chains in Malaysia, Thailand, Vietnam, Indonesia and the Philippines.