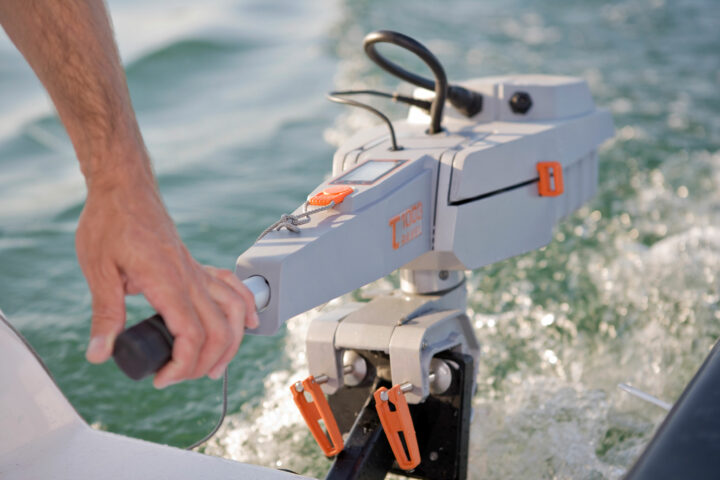 The revolutionary Torqeedo Electric Outbound Engine now in the Maldives
Torqeedo Electric Outboard engine is the leading water-based, electro mobile motors, founded in 2005. The revolutionary, solar powered product has now arrived in the Maldives, assuring the following benefits:
Torqeedo propellers are used from small commercial vessels to lightweight dinghies, kayak to yachts. Torqeedo offers outboards and inboards electric motors and hybrid drive systems ranging from 1 to 80 hp. There are also all sorts of functional and innovative accessories such as a very cool smartphone application with integrated GPS and USB connection.
This new, solar powered product is cheaper than a standard petrol engine with almost no maintenance issues, minimizing the cost of maintenance and oil supply. As an added bonus, it doesn't give off harmful substances to the earth or create any noise pollution.
On average at low speed, it has 10 hours of battery life and at full throttle – approximately 2 hours of battery life (depending on engine type), and has a lifespan of 3-5 years if used on a daily basis. If used only a few times per week the battery lasts longer from 7 to 8 years! Customers can add spare batteries to extend the range indefinitely.
Other advantages of the product include a built-in GPS system and display with instant feedback on speed, battery life and distance or hours remaining when handling the throttle.
The new Torqeedo Electric Outboard engine offers a quiet and peaceful means to sea-transportation – the perfect solution for the sea-vessels in the Maldives.
Exalto Emirates Marine Equipment is the regional distributor and the only authorized service center in the region for Torqeedo Electric Propulsion
Exalto Emirates is the largest stock keeping company for mechanical and electrical supplies for the maritime industry in the Gulf Region supporting the surrounding territories as well. The company represents over 60 of the best-known manufacturers and brands in the world and offer over 13.000 parts in their catalog.