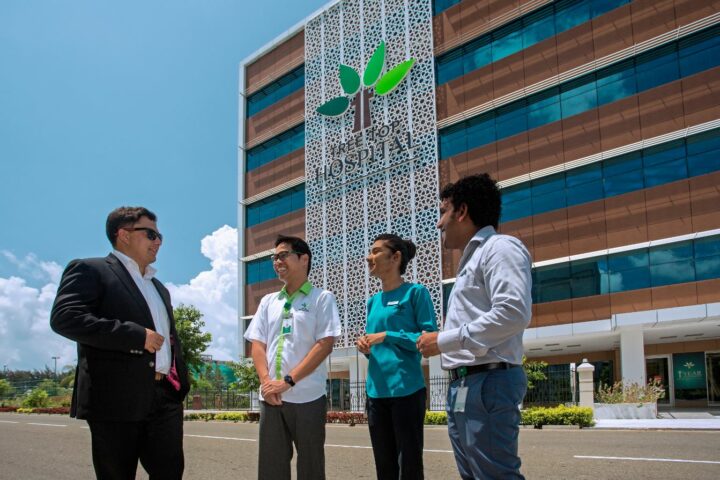 Providing high-quality healthcare services: A guest-centric approach by Tree Top Hospital
Despite the recent beginnings of the multi-specialty facility, Tree Top Hospital (TTH) is one of the finest and premier tertiary healthcare hospitals in the Maldives. Furnished with state-of-the-art technology and medical equipment, together with a vast staff body of medical specialists from multinational backgrounds, this newly-built healthcare facility brings safe, quality and excellent medical services to both local and international patients. Within the clinical expertise of the TTH, there are over 30 medical specialities focused on preventing, diagnosing and curing diseases as well as promoting health and wellness.
Located in Hulhumalé, Tree Top Hospital is within the vicinity of Velana International Airport and the capital Malé, making the facility highly accessible. Also, with a diverse range of inpatient rooms and suites, the hospital ensures the provision of quality medical services to the patients who prefer affordability, while also catering to VIP patients offering the ultimate luxury and privacy they seek. Reflecting on the importance of enhancing positive patient experiences, the hospital provides a soothing ambience and a cosy therapeutic interior.
Already designed to be an internationally competent healthcare facility, the hospital's commitment to quality assurance, continuous improvement and operational excellence, has brought about expectations that TTH may change the landscape of the Maldives' healthcare sector.
"We started this project to lift the landscape of health care services in the Maldives. Historically, the trend has been for Maldivians to travel abroad, for sometimes even simple medical treatments," observes Ibthishama Ahmed Saeed, Director of Business Development at TTH, speaking with Hotelier about the quality and standard of health care services available at the facility. "Our vision was to offer the same quality of treatment and care for locals in the Maldives as a trusted partner while being in close proximity with near relatives and loved ones."
With previous experience in the hospitality and tourism industry, when the hospital opened, it was expected to receive queries by tourists on the available medical facilities and level of services provided in the country. Tree Top Hospital was established with the aim of being the facility of choice for locals and for tourists also as a partner for all major foreign medical insurers.
It is the hospitality nature that makes the hospital unique, as patients are regarded as guests and will get to indulge in the Maldivian hospitality experience while being able to undergo complex medical procedures, reliably in their home environment and in the presence of their families and loved ones.
"Looking back over the past year, I can say that we are on the road to achieving our objective of being the health-care facility of choice and we have managed to build a trustworthy network both locally and internationally," says Ibthishama.
"I am also proud of our quality improvements; it is an ongoing process. The overall quality of our hospital is what makes me the proudest. We are continuously focused on improvement and our guest satisfaction. Our physicians, employees and administrators work in concert to make this a highly recognised and recommended hospital."
The hospital has more than 400 staff in addition to a number of senior qualified clinical experts from all around the world, bringing in best practice. New age technology, combined with highly skilled manpower also gives the hospital a unique distinction of providing comprehensive levels of care within its highly specialised departments.
Although the hospital has a full set of complex services, currently the focus specialities of distinctive strengths are Mother & Child Care, General Surgery Rehabilitative services, Nephrology, Orthopaedics, Neurosurgery and Emergency Services. Over the course of the year, the hospital intends to shift the focus to other targeted areas of speciality in demand, including Dental Medicine, Heart and Vascular Diseases, Gastro Sciences as well as Plastic and Reconstructive surgery.
Health care technology trends continue to drive growth and digitalisation seems to be the trend of the day. Tree Top Hospital uses the latest biometric applications in doctors' offices, administration, CRM, for use in monitoring guests and reviewing services and quality. Guests also have a full range of options to choose from starting with a basic one-stop service to an upgraded level as well as comprehensive services that optimise diagnosis and treatment processes.
Tree Top Hospital has been successful in developing a diverse team of specialised multinational doctors who bring in knowledge, skills and expertise from over 30 different countries to provide excellence and reliability. TTH fosters a work environment where diversity is valued, quality of life is enhanced and individual aspirations are fulfilled. TTH also provides Continued Medical Education Programmes for all professionals within the company in order to enhance their specialities. At Tree Top Hospital, teamwork is the most important resource in their service commitment.
TTH ensures that their guests are at the centre of everything they do. TTH also has partnerships with a number of international insurance service providers and offer interpreter services, advisory roles in accommodation and other related functions as well as financial counselling. Essentially, TTH caters to all the needs of the guest and companions from the food prepared by in-house chefs with counsel from Tree Top Hospital's dieticians to consulting physicians, medicines, transportation, medical insurance liaison. The guest and the accompanying person will be able to recover in the shortest time possible through a more focused care approach. To offer more privacy to guests TTH has avoided the patient ward system and replaced it with a new concept of hospitality consisting of room categories.
TTH is committed to delivering quality care and managing risks. The hospital is focused on continuous improvements to ensure that services are as safe as possible by minimising risks at all times. The 'strong culture of safety and quality' is ultimately reflected in their approach; creating safe environments and systems of work for staff as well as reviewing and improving on continuously based on the performance of guest safety and quality systems, assisting the healthcare professionals to monitor the safety and quality of care they provide and ensuring accountability for the safety and quality of care at all levels of the organisation.
"We have established contracts to extend our services in health and safety screening for resort employees for Work Permits, Food Handler screenings and other purposes, establishing the clinic and placement of our doctors in resort clinical services to the resort guest. We have in our portfolio vaccination and health counselling to generate awareness about any epidemic diseases and its symptoms," says Ibthishama, speaking about the wellness programmes at TTH.
"Our Secondary prevention includes screening tests and monitoring that accounts for tests undertaken in our laboratory and health-care settings to ascertain susceptibilities and finally as a means of tertiary prevention we extend disease management activities and rehabilitation to those who have undergone interventional surgical procedures and are advised to adopt a healthier lifestyle."
The vision of TTH remains to be the leading healthcare provider in the Maldives by delivering international healthcare standards and high-quality outcomes to customers as well as ensuring the sustainability of the organisation. For more information, visit treetophospital.com.