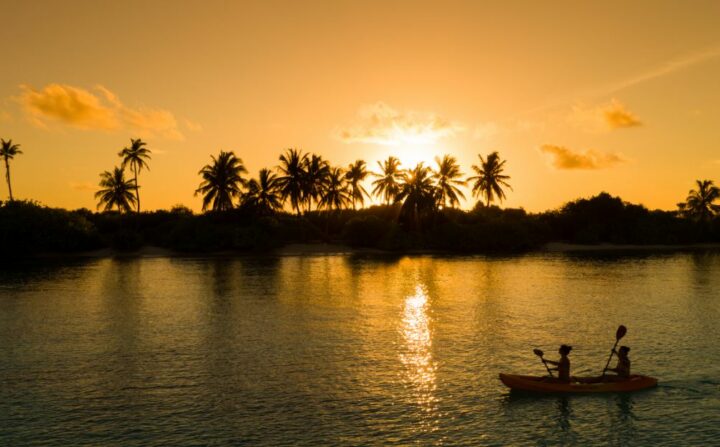 Under the Southern Cross: Observations on Addu Atoll's development and future
The southernmost atoll of the Maldives, Addu Atoll, is steeped in history and culture, home to remnants of the British colonial endeavour, a unique dialect and some of the country's most esteemed scholars and businessmen. Now more commonly referred to as Addu City, it's the country's largest population centre after Malé.
The inhabitants of Addu Atoll were among the first to feel and heed a calling for tourism; today, a significant number of Addu natives hold various positions at resorts scattered throughout the country. Yet this region didn't witness the rapid tourism development that characterised North Malé Atoll and atolls in its vicinity.
Addu City's tourism began in earnest with the establishment of Equator Village in the 90s, decades after tourism made its mark on Malé Atoll, aided by means of an old British piece of infrastructure: the airport on Gan Island.Initially, the airport saw domestic operations but in 2009, it was made an international airport. A few years later, the airport's managing company Addu International Airport Company Private Limited (AIA), entered into a public-private partnership."Historically, regional airports in the Maldives were owned and operated by our government," says Ibthishama Ahmed Saeed, general manager of AIA. "But, in recent years, we've seen a trend towards private development models."
Gan International Airport (GIA) is the pioneering public-private partnership project of its kind in the country. Its ownership is split between the government, two state-owned enterprises (the State Trading Organisation and Maldivian Airports Company Limited) and a private party, KASA Holdings Limited. KASA, owned by tourism pioneer Hussein Afeef (Champa), holds a 30 percent stake in AIA.
There is a case to be made for such a partnership. It strengthens governance, enhances transparency and creates a more accessible point of contact with a public. Also, having a private partner on board opens up development to public financing and sharpens its focus on service quality and commercial growth.While private partners ensure that capital is mobilised for optimal commercial performance, the government works on creating enabling environments, including legislative and regulatory frameworks.
GIA, with its restored and expanded runway, serves around 30 international flights, which include charters and private jets during peak months. Meanwhile, domestic operations average at 160 flights per month.
Addu's first tourism venture
In proximity to the airport lies Addu's first dedicated tourist undertaking, the Equator Village. Previously called the Ocean Reef Club, the property changed its name after Malé-based Kaimoo took up the reins in 1999.
The hotel has undergone some refurbishment and renovation this year; it now boasts a clean, rustic-looking reception, a white-themed restaurant and native plant motifs scattered throughout the common areas. Its 78 rooms have received some touch-ups, including widescreen TVs.
Historically, Equator Village's main markets have been Germany, Russia and the UK and the resort continues to see mostly European guests. But business could be better, mentions K. H. Piyawickum, the resort's longtime accountant.
"We're seeing extremely low occupancies during the offseason," he says. "The Russian market is in a slump, and we don't get many Chinese visitors during summer. Things pick up during peak months but our average occupancy remains well short of the national average."This has always been the case. "We've had similar booking patterns earlier, there hasn't been much variance," Piyawickum observes.
Piyawickum notes an issue that had plagued the region earlier; there were no connecting domestic flights to and from Addu. This meant that tourists had to book hotels in Malé on both legs of their journey. "With several daily flights between Addu and Malé, guests don't have that problem anymore," he says.
He also observed that there has been a slight increase in guests since SriLankan commenced scheduled operations to Gan, though the bulk of the resort's guests arrive via domestic carriers. However, Piyawickum remains hopeful that airport expansion will bring more tourists direct from Europe, Asia and elsewhere.
Canareef, Seenu's Second
Canareef Resort Maldives, Addu's second major tourist venture, is located on Herathera Island, a 20-minute speedboat ride from Gan. The island has seen several management changes over the years. Initially operated by the Maldives Tourism Development Corporation (MTDC), it was subleased to Yacht Tours in 2008. MTDC regained control over the resort and in 2014, sold it to a Singaporean company, Canaries Private Limited, a subsidiary of Singaporean conglomerate Crescendas Group. Now rebranded as Canareef Resort Maldives, it is home to 271 villas, making it the largest resort in the South.
Canareef's general manager, Kevin Theseira, is pleased with the progress of the airport and expresses his hope for SriLankan to continue with their operations."We're really happy that SriLankan has commenced its route between Colombo and Gan," he says. "When you compare us with atolls up north, we're at a disadvantage here. Our guests have to board multiple flights and a speedboat before reaching us. If there are delays, it's even worse. Flying guests from Malé is also very expensive. So it's great that we've started seeing a direct flight."He notes that more should be done to promote the atoll as a destination. "There are some great draws to this area; we have fantastic dive spots, we have an interesting history and culture." The islands themselves are large and connected, offering a unique experience that visitors to the Maldives cannot find elsewhere.
"Our hope is that we are able to sustain Srilankan's operations and see additional carriers commence flights to Gan," says Theseira. "It won't just help us, hoteliers, it will be a boon to the entire economy down south, for entrepreneurs."
The Shangri-La Experience
Shangri-La's Villingili Resort & Spa, the South's first luxury property and major international brand, is situated on the southernmost island of the Maldives, five minutes from Gan. Over two kilometres long, it's among the country's largest resorts.
Its 132 villas are spacious, carefully curated spaces offering a wealth of modern conveniences and rustic design elements. The resort opened up for business in 2009, the same year the airport on Gan went international.
"Nobody really wanted to come this far south," says Allwyn Drego, Shangri-La Villingili's general manager, who's been with the resort for over two years. "We went in because there were plans to make the airport an international gateway and saw an opportunity here."
2009 proved to be a good year; the world was recovering from the financial crisis that sent shockwaves around the globe, and markets were opening up. Also, China, with whom the Shangri-La Group has strong ties, had just 'discovered' the Maldives.
"China's our biggest market, accounting for about 37 percent of our guests," explains Drego. Europe follows close behind with 28 percent and the Middle East with 18 per cent.
"We're lucky to be where we are, so close to the airport," says Drego. "A number of private jets fly into Gan during the season and our occupancy picks up. But it's not enough."As with Equator Village, Shangri- La Villingili's year-round occupancy remains well below national average, around 55 per cent. An influx of private jets during peak months aren't enough; to be profitable, the resort needs regular scheduled commercial flights. But therein lies the dilemma: to get more flights you need more beds, and to get beds, that is, for investors to invest in properties, you need flights. You need a regular inflow of tourists.
How does one tackle this? "We need strong policies from the government," says Drego. "We need a commitment to the region, and for that, the government has to create incentives for investors and hoteliers to invest in the South, rather than increasing the concentration of tourism endeavours up north."
Hatching plans for a greater Addu
The demands of hoteliers in the South don't seem to be falling on deaf ears. Earlier this year, at the Addu Investment Forum held in April, the Maldives Integrated Tourism Development Corporation (MITDC) announced plans to develop guesthouses in the region, which will add some 3,000 beds.
Meanwhile, AIA has plans to connect the southern atolls much as Velana International Airport does the atolls up north. A seaplane base is already in place, operated by Trans Maldivian Airways (TMA), which will allow for connectivity between Addu, Fuvahmulah, Gaafu Alifu and Gaafu Dhaalu Atolls.
"The guesthouse industry is already taking off in the region," says Ibthishama. "Connecting those atolls will be a huge draw for low-cost carriers to commence operations to GIA." Another planned AIA project, if it comes to pass, will see an increase in the bed capacity of Addu by means of a four-star hotel."We're presently working on procuring finance and adding to the initial concept plans on this project," explains Ibthishama. "And we're positive that it will be completed within eighteen months from the date of project initiation." The expectation for AIA to deliver cannot be overstated. Hoteliers are waiting with bated breath for scheduled carriers to commence direct flights to Gan and they hope they won't have to wait much longer.
They are also counting on the government to shift their focus below the equator and channel investments to the south. If everything goes according to plan, Addu becoming a regional tourism hub is as inevitable as the Southern Cross rising above these beautiful, sleepy islands.