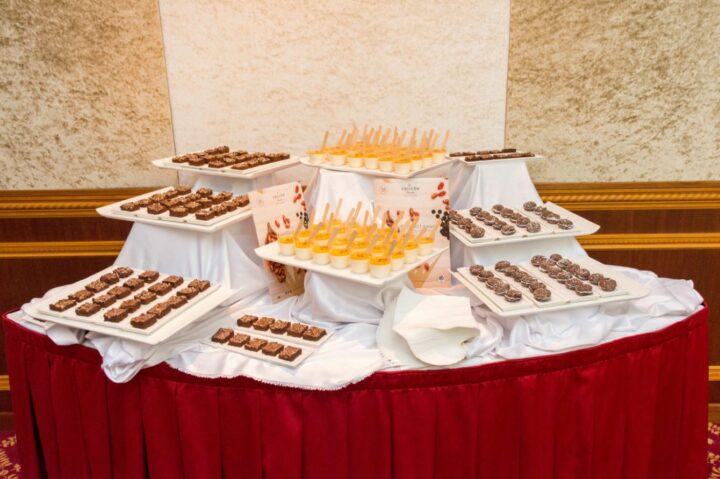 Veliche™ Gourmet: The newest addition to BBMs portfolio of world-class products
Bestbuy Maldives (BBM) has made another exciting addition to its portfolio of world-class products, with the introduction of globally-renowned Belgian chocolate brand Veliche™ Gourmet in the Maldives. The premium brand was launched at an event held at Hulhulé Island Hotel (HIH), followed by a Veliche™ Roadshow hosted by Michelin Star Chef Bruno Menard.
"We are very excited to bring this high-end chocolate brand to the Maldives directly from Belgium, in partnership with BBM. With this initiative, we are able to get rid of the complexity involved in supplying high-end chocolates in the Maldives' market," said Éric Gagnon, Senior Sales Manager, Asia Pacific, Cargill Cocoa & Chocolate – a US-based company with over 150 years of experience.
Veliche™ Gourmet sources its cocoa from Rainforest Alliance Certified farms in Ghana and Côte d'Ivoire, and are processed in Belgium. Rich in character and complex in flavour, yet remarkably workable, Veliche™ Gourmet is dedicated to artisans, with purity and simplicity at its heart.
"Delivering quality to artisans and Chefs begins with an extensive presence in origin countries. Every step of the journey, from sourcing the best beans to producing exquisite Belgian chocolate, is overseen by a team of experts. Veliche™ Gourmet has been specifically designed to answer artisans' quest for the famous Belgian chocolate taste," said Éric, speaking about the Fortune 500 company.
"Where ever we do business, we leave a positive impact on the community; in the likes of building schools, supporting farmers and other such programmes under our Cargill Cares programme." Veliche™ Gourmet follows strict ethical principles in sustainability, ensuring the preservation of rainforests.
"The team at BBM truly believes that bringing about a product such as Veliche Gourmet can greatly strengthen and diversify the quality of the products that are being served in the Maldivian tourism industry," says Mohamed Mazloom, Director and CEO of BBM. "Furthermore, Veliche Gourmet offers a sustainable solution, in which by using the product, the consumer is in-return helping to make the globe a safer and greener place to live in."
BBM launched the new product through a masterclass hosted by Michelin Star Chef Bruno Menard – who comes from a family of chocolatiers with over 100 years of history behind them. "I have to agree that Veliche is a premium product, and they've brought about some 40 different products over a short period of time," said Bruno.
"What I notice about the Maldivian market is that there are a large number of young and enthusiastic chefs. I believe this product can have a huge impact on the young generation of chefs. And I am very excited about the journey BBM is taking together with Cargill."With over 50 attendees, the masterclass turned out to be an exciting event, where Chef Bruno weaved Michelin-magic and shared his techniques and tips with a very exuberant gathering. The event was followed by visits to seven different resorts, where Chef Bruno and the team found that chefs were very delighted with the launch of the new brand.
"As chefs, our dishes are as good as the ingredients we use to make our dishes. If we don't have high-quality ingredients, our end products or dishes will not be good. By choosing to use premium brands like Veliche™ Gourmet, we can guarantee our dishes are top-notch and what our guests expect," Chef Bruno added.
Veliche™ Gourmet enjoys a strong tradition of chocolate making. This range centres around purity and simplicity, offering differing taste profiles from well-balanced dark chocolate couverture to the finest Belgian milk chocolate couverture and a rich, creamy white chocolate, all perfect for artisan production. The Maldives is the first country in the South Asia region to offer Veliche™ Gourmet chocolates. For more information, visit www.bb-mld.com.