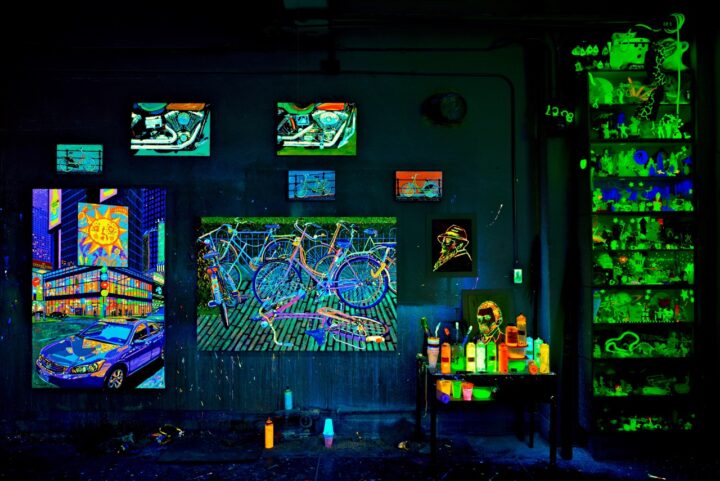 W Maldives presents Let It Glow with resident Luminous Artist
Award-winning glow-in-the-dark artist Tom Bacher will bring W Hotels' passion for design to life at W Maldives from 21 May to 5 June.
Bacher, an American national, prefers to showcase his paintings rather than himself. He will use the iconic W Maldives as his own workshop and art gallery, showcasing his luminous art and holding art classes for in-house guests and W talents alike.
"Getting his inspiration from the New York City's vibrant 24/7 skyline and the Indian Ocean's colorful marine life, twinkling stars and phosphorescent plankton, the luminous artist will transform the tropical playground into a magical island set to 'Let It Glow' with sparkling neon colors," said W Maldives in a press statement.
"Artists are supposed to love light, but Tom actually works with crystals of phosphorescence that he mixes with acrylic paints. The amalgam that results has a half-life. The paints on the canvas absorb light during the day; as light fails, the colors change, and when darkness invades the studio or gallery, the pictures start glowing, popping off the wall."
"I do paintings that actually incorporate an element of time and change," Bacher describes his creative process. He recalls that his fascination with phosphorescence stems from the glow-in-the-dark toys, religious statues, and rosaries so popular in the USA in the 1950s.
"I consider paintings that glow and emit their own light as new, just as Impressionism was new at one time," says Tom Bacher. "I look at Impressionism as the art movement that captured the sun and daylight effects, while today, with luminous colors, it's possible to capture the night effects because we're looking at the paintings in the dark. I've been using luminous pigments exclusively for 38 years, and I'm still discovering new things."
Tom Bacher's work appears in numerous museums, corporate and private collections in the USA and has been exhibited in Paris, Zurich, and Brussels. The artist has also showcased his paintings in West of Soho Gallery, Cincinnati, Ohio and New York's OK Harris Gallery with world famous art dealer Ivan Karp for 20 years. Bacher is currently represented by Cincinnati Art Galleries, Ohio and 100 Titres Gallery in Brussels, Belgium.
W Maldives, located in North Ari Atoll, can be reached by a short and scenic 25-minute seaplane flight from Male International Airport. The resort is set in a wonderland of white sand beaches, turquoise lagoons and breath-taking reefs. It features 78 private retreats – each with its own plunge pool and sundeck; six gourmet eateries and lounge bars, including 15BELOW, the Maldives' only underground nightclub and an over-water AWAY® spa for an ultimate escape.
For bookings and more information on W Maldives, please explore http://www.wretreatmaldives.com/