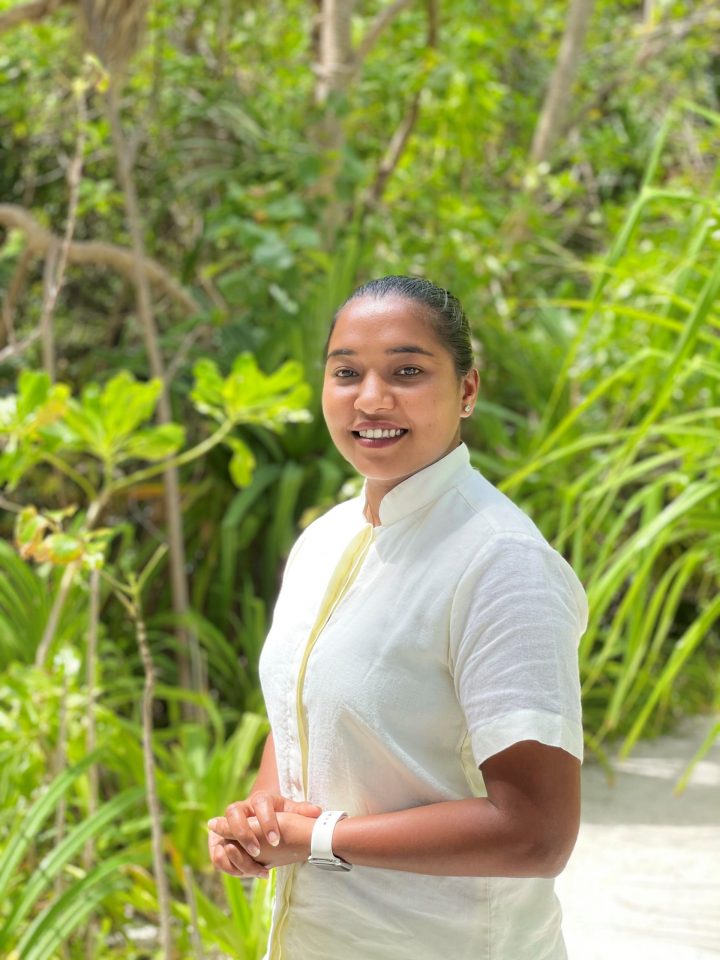 Women in Hospitality: Aminath Sazra, Acting Front Office Manager, Gili Lankanfushi Maldives
Aminath Sazra 'Shazu' is the acting front office manager at Gili Lankanfushi Maldives, where she leads the amazing team of Mr/s. Fridays (butlers). Shazu began her Gili journey in 2017 and was recently promoted to her current position.
Hotelier Maldives interviewed her to learn more about her work at the resort and her experience as a woman in hospitality.
Hotelier Maldives: Give me a brief introduction of yourself and your role at Gili Lankanfushi Maldives.
Aminath Sazra: My name is Aminath Sazra, known to most as Shazu. I was born in B. Kamadhoo. I am the fourth child in a family of two elder sisters, one elder brother and two younger sisters. I moved to Eydhafushi to pursue my secondary education and completed my O'levels and Baa Atoll Education Center. I moved to Male' for my A'levels at Center for Higher Secondary Education.
While I was studying, I really enjoyed engaging in sports. This passion for sports also made me think that I would enjoy a career in fitness as well. I love scuba diving as well and try to join on in a dive whenever I get the chance.
I love travelling and always have travelled back and forth to visit my mom and family as I've lived away from home for my studies. It gives me immense pleasure and excitement to explore a new place, their culture, food and people. Having travelled over fifteen countries I still want to seek more experiences in new places.
I have been recently promoted as acting front office manager here at Gili Lankanfushi. This is my sixth month leading the team of Mr/s. Fridays, Assistant Fridays, Airport Fridays and boutique.
HM: What drew you into the hospitality industry?
AS: I have seen that the hospitality industry allows people to develop themselves professionally and as a person. We improve on the professional skills with provided trainings that I really enjoy and at the same time with time and commitment we learnt others due to the diversity of colleagues, guests and situations that has put me to the test and challenge. It gives me the space to grow and improve as a person.
HM: Can you guide me through a day in your life at the resort? What are your daily duties?
AS: I wake up and start my day by planning my schedule. Having a written list and plan help me to structure my day. A fresh cup of coffee and breakfast is essential while I do this.
I then check my emails and prepare for the operations department meeting.
After attending and conducting the morning brief I meet the guests for breakfast. Then I prepare for the pre-arrival meeting by going through the guest correspondences and any special requests that they might have for the upcoming three days.
Next is attending the pre-arrival meeting with Mr. Fridays. I have my lunch afterwards with my daily phone call to check up on my mom. After finalizing the front office "Arrivals and Departures' report for the next day, we have teatime with the team at the 'Gililicious' – our canteen where we connect with other department hosts.
I try to find the time for a run and workout whenever I can. I return back and attend at office for any last requests and updates.
Lastly I meet guests during sunset cocktail and dinner and prepare for the next day. I try to engage in self-development trainings for hosts by learning new skills through online learning etc. I enjoy seeing hosts who we have trained performing well and to be a part of their success stories.
HM: The resort recently celebrated its tenth anniversary. Tell me about your Gili journey. How did it start and how is it going?
AS: I joined Gili as a Ms. Friday in 2017. The two and half years as Ms. Friday was the most incredible work experience I admire very much. The connection we create with guest and host here at Gili is something very special and personalised. It truly felt we live in our daily affirmation "Arrive as guest, leave as friend and return as Family".
We passed through a crisis and a pandemic, yet having a strong bond within the team of Gili.
I am very thankful to have receive the opportunities to shift with different responsibilities within the department.
I would describe my journey is bright and enlightening here at Gili.  And the feeling I have when I joined Gili and end up in a managing position, it's more than satisfactory.
HM: What do you love most about the resort?
AS: To work in a multi-cultural environment, we have the opportunity to meet and socialize with people representing different nationalities and culture.
I also love the attention given to sustainability and how environmentally conscious the resort is.
HM: As a woman in hospitality, have you faced many problems in your career? Do you think this is now changing and the industry is more welcoming for women?
AS: From my current as well as previous experience at hotels I have been lucky enough to have received equal opportunities and treatment.
I have come across below same as other women in the industry.
I believe this is due to cultural factors, preconceived notions/labels of society and individual acceptance.
Cultural factors: We are raised in close knit families that are very much attached whereby families find it difficult to let individuals to travel and explore and trust the work environment of the industry.
Notions/labels of society: I believe that the community's acceptance and approval plays a major role for women to move ahead in the industry.
Individual acceptance: To lead as a female and to persevere it is very important to be honest and respectful. We need to have a goal and a timeline and experience diverse areas, skills and trainings at different organizations/companies.
It is definitely changing now, the mind-set on women and girls working in the industry is evolving. Until recent years' girls are discouraged from working at resorts and considered an unsafe work environment for girls. However, that mentality has now begun changing for the better.
Today we see lot of empowerment, developments and initiatives done to increase the number of girls working in the industry. Women are in employment at high-ranking posts and working side by side to men and achieving so much
HM: Would you say the resort is a great place to work for women and why?
AS: Absolutely.
There are plenty of career opportunities to explore and choose from the field or department you prefer
We are respected, projects are assigned equally to perform
We get to be innovative, there are no restriction to present your ideas and opinion
HM: Do you have any females you look up to or take as inspiration?
AS: Ms. Luisa Anderson, regional director of spa for the Four Seasons. Ms. Luisa is a female leader who is respectful, organized and has an extremely positive energy around the people around her.
HM: What's your advice to women aspiring to join the industry?
AS: I would advise to master the basic foundation of any role you embark upon, be it the little tasks of your daily work. There is nothing you cannot conquer or achieve as a woman or an individual with dedication, will and patience. Set goals and timeline and organize the components required to achieve it. Always keep a balance of work and personal life and take care of your well-being as a priority too.