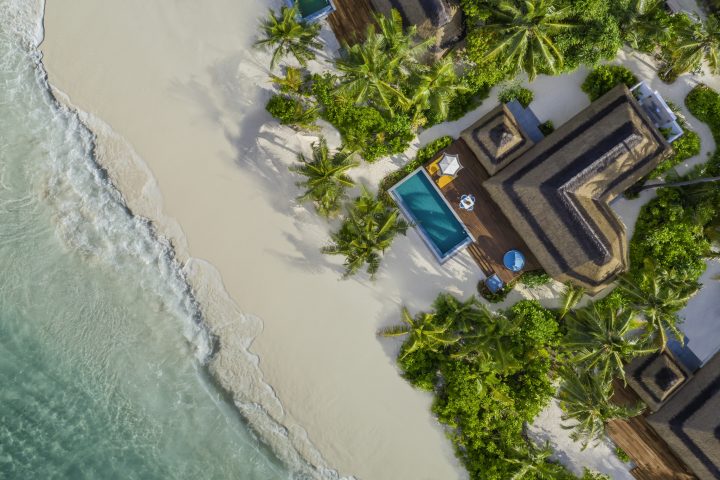 A Balanced Vacation – Pullman Maldives Maamutaa
It is no doubt that we all want our vacation to be as stress free as possible. One that is amusing and filled with wonderful memories and exciting adventures. A place where all our worries would disappear and where we are spoiled with heart-warming hospitality and luxury. Look no further as Pullman Maldives Maamutaa might just be the one. This place is for everyone be them a couple, a solo adventurer, a family or even a group of friends. You can choose to take it easy and enjoy the slow pace of island life or embrace your inner energy and fitness whilst embarking your journey at one of the best fitness retreats in the Maldives. The resort has more than your heart could desire.
Location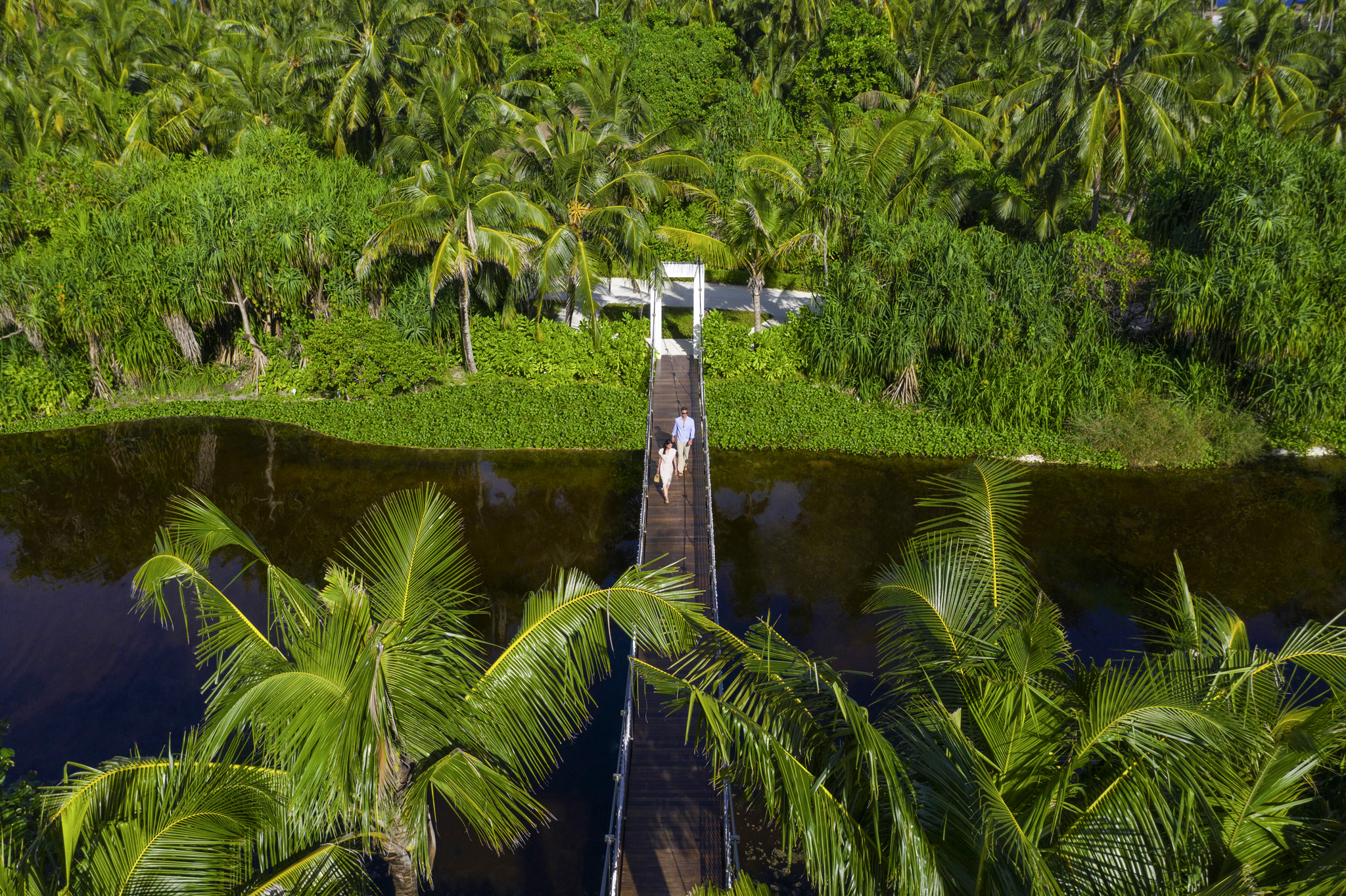 Pullman Maldives Maamutaa is located in one of the most untouched parts of the Maldives in South – Gaafu Alifu Atoll. You can reach this piece of haven surrounded by crystal clear turquoise water through a one-hour Domestic Flight journey to Kooddoo Airport followed by a scenic 10-minute speedboat ride.
The island itself is abundant in nature but also showcases a wide range of modern art in every corner of the island offering a perfect balance of nature and art throughout your stay.  The island is a rare gem within Maldives as the middle of the island is occupied by a natural freshwater lake which is uncommon among islands. What is more exciting is getting to cross this calm lake through a hanging bridge where you can view the colourful fishes swimming underneath or enjoy the gentle breeze touch your skin or just cross the bridge to get to the other side of island. Moreover, at the tip of the island you will find the biggest stripe of sandy beach and during low tide you could even walk over to reach the nearby sand bank to an untouched piece of paradise where you can stay and enjoy your very little private beach.
A luxury all-inclusive resort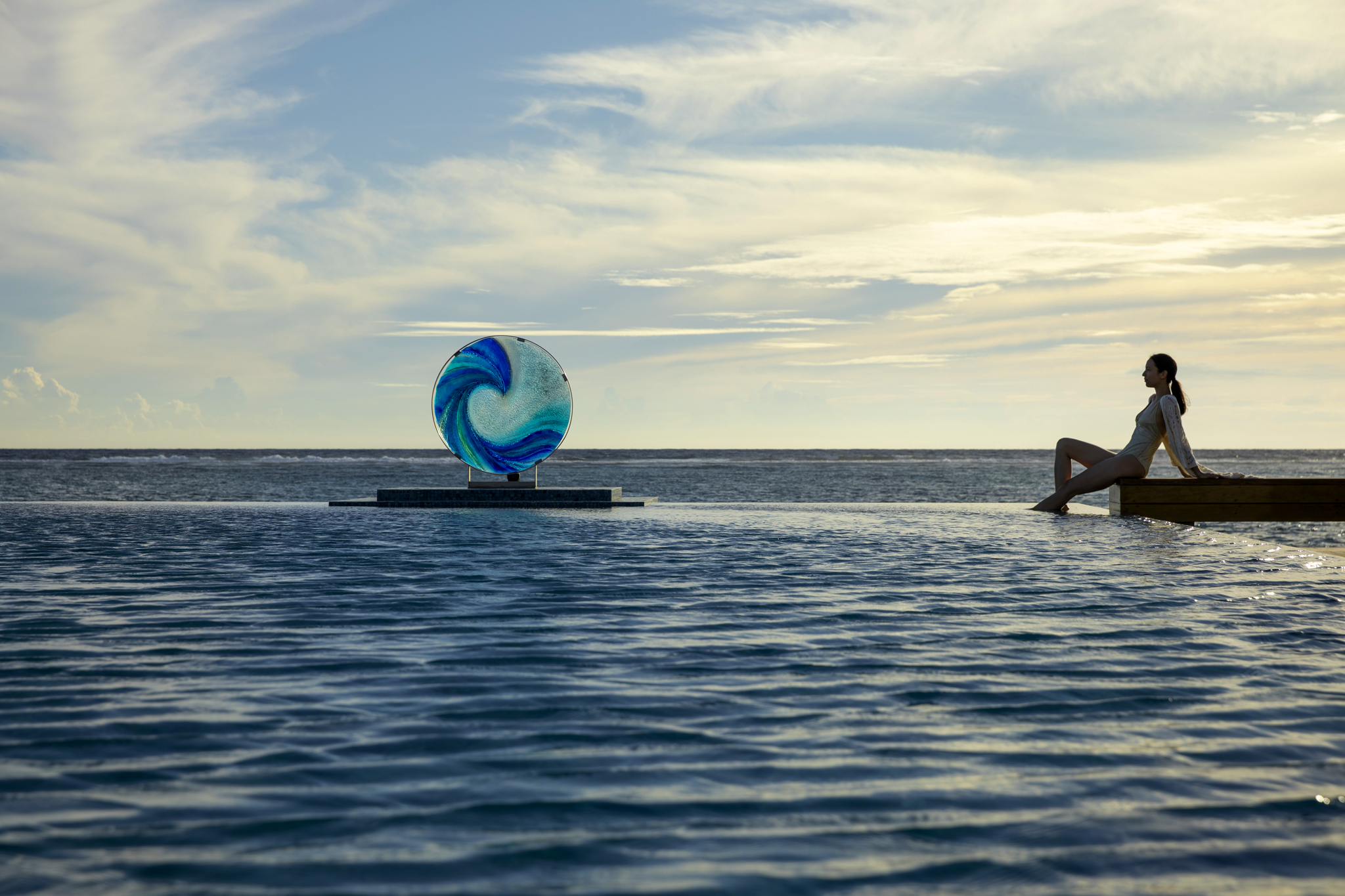 If you are learning about the resort for the first time, you may also want to know that they are, if not, the most generous All Inclusive resort in the Maldives. Be it minibar at the room that is equipped with snacks and an exclusive choice of spirits and wines or chilling by the sea at the bar/restaurant sipping your favourite cocktail and watching the magical sunsets of Maldives, it is all included in the All Inclusive Package. Few of the selected items such as Hookah which is not included in the All Inclusive package is also available free of charge during their happy hour. This is a resort that would spoil every one of its guests with their generosity.
Accommodation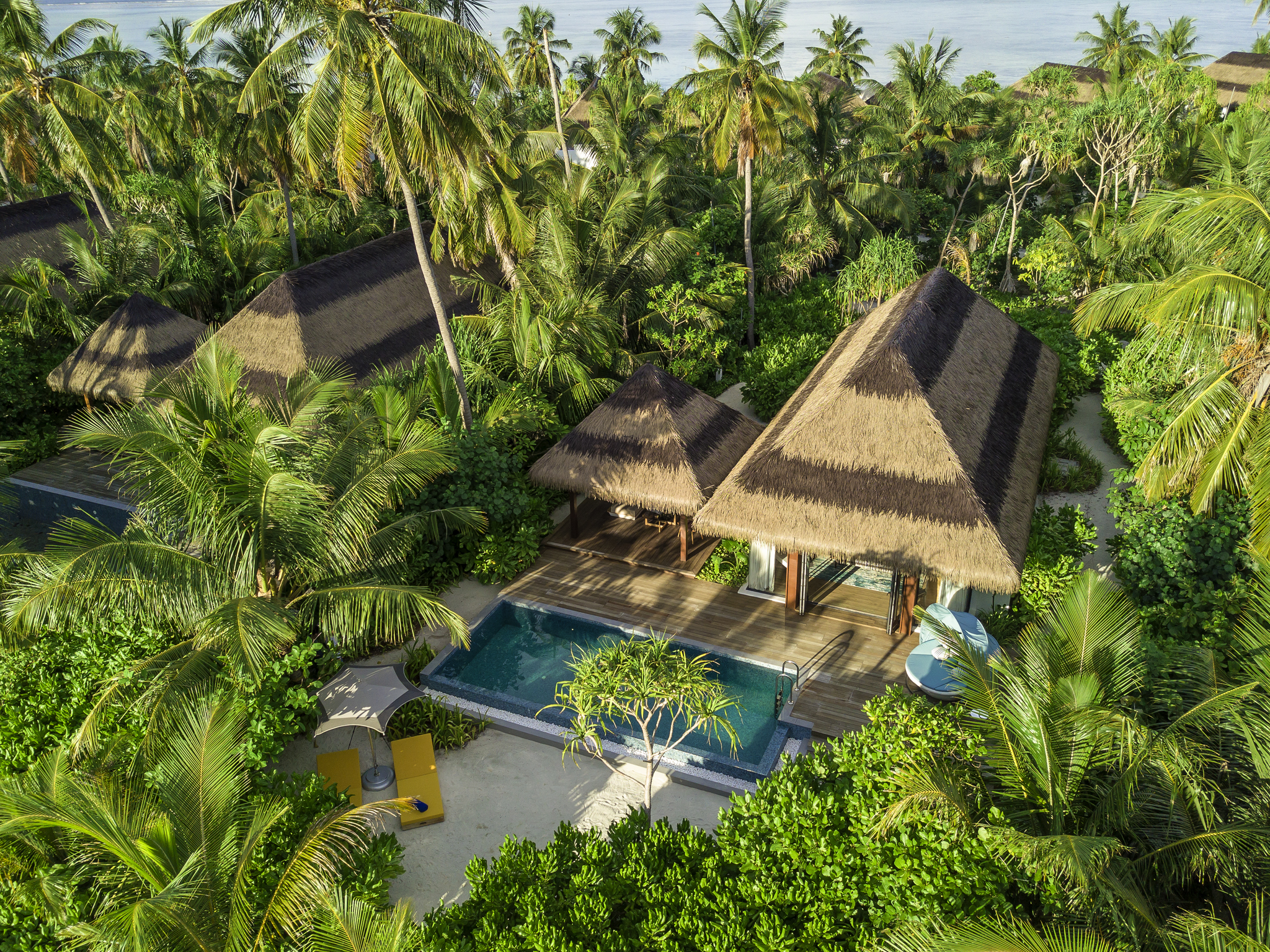 A combination of stylish contemporary design, retro art with a touch of luxury is definitely what describes the villas at Pullman Maldives Maamutaa. The resort consists of 122 spacious villas located each offering privacy and a sense of belonging. All the Villas are carefully set up with an expanded outdoor deck area where you can relax be it beach or over water villas. Beach villas offer direct access to the beach whereas you could stay in the water villa and watch the rich marine life underneath your feet without taking any steps outside the room through the illuminated glass window on the floor. For those looking for out of ordinary experience, the resort also has option of living under the water. Pullman Maldives Maamutaa offers two Aqua Villas where one bedroom is located under the water where one could witness the absolute peace and quiet while watching the rich marine life around this beautiful island. This Villa also has another bedroom located over water for when you would like to admire beauty above water.
Dining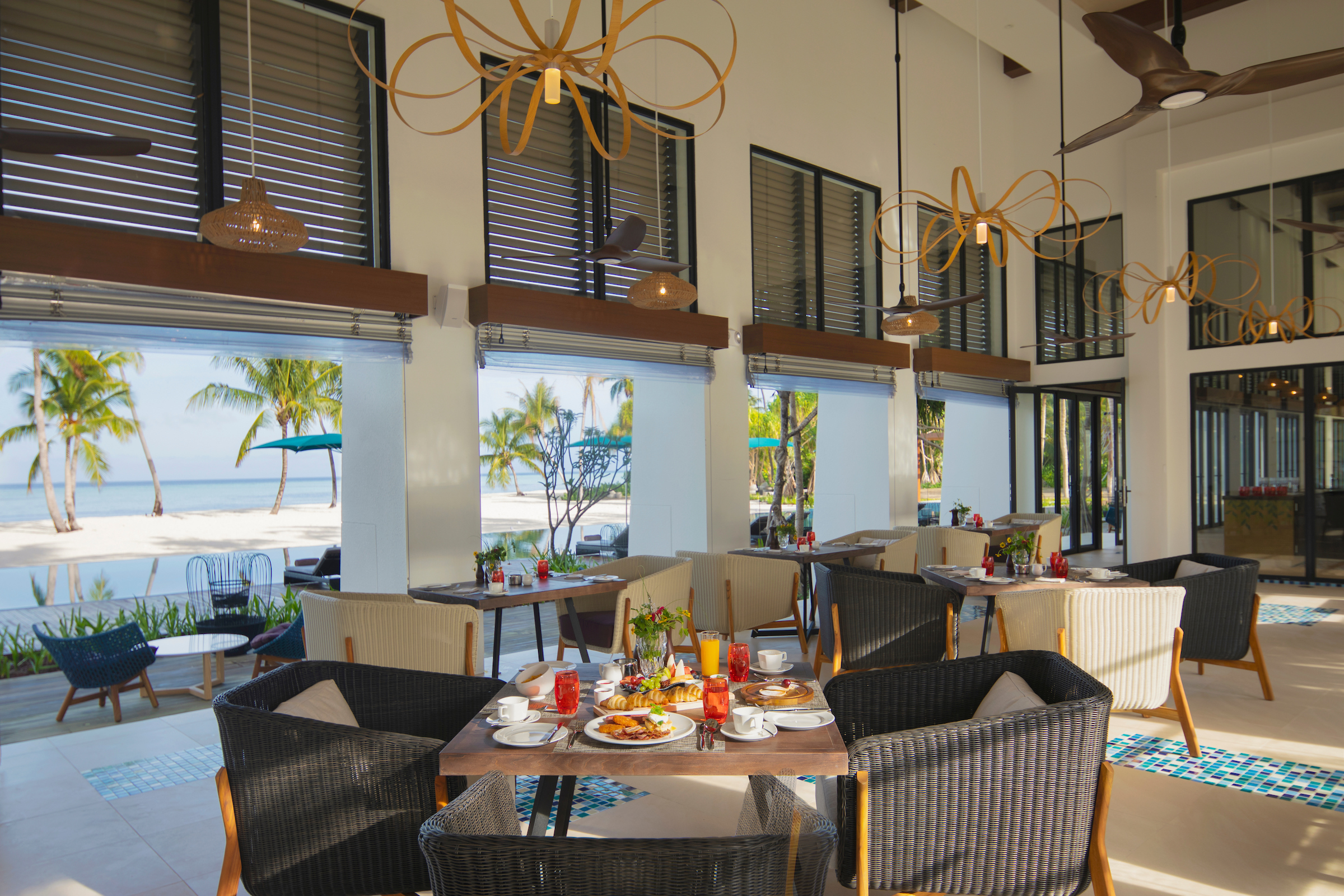 The resort consists of six F&B outlets throughout the island. However, majority of them are placed very close to each other, making it very easier for everyone to move around. Mélange is the main restaurant where buffet breakfast, lunch and dinner are served in a way regardless of number of times you eat there, they would still have something you have not tried yet. With unobstructed views of the beach and the option to eat indoor or outdoor, it is a foodie's heaven and an exciting food adventure for everyone as every meal comes with a great number of varieties such as Italian, Middle Eastern, Indian, Japanese and Maldivian. Should this unlimited choices of food get overwhelming for anyone, they have options right across the island at Souq Oven, where you can enjoy Italian and Mediterranean cuisine for lunch and Turkish for dinneror Phat Chameleon, the resort's vegetarian restaurant located in an organic garden. Should you crave for anything rest of the day, you could very well relish light bites at The Hub and Sol Rising, or Saffron Affair for local tapestry.
Wellness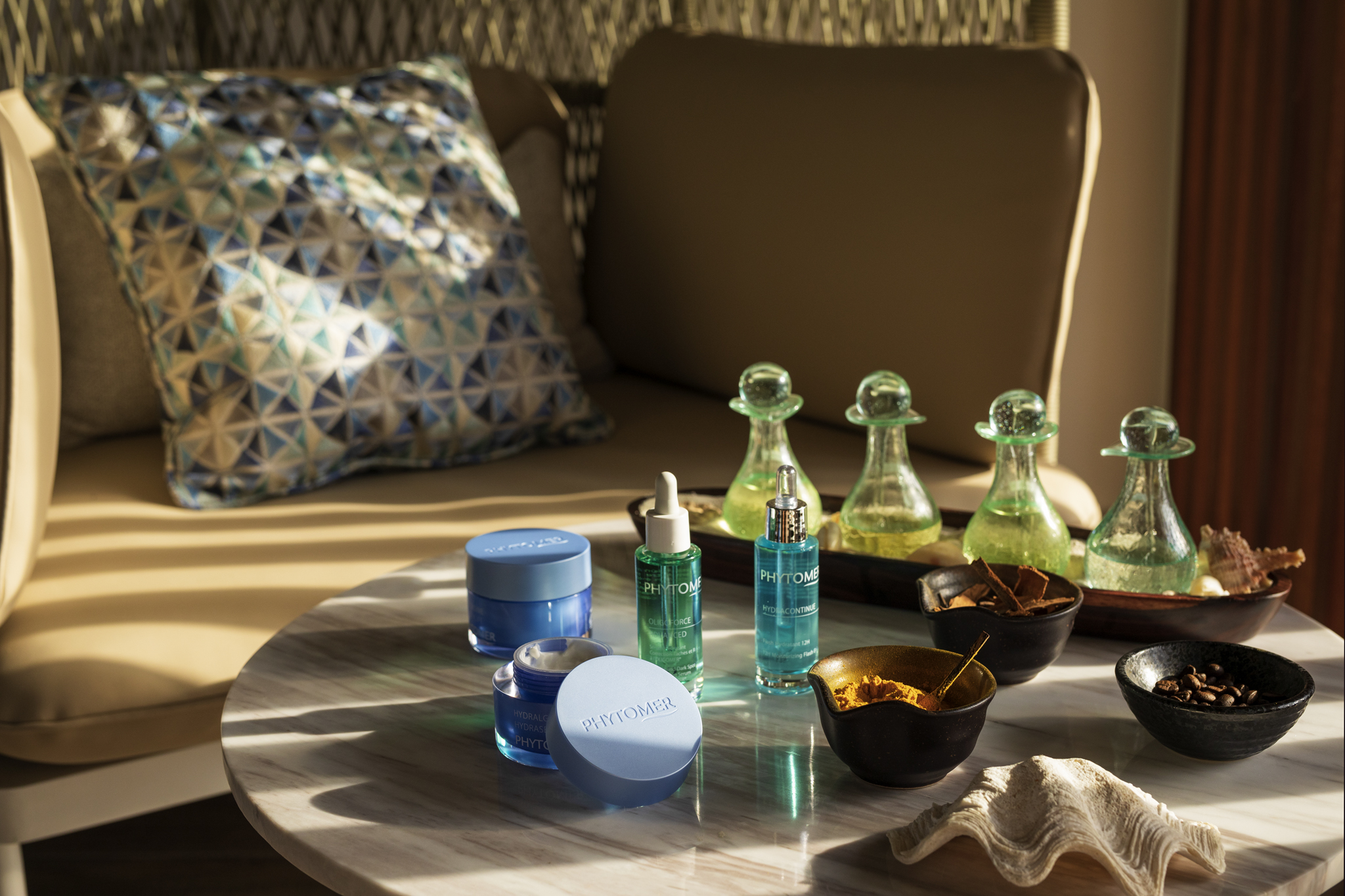 Pullman is also highly focused on fitness and wellness whereby they offer a great number of fitness activities that is open for everyone. The resort has its own fitness ambassador, Kunchok Yeshi who ensures everyone spends a fun and healthy vacation at their resort. The resort conducts an annual fitness event as well during the festive season, where guests enjoy fitness and wellness activities and beach workouts such as fit trail, sunrise yoga and Zumba, to name some. In addition, some may wonder if travelling during Covid-19 to the resort would, in any way, reduce enjoyment or make it dull. The answer is, definitely not. Regardless, they have you covered completely with their special Covid-19 preventive measures and a strong cleaning protocol, called ALLSAFE, with the highest global standards of hygiene. Pullman Maldives Maamutaa sure knows how to provide a safe and balanced vacation in every aspect, be it food, fun or fitness.