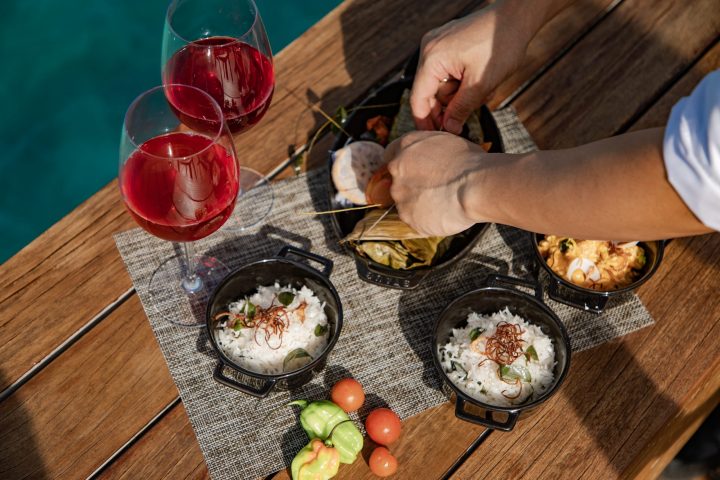 A Maldivian Culinary Journey
Pullman Maldives Maamutaa provided an enviable platform to showcase local Maldivian cuisine at their International Food Week that took place in August 2021. The event invited two guest Maldivian Chefs to reveal the hidden secrets from both Traditional and Modern Maldivian Cuisine.
Chef Mode, who specialises in traditional Maldivian cuisine, teamed up with Pastry Artist Shaazy, both enticed by the exciting prospect of being able to represent their country and showcase Maldivian cuisine on an international stage. This they accomplished with aplomb, expertly bringing together the very best of traditional and modern Maldivian flavours, to create the ultimate culinary experience with two fine dining dinners and an array of dishes that tempted even the most discerning palates, some of which were created especially for the event.
Hotelier Maldives had the chance to sit down with the two Chefs and discover a little more about their culinary journeys; learning that whilst both had been brought up in food environments, they had each travelled very different paths.
Chef Shaazy, pastry artist and demi chef de partie, Hard Rock Hotel Maldives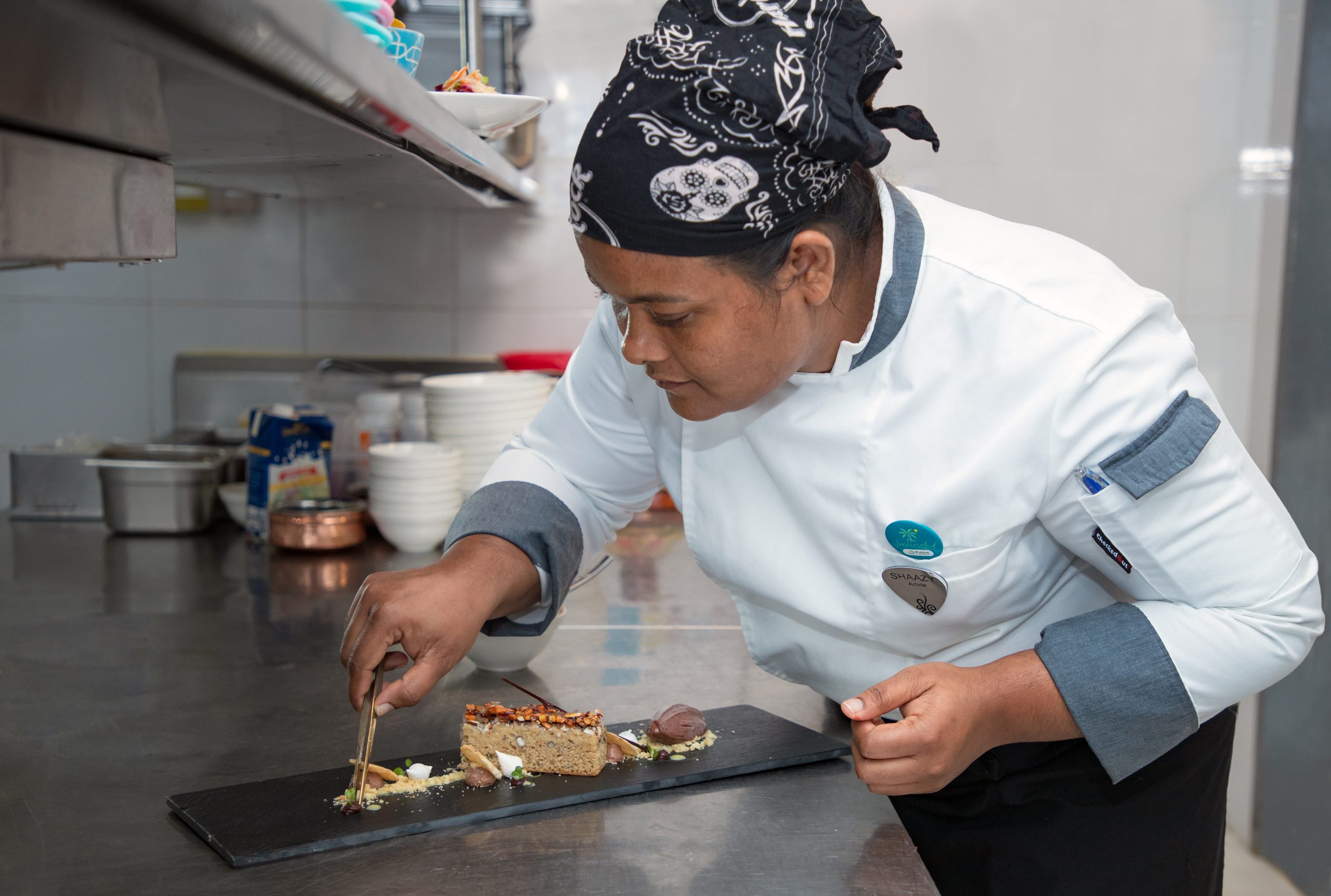 For Chef Shaazy, the culinary field was not her first choice and went initially into teaching!
Growing up as the daughter of a baker, on Feevah in Shaviyani Atoll, her interest in baking and cooking was unknowingly fostered at an early age. Shaazy remembers being enthralled by the 2004 World Food Day event held at her island where her brother and family served over 200 guests and then trying to learn culinary skills from her grandmother, only to be banished from the kitchen for being too clumsy!
Having been sent to school in Male', her father pushed Shaazy into teaching, something she quickly realised she was not really interested in. This led her into several admin orientated roles, gaining organisational skills that were to serve her well. The catalyst that sparked the change in her career was the birth of her daughter. Whilst searching for something she could do from home, Shaazy found herself taken back to her birthroots of artistry and cooking, reigniting her passion for baking.
Even though being a Chef, especially as a female, was not believed to be a good choice, Shaazy was fortunate to be supported throughout her quest to expand her knowledge, citing her biggest supporters throughout her journey as her daughter's uncle Ayyalhoe and his family, her sister-in-law and of course her daughter Ayshka. To discover and learn new techniques, Shaazy enrolled in culinary classes at the Lanka Hotel School and travelled to workshops and masterclasses in Bangkok and Malaysia, always with her daughter as her constant companion and inspiration.
For Shaazy, spoiling people with delectable, sweet sensations is what she thrives on, with honey and palm sugar being two of her favourite ingredients to work with. Shaazy's imagination and talent for delectable flavours, helped her create mouth-watering desserts over the Food Week, using local ingredients such as coconut, screw pine and pandan, and infusing them into international styled dishes such as the screw pine crème Brûlėe, pandan crepes and pandan and screw pine mousse gateau, while a delicate white chocolate dome with aromatic pandan sauce captivated diners at the final dinner. Her eye for the tiniest, time consuming and intricate details are what her desserts and cakes are known for, a talent that still has her grandmother in awe!
Chef Mode, owner and culinary director, The Chef Mode Badhige in Hulhumale'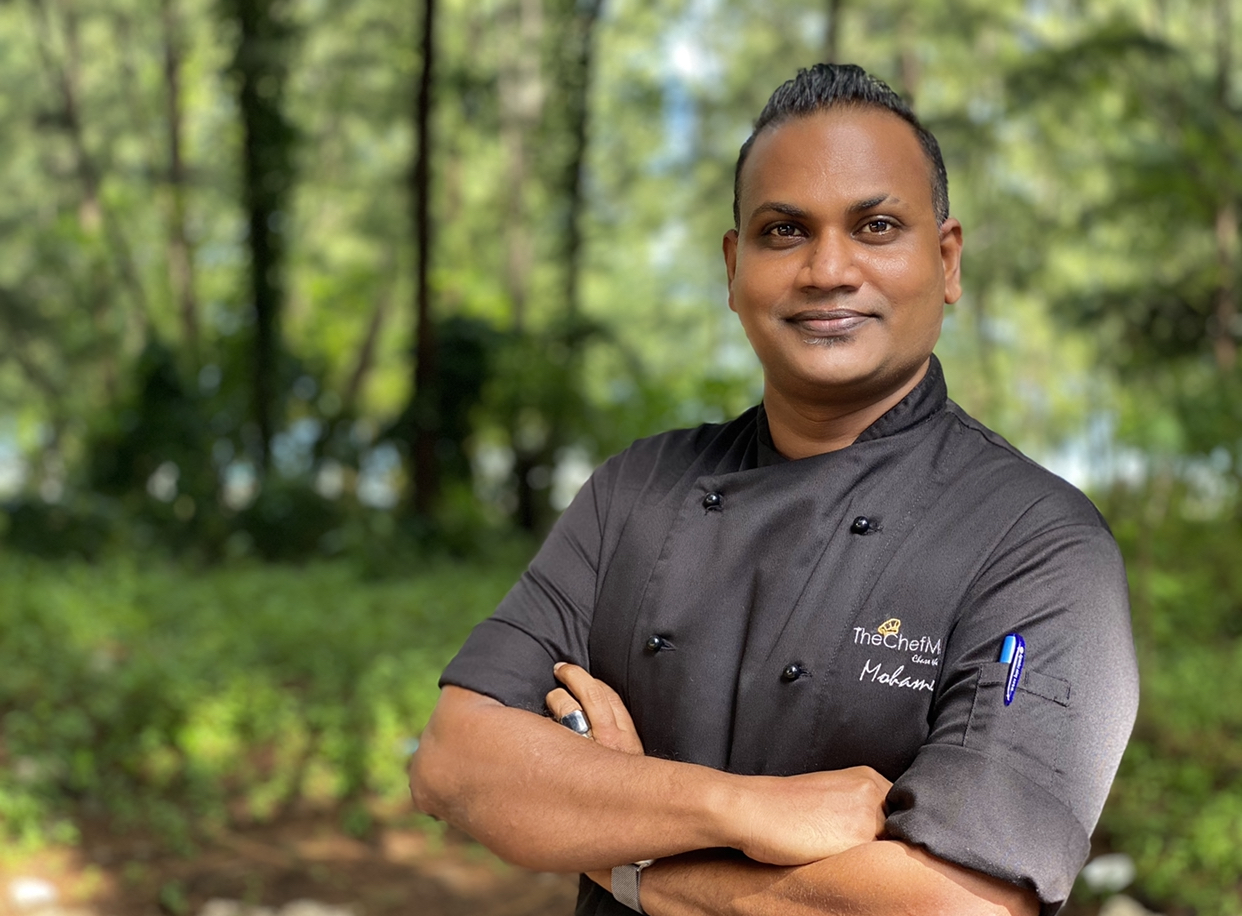 Unlike Shaazy, Chef Mode's childhood dream was to be a Chef.
Growing up on the island of Kanduhulhudhoo in Huvadhoo Atoll, Mode's mother and four elder sisters were all acclaimed cooks and young Mode dreamt of gaining the same appreciation and accolades his mother seemed to receive daily, especially for her hot and cold desserts. Inspired by the stream of compliments, Mode could always be found with his mother in the kitchen, watching, helping and learning her recipes and styles.
His learning stopped at the age of nine when he went to school in Male', but it did nothing to dampen his dream. On leaving school at sixteen, he searched in vain for an opening in a kitchen, but with no experience, no one would hire him. He finally managed to secure a role at Biyadoo as engineering coordinator, not his first choice, but one he worked hard at whilst he sought ways to get into a kitchen. This search took him back to Male' to the Rambaa Restaurant as a waiter where he quickly rose to the role of senior waiter, spending all his spare time in the kitchen watching the chefs, finally being able to join them as a part time commis.
This opened the door to a sea of culinary opportunity which Mode seized with passion that was fuelled even more as he moved between several high-end resorts for a year at a time gaining invaluable experience. However, it was only when he joined Anantara that he realised there was much more to being a chef than just cooking and over his six years with them, he learnt a wealth of management skills to add to his culinary arsenal.
The influence and support gained from Anantara from both the HR leadership of Rizwan and Executive Chef Walter Butti helped Mode develop as both a chef and a leader. So while being locked down with his family during the pandemic, he heeded their request and instead of returning to resort life, he took the bold but seemingly logical step to start his own restaurant. Hence, The Chef Mode was born, the design coming from childhood recollections from his grandmother's kitchen and his gastronomic creations stemming from the flavours and recipes learnt as a child. These traditional dishes were elevated to create the fine dining experience presented to the guests during the Food Week, fulfilling a long-held desire to be able to deliver Maldivian fare in a fine dining environment.
Talented chefs are hidden in all corners of the archipelago. Sowever, they rarely, if ever get the opportunity to combine their talents and showcase the flavours and styles that is their heritage. The Pullman Maldives Maamutaa Food Week provided a great opportunity which both Chefs took full advantage of, utilizing the best of ingredients from both North and South Atolls.