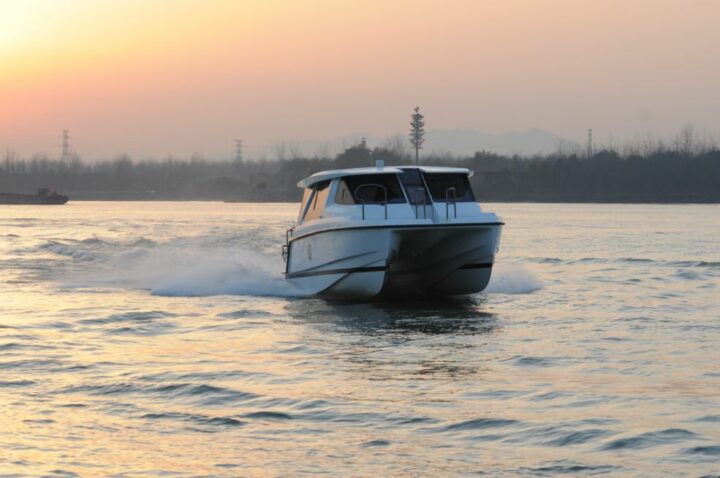 Aquila Yachts: Luxury power catamarans
Aquila Catamarans are now leaders of the power multihull segment in the USA and Australian market, and Aquila is expanding their international distribution through a network of trusted dealerships across Asia and Europe. The Aquila 36 Excursion was designed and developed specifically with the Maldivian needs in mind and with the collaboration of a Maldivian partner.
The hull design was based on the very successful Aquila 36 Sport, with the main deck and superstructure adapted to the needs of an excursion model. A catamaran hull provides a much more stable platform than a monohulled vessel and excellent open water handling improving the comfort of guests on board.
One of the main features is the design of a flat open main deck. The seats are added on tracks, which allow the owner to add, remove and adapt the seating layout following the local or seasonal requirements. A 24-passenger boat could be easily transformed as 12 or 30 seaters with limited additional cost.
All of Aquila's hulls are infused with Vinylester resin with medium to high-density foam core. This type of construction provides high strength, stress resistance and low weight. Building a passenger boat with modern high strength structural composite technology permits the Aquila 36 Excursion to reach much lower fuel consumption and exceptional handling. Aquila also offers several choices of interior finish from traditional passenger boat to luxury interior finish for VIP guests.
The most important feature of a passenger boat is the fuel consumption/seat ratio. Aquila's fixed foils system offers up to 30% fuel consumption saving at a fixed speed and does not require any specific knowledge to handle. The savings on fuel can cover the purchase cost of the foil system within a few months of operation. In addition, because the boat rides higher out of the water, the foils also improve comfort on board for the guests.
The Aquila range consists of three outboard engines models; the Aquila 30, Aquila 36 and Aquila 36 Excursions. The Aquila 30 and 36 offer flexible designs for diving, fishing, or entertain guests for the day or during an overnight. The Aquila 44 and 48 are cabin cruisers which offer up to four cabins and four bathrooms.
Aquila yachts are manufactured in China and can be shipped directly to the Maldives for a minimal cost. The company also has sales support teams in Malé which will assist with reception, hand-over and after-sales service. For more information about Aquila, visit www.aquilaboats.com.