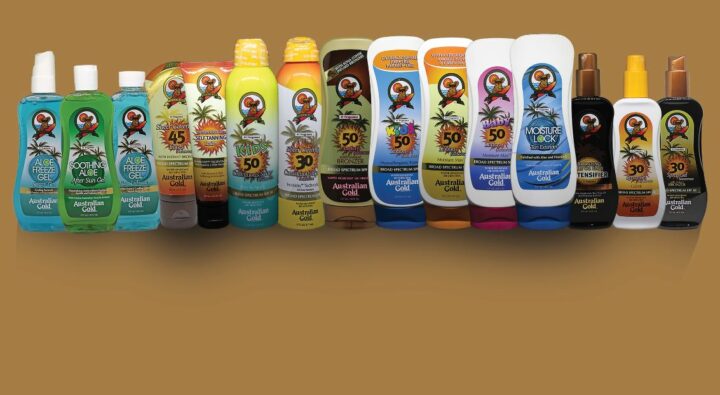 Australian Gold: your comprehensive collection of sun care and tanning products
Sun creams are a bare necessity when you're on holiday, especially if your destination is a tropical paradise such as the Maldives. The sensory aspects of sunscreen are important to many people. You're less likely to use one if you don't like its scent or feel. Sunscreens are available in a diverse range of fragrances such as tropical, floral, woodsy/outdoorsy notes.
Founded in 1987, Australian Gold came into existence when the former CEO, whose parents were from Australia, formulated a Sun Protection line based on skin care ingredients indigenous to Australia. Since then, Australian Gold has been a leader in the industry bringing exceptional formulas to the customers all over the world.
What makes Australian Gold so special is that its entire line of SPF features Kakadu Plum, a native Australian fruit that has the highest level of Vitamin C of any fruit – 100 times an orange. Many of the formulas also contain Tea Tree Oil, which is a powerful antioxidant. Their number one fragrance takes you on an instant vacation with the signature Cocoa Dreams fragrance. This delectable scent is a delightful combination of Coconut, Orange and Vanilla.
Coming to you with a wide range of skincare, Australian Gold offers you products starting from lotion, sprays, spray gels, after sun care, lip and face care to products for children and babies.
The products for children and babies contain the highest Vitamin C content. Kakadu Plum works to boost the efficacy of sunscreen while protecting from free radicals, while Tea Tree Oil works to gently cleanse for smooth skin. It is specially formulated with sensitive skin in mind to neutralise pH while remaining Paraben-Free, Mineral Oil-Free and Amine Free. It also repels water for up to 80 minutes to decrease the need to reapply as often so that you can enjoy a hassle-free vacation with your kids.
Australian Gold shipped over 3.6 million bottles of sun care in 2015. Manufacturing exceptional products made with the finest of ingredients, Australian Gold brings a palatial glamour to this rather mundane beauty subject of skincare and it helps in bridging the gap between sun care and skin care.
Australian Gold, the dominant tanning brand in the US and Europe in the professional tanning market, is marketed and distributed in the Maldives by Silvereye Pvt Ltd. Since its inception in 2014, Silvereye Maldives has been catering premium products to the hospitality industry and has some of the top five-star luxury resorts as clients.
In addition to Australian Gold, Silvereye Pvt Ltd is also the official distributor for some other top brands including Caribbean Blue Naturals, an all-natural insect repellent; Alfresco, an all-natural luxury insect repellent moisturizer and perfume; and Yogood—the healthy, nutritious, yet delicious food using wholesome grains, luxurious fruits, nuts and seeds in its products. The Yogood brand consists of Crunchy Muesli, Granola Bars, Breakfast Toppings, Gourmet Muesli and Muesli Bars.