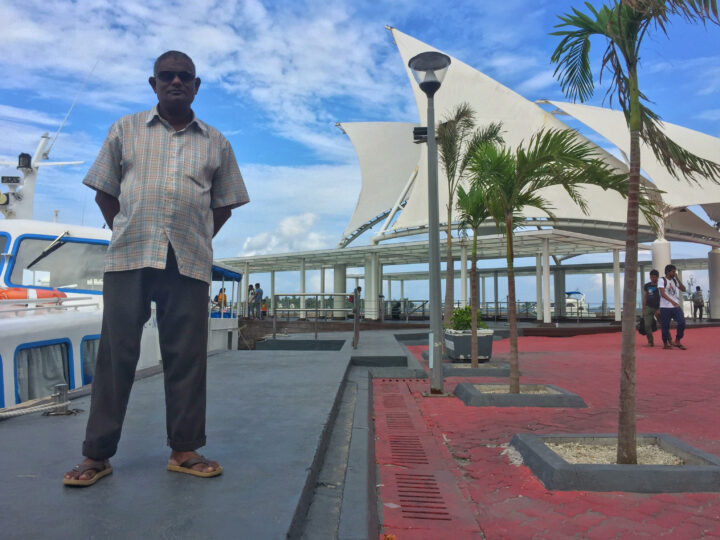 Careers: Abdulla (Lolly) Saeed – Tour Guide
Abdulla (Lolly) Saeed's face is a familiar one, you've likely seen him on the street shepherding flocks of tourists, especially around landmarks and the tourist shopping district. He's been a tour guide for 32 years, he reckons; almost a lifetime for someone who's not even 50.
Saeed's a native of Ha. Dhidhdhoo, the youngest of three siblings. In the 70s, when he was about 16, Saeed moved to Holhudhoo in Noonu Atoll and attended the Meynaa school where he completed grade seven, the highest academic qualification available in the atolls at that time.
After much thought, he decided to come to Male and seek out employment. "At one point I was selling lollies on the street," he laughs, relating the story of how he got his nickname.
Then he met a friend who introduced him to Ahmed Manik, a man who operated a souvenir shop. "That's how I got into the business," he says. "The souvenir business was in its infancy, but even then, it was lucrative."
He befriended two young people, Hamid Ismail (Hamid Seytu) and Ismail Rasheed (Souvenir Issey), who invited him to partner up with them to start a souvenir outlet of their own.
"I wanted to but I was needed elsewhere at the time," he says. "They went ahead without me. It was a golden opportunity that I missed. I still regret it but God had other plans for me."
Saeed later joined Souvenirs as a tour guide. "It was the late 70s, and business was great," he explains. "Tourist shops in Male flourished throughout the 80s. We were selling mostly local goods like turtle-shell products, black coral, seashells. There weren't too many people in the business back then."
The golden age of souvenir shops in Male was between the 80s and early 2000s, declares Saeed.
"We've got so much competition these days," he says. "Resorts have their own boutiques and nearby islands have theirs. The tourists spend a lot at their resorts and they don't have as much to spend as they used to."
Saeed conducts tours of the capital; even in the off-season, he averages two to three tours a day. He's conversant in several languages, including French, German, Italian and Japanese, which he considers an achievement.
He also has high hopes for youth entering the trade.
"We're seeing more and more young tour guides these days," he says. "It's a respectable profession. You have to have exemplary discipline. You're dealing with people who're going to write about their experiences later and publish them online, so you can't afford to make mistakes. It's hard work, especially if you have back to back tours. But you have to be at your best always. This job isn't for slackers."
Saeed has an issue with some resorts marketing him and his colleagues as 'free guides'. "We don't get anything from groups that come from such resorts," he says. "It would be nice if they valued us more and encouraged tipping, at least."