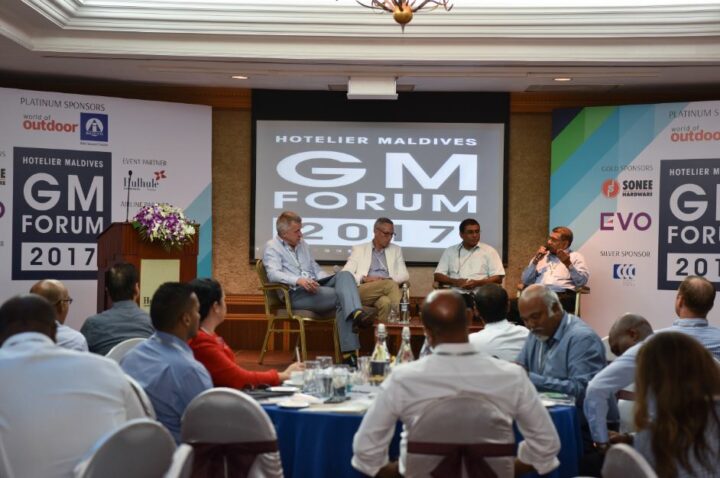 Kohler signs as a Platinum Sponsor of GM Forum 2018
Kohler-authorised distributor, ALIA Investments Pvt Ltd, has partnered with Perspective Pvt Ltd as a Platinum Sponsor of the Hotelier Maldives GM Forum 2018. With over 50 years of experience under its belt, ALIA Investments is the authorised-distributor of Kohler bathroom and kitchen products in the Maldives.
The GM Forum, which would be held on April 18, 2018, at Kurumba Maldives, is a gathering of general managers and other industry stakeholders and features keynote speeches and panel discussions. Kohler Co. came on board as a Platinum Sponsor of the annual event with an agreement signed by Mohamed Inad, Business Development Manager, ALIA Store Sawmill, and Hussain Jazlaan, Sales and Marketing Executive at Perspective Pvt Ltd.
Kohler, founded in 1873, is today recognised as the worldwide leader in bathroom solutions; a leading manufacturer of kitchen and bath plumbing products. Over the course of its 144-year-old history, Kohler has been a consistent innovator in the plumbing and sanitary-wares industry. ALIA partnered with Kohler in 2013 and established a complete supply chain of bath and sanitary ware of Kohler products in the Maldives.With the vast experience and expertise in the field of building construction and related industries for over 50 years, ALIA is fully geared to provide any installation guidance and after sales services according to the industry standards set by Kohler. Within a short span of time, ALIA has become the top supplier of Kohler products to many of the top hotel brands operating in the country.The GM Forum brings together industry professionals and acts as a platform to discuss and make proactive adjustments to hotel and resort operations in the ever-changing hospitality market. It provides insight into relevant and significant trends in the industry and focuses on sharing knowledge, experiences and the solutions to adapt to the challenges faced by the hospitality industry.
As part of the key topics of discussion at the GM Forum, Maldives Inland Revenue Authority will deliver a presentation on "Tourism-related Taxation", followed by a Q&A session on the topic. The event will also see discussions on many other important issues facing the industry today; trends in destination marketing, guest transfers and best practices in increasing non-room revenue for hotels, etc.
To register your attendance at the GM Forum 2018, please visit hoteliermaldives.com/gmforum-register. For general inquiries and sponsorship requests, please contact Hussain Jazlaan on hussain.jazlaan@167.172.155.58  or mobile number +960 791 0858.