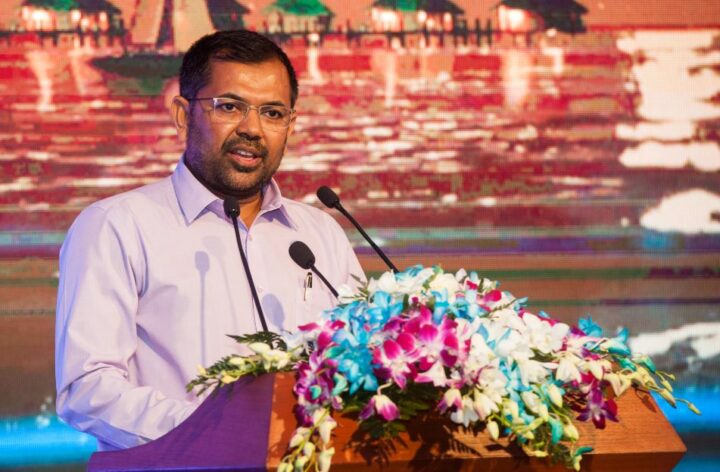 Exclusive: Moosa Zameer, Minister of Tourism
Hotelier Maldives sits down with the Minister of Tourism Moosa Zameer, to have a chat about sustainable tourism and its different facets. Zameer believes the Maldivian tourism industry has set a global benchmark in terms of sustainable practices. The key to its success, Zameer notes, is that it has always operated within the bounds of sustainability. Our cover story, Sustainable technologies: where science can help, features on a wide range of topics related to sustainability and how such practices are making inroads in the Maldives
Hotelier Maldives: What's your understanding of sustainability especially as it relates to the tourism industry here in the Maldives?
Moosa Zameer: We need to bear in mind economic, social and environmental components when talking about sustainability. That's my understanding of it, striking a balance between them. And the kind of growth of the industry that we've witnessed over the past four decades is due to the sustainable practices that we've maintained throughout. I believe we're ahead of the rest of the world in ensuring that we stay within the bounds of sustainable practices. Ours is a benchmark for the rest of the world.
HM: How does this understanding manifest in government policy?
MZ: I think if you look at the Maldivian context, the tourism industry has developed over the years through an excellent partnership between the public and the private sectors. This is not only the case with tourism, it's the same with other sectors as well. We have policies that empower and safeguard the industry. Our regulations protect the communities and environment and at the same time, they are very investor friendly, and I think the success we've achieved today owes a great debt to those policies.
HM: The Maldives has an image abroad as an island destination with a beautiful, pristine natural environment. How do you view the tension between development and environmental conservation? 
MZ: We've developed our tourism taking due care of our environment, that's how we got this reputation abroad. In more advanced countries, a lot of environmental degradation has taken place while they tried to advance themselves. I wouldn't say that's the case with the Maldives. The environment is a key component of our development, and it has been that way right from the start. Each and every project that takes place, every renovation, they all go through a very rigorous environmental impact assessment process. These are independently evaluated by professionals. So I think we're in a good position, with regard to striking a balance between development and environment.
HM: Lastly, what do you believe is the greatest challenge(s) to sustainable tourism practices in the Maldives?
MZ: I think the greatest challenge is obviously climate change. Our isolation is also a hurdle, being a small island state and having little natural resources. However, we've mitigated and addressed most of these issues. Challenges remain, however. We face a new set of obstacles in the form of security and safety threats. Terrorism is one such, and it requires us to remain vigilant and work closely with international bodies as well as various stakeholders.