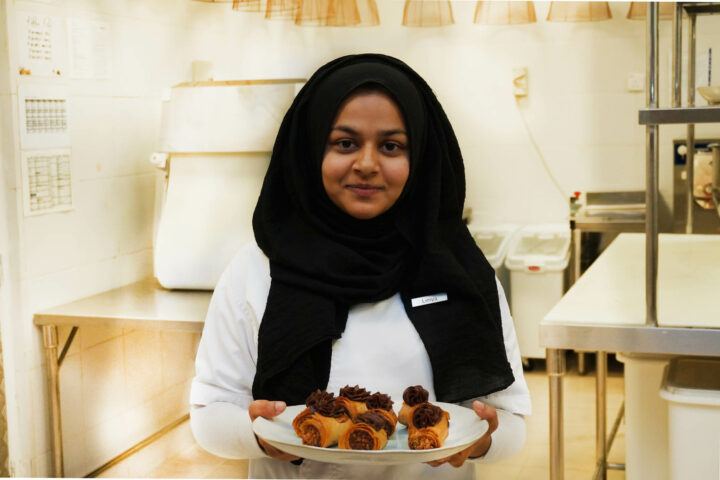 Fathimath Limya: A rising pastry star at COMO Maalifushi
Born and native to Guraidhoo Island of Thaa Atoll, 21-year-old Pastry Chef Fathimath Limya has always had a sweet tooth and an uncanny talent for pastry making. Used to watching her mother and family members bake at home, Limya discovered her passion for baking during her time in middle school. She started off concocting delicious creations for birthdays, and other such celebrations. While she enjoyed baking immensely, what really caught her fancy was the element of creativity that decorating and garnishing a cake lent her.
After completing her IGCSE A Levels, Limya thought hard about what she wanted to do with her life. To help herself make a concrete decision, she decided to take a break from further studying and try her hand at handling a job. "I got a job as a cashier here at COMO Maalifushi through a friend. While I was working here, I heard about their apprenticeship programme," she said.
The six-month programme, hosted annually at COMO Maalifushi, seeks to open the doors for the youth of Maldives to join the resort and train under esteemed experts within the hospitality industry. "This apprenticeship was the perfect opportunity that helped me decide what I wanted to pursue as a career," said Limya.Limya chose to do a year of training in pastry making in the kitchen. She was one of the eight students who participated in the programme in 2016. That one year proved to be one of the most challenging years in her still-young life. She said: "It was a difficult one year of training for us, and for some of us it was too much and most of the participants quit halfway through. It's expected because suddenly we were in a new environment, with people we have never seen before, and we have to spend day in and day out working with them."
Out of the eight students, Limya was the only apprentice to join the cold kitchen. As such, there wasn't any competition for the permanent spot; they hired her based on her performance and her overall perseverance. During the first six months of the actual programme, Limya attended classes that had theory-based training in hospitality and ethics once a week with the training manager, while she worked underneath the tutelage of Mohamed Faisel, the esteemed Executive Pastry Chef and Acting Executive Chef, learning the basics of pastry making.
Under the apprenticeship, all the trainees received extensive mentorship training, while taking on as much work as any of the permanent staff that were around them. By the end of the year, Executive Chef Faisel chose to take on Limya as a permanent fixture in his kitchen in February 2017.
Limya works in the pastry kitchen with eight other staff members, who are all male. "The people I work with are experienced staff who has been working here far longer than I have, and they are all expatriates, making me not only the only woman working in the bakery but the only Maldivian as well," she explained.
Limya blossomed into a hard-working member of the staff in a few weeks as she discovered that she was surrounded by equally determined workers who were kind and engaging. She notes how her co-workers are all immensely comfortable to work with and how they give her endless encouragement.
Limya joining the F&B sector came as a surprise to not only her family but to herself as well. She never thought she would be working in a resort in a pastry kitchen while she was in school. "I couldn't believe how well-adjusted my parents were to the idea of me working here. No one I know would ever agree to work in this field, so it was a pleasant surprise how my parents accepted something completely out of the blue," she reminisced.Even though her career choice was unexpected and unique, to this day she still believes that pastry making is the best career for herself and aspires to keep breaking milestones and reaching the very top. She said: "I want to see myself becoming a pastry chef or an Executive Pastry Chef."
She plans to reach her goals by constantly working hard at what she focuses on, and persistently learning from everyone as well as herself. She makes it a habit to grow from her experiences as she works with expert staff who are willing to act as mentors and guide her. She practices not just pastry making but watches and learns from other chefs who are skilled in all types of food and beverage making. "I think anybody who works in the kitchen is a person that I can learn from," she said.
Limya was also part of the contingent that participated in the Culinary Arts Challenges during the Hotel Asia Exhibition held in 2016. She competed in the dessert category while she was still just a trainee and returned with a bronze medal for her coconut pannacotta and chocolate tart.
Now, with over a year as at full-time commis at COMO Maalifushi, Limya is a happily married wife to a staff member – with whom she was predestined to end up with as they were childhood friends – who work in service. "My husband helped me get this job. I knew about the apprenticeship programme through him. Back then we were not even married, but I'm glad we are together now," she gleamed.
Speaking about the guidance provided by Executive Chef Faisel, she said: "All my work is under the watchful mentoring of Chef Faisel. He tests to see if everything is up to par. Even when I make mistakes he would tell me that it's all right, that I am still learning, and that I can do it better next time. I owe everything I have learned here about Pastry making to him."
Limya is in charge of plating and service during lunch and dinner. "When I say service, I mean whenever an order comes I put the finishing touches. I make the accompanying condiments as well. We always have a different menu for lunch and dinner with maybe over 20 different dishes altogether for that week," she explains.
With her life-long dream of opening a small bakery of her own in her island, Limya is still learning new techniques and skills in the kitchen. "I am still too inexperienced to do it. Maybe after a few years of learning and perfecting my craft, I will seriously think about it," she said, dreaming about her goals.
She also had a strong message for other young women seeking career opportunities in the hospitality industry. She said: "It has been an extremely rewarding career for me. My advice to others like me is to believe in your work and ethics, and everything else will fall into its rightful place. If you stay true to your own faith and values, you will go far in any industry."