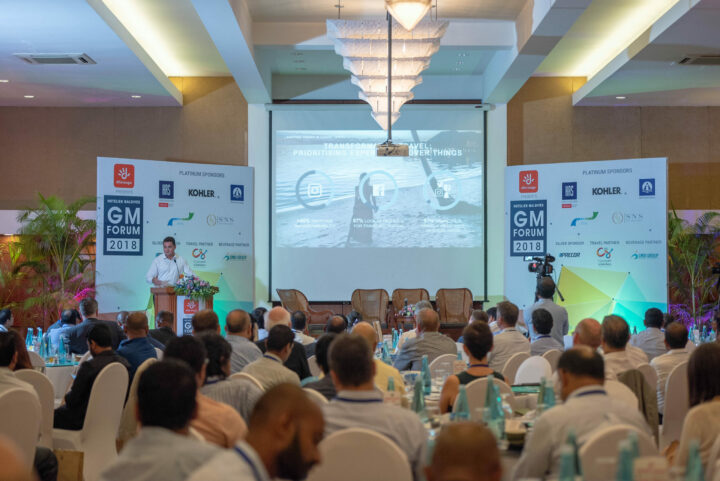 GM Forum 2019 now open for sponsorship
The fourth edition of the Hotelier Maldives GM Forum is now open for sponsorship. Scheduled to take place on April 3, 2019 at Bandos Maldives, the event will feature keynote speeches, presentations, and panel discussions on a myriad of topics including hotel safety and security, skills gap in the hospitality industry and how this challenge is being met, airport connectivity, best practices for sustainable tourism and women working in hospitality.
Confirmed speakers in the 4th edition of Hotelier Maldives GM Forum includes Hervirender Pal Singh, Area Director for Global Safety & Security – South Asia for Marriott International; Abdul Azeez Abdul Hakeem, marine conservationist; and Michael Friedel, renowned German photographer responsible for some of the most well-known aerial images of the Maldives.
The Forum will also see panel discussions on sustainable tourism practices, the skills gap in the hospitality industry, impact of regional airports and the lack of women working in the industry. In addition to general managers, various experts in their fields will take part in the discussions and day-long event which will include a lunch and networking event in the evening.
Sponsorships for the upcoming GM Forum will be available in the following categories: Title Sponsor, Platinum Sponsor, Gold Sponsor, and Silver Sponsor. Early bird offers are available until January 20, 2019, in all sponsorship categories. To sponsor the GM Forum 2019 or make an inquiry you may call hotlines (960) 791 0858 and (960) 791 0868 or email sales@167.172.155.58. You may also contact Ahmed Aroom on +960 791 0848 for any support and assistance with sponsorship. Over the last three years, the Hotelier Maldives GM Forum has assumed a significant position in the corporate calendar in the Maldives and has become a must-attend event for GMs of resorts and key executive of hotel management companies in the country and region. The number of GMs who participated in the Forum has grown from 27 to 88, from 2016 to 2018, while the number of hospitality brands represented grew from 22 to 55, from 2016 to 2018, indicating a high level of interest in the event.Registration for the 2019 edition of Hotelier Maldives GM Forum will open in January 2019 and will be announced through www.hoteliermaldives.com. For general and media inquiries related to the GM Forum, you may contact Mohamed Mamduh on (960) 799 9008 or email: mamduh@167.172.155.58 or info@perspective.mv.