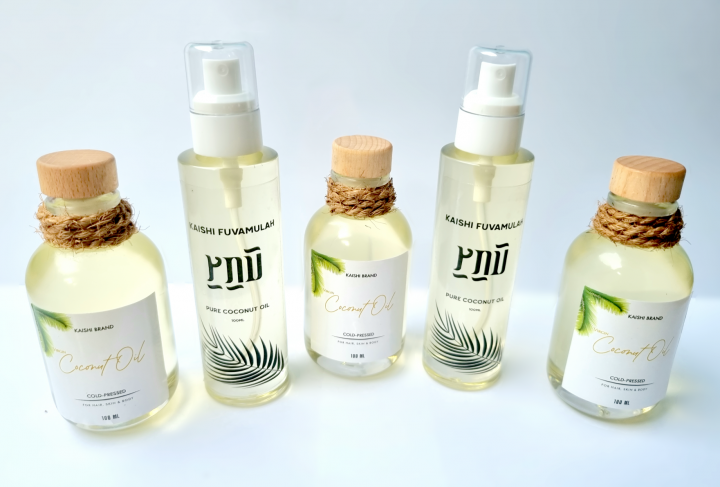 Kaishi Fuvahmulah: Wholly Natural Maldivian Coconut Oil
Renowned as the third largest atoll in Maldives and a diver's nirvana, Fuvahmulah is one of the most popular inhabited islands in the Maldives. This southern island, blessed with lush vegetation; freshwater lakes and a stunning reef, is also home to ambitious and hardworking locals. A noteworthy story is of a family that began a coconut oil business in 2004.
Kaishi Fuvahmulah was founded by parents Ahmed Farooq and late Mariyam Ali Didi along with son Ameen Ahmed Farooq and his uncle Ibrahim Rasheed.  The family was assisted by an Australian expert and they were able to secure a long-term lease for a facility approved by the government for manufacturing coconut based products in Maldives.
The company currently supplies its own brand of virgin coconut oil in 120ml and 20ltrs to guest shops, resort spas, guesthouses and local shops. Extracted from fresh coconuts harvested on the island, the coconut oil is carefully prepared with modern machineries, maintaining its quality throughout the process. The product is 100 per cent natural and is locally packed in sustainable glass bottles.
Kaishi also has a limited edition premium coconut oil in 100ml glass bottles with a special Maldivian artwork packaging.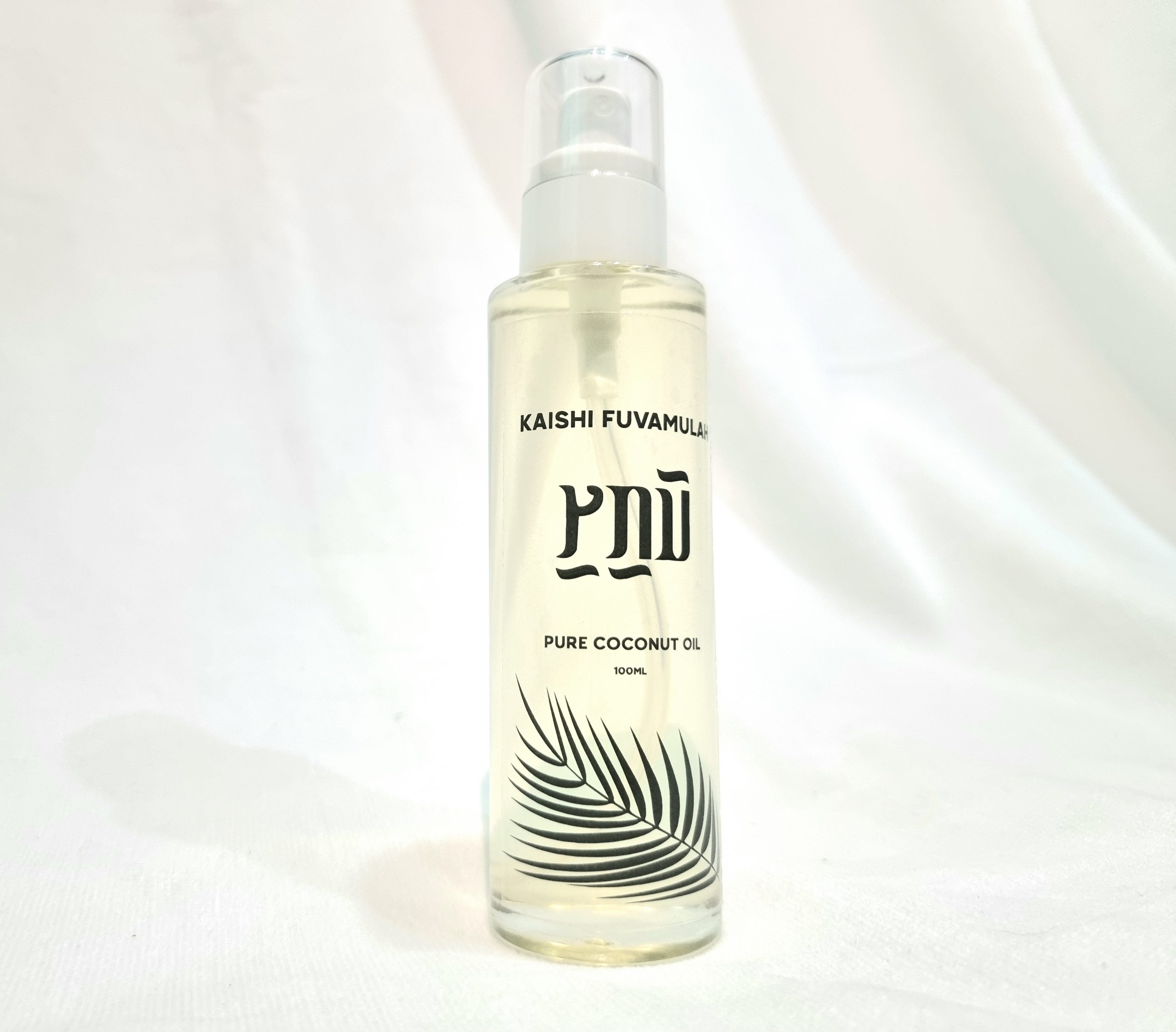 Their local clientele reviews describe Kaishi coconut oil as an excellent solution for hair fall and dandruff. It is also recommended for its pleasant smell, treating cracked skin and rashes – all these solutions offered at a relatively affordable price. They are also supplying to well-known resorts in Maldives including Six Senes Laamu, Kurumba Maldives and Velaa Private Island.
The coconut factory boasts machinery worth approximately MVR 4 lakhs. Fresh coconuts from the island are harvested and is added to the copra cutter machine to shred after separating the shell.  It then goes through a heating process and a VCO machine is used to extract the oil. The oil extracted automatically goes to a tank linked with the filter after extraction. When the tank is filled, the filter machine sucks the oil and purifies it into fresh virgin coconut oil. Kaishi can currently produce 30 liters per hour and produce up to 300 liters per day.
Kaishi Fuvahmulah aims to supply high quality and affordable local coconut oil to the country and later sell internationally. They have a vision to bring quality Maldivian original products to the world, create a learning environment for the young manufactures in Maldives and empower them to introduce their own brand. The founders wish to bring a good change to the economy through correlated business goals and collaborative corporate social responsibilities.
To learn more about the company and their products, contact Kaishi Fuvahmulah here.