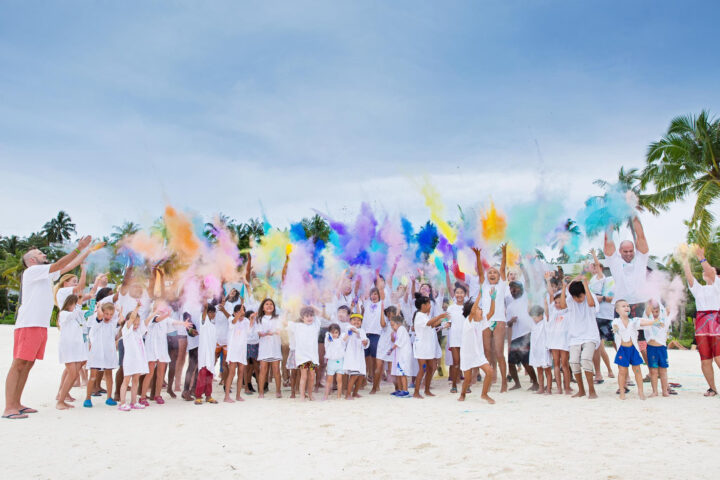 Kandima Maldives turns colourful with first-ever KULA Art Festival
Kandima Maldives becomes a hive of creative energy as it launches the first ever KULA Art Festival with sensational festivities, whipping up a storm of colour as they headed towards their year-end celebrations. The KULA Art Festival, held as part of the Kandima Art Initiative, was the first of it's kind to be hosted in a resort on such a large scale.
The KULA Art Festival featured works of over 20 local artists specialising in various mediums including digital, coffee, acrylic, henna, spray paint and local crafts, as the event showcased Maldivian artistic talent in all its glory. Featuring beach games, art activities and plenty of grub to grab, the KULA Art Festival "certainly stayed true to its carnival theme with an electrifying atmosphere and an awesome line up of entertainment," according to Kandima Maldives.
Set in front of Kandima's iconic Beach Club, the festival kicked off with live art demonstrations along with classes for guests to unleash their inner creativity. A wide range of artwork from the participating artists was also displayed throughout the event, giving them the perfect platform to gain exposure on an international stage.
As the sun started to dip, the guests took to the beach to start off the most colourful event of the day—the KULA Colour Run! An epic trail through clouds of colour on one of the longest stretches of beach in the Maldives, leaving runners covered in powders of pink, yellow, green and blue from head to toe! It was definitely a family affair, according to Kandima Maldives, with both adults and the little ones making their way through a rainbow of colours to the finish line.
The KULA initiative was launched in October 2017, with a vision to promote and nurture local artistic talent and creativity and essentially open up new horizons for the local art community like never before. The KULA initiative was launched in collaboration with Maldives Artists Community (MAC), a local art NGO with over 100 members. To learn more about the resort and special offers, please visit kandima.com.