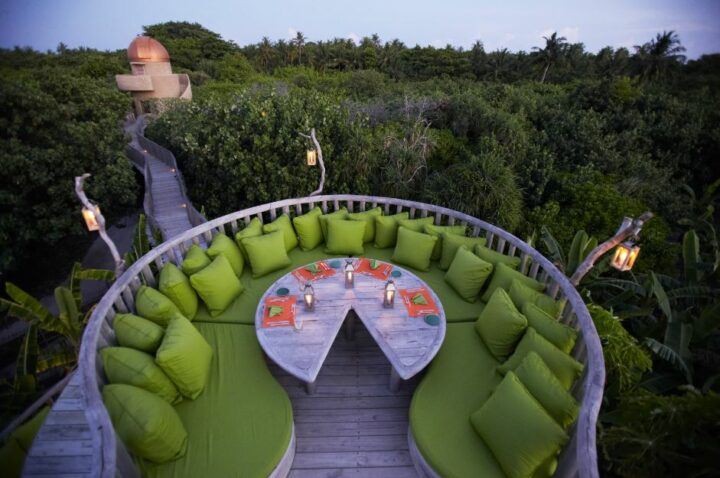 Soneva to present case study at the Hotelier Maldives Wellness Summit
In a time when the definition of wellness is being explored and refined, different organisations are delivering the best approach they see fit. With so many experiences to choose from, people are more aware of the decisions they need to make for their holiday to be more meaningful.
Soneva is a brand that is built on the foundations that an organization must exist for reasons greater than just increasing the bottom line. They have been at the forefront of crafting sustainable experiences through their SLOWLIFE philosophy (Sustainable, Local, Organic, WELLNESS, Learning, Inspiring, Fun Experiences), which is integrated into every aspect of the holiday. Through a rigorous auditing process, Soneva has been measuring the impact and return of all their initiatives.At the first Hotelier Maldives Wellness Summit on 06th September, Gordon Jackson, the Area Waste to Wealth Manager at Soneva Fushi, and Ahmed Moomin, their Community Engagement Manager, will be presenting a case study on their sustainability philosophy. Committed to the Soneva way of life, Gordon leads with a focused waste management strategy."20 years ago when Soneva Fushi was built there were no municipal waste services. Today, our Eco Centro is a practical production facility where waste is turned into many useful products. It is also very guest-friendly with a strong emphasis on education and training. We have boiled down 20 years of experience into what we hope is the best recycling centre in the country," he comments.With a priority to move towards renewable energy sources, the Soneva properties have gone to extensive lengths to decrease their carbon footprint.The first solar power plant at the flagship Soneva Fushi marked an important first step, and today their renewable energy capacity has increased tenfold. Moreover, design plans are carefully thought out to create open ventilated spaces, reducing the need for air conditioning.
Sourcing all its water sustainably, Soneva was the first resort to produce its own drinking water in reusable glass bottles. Over the last 10 years, more than a million single-use plastic or glass water bottles have been avoided completely. To support communities without access to clean drinking water, The Soneva Foundation spends a significant amount of their revenue on clean water projects. By 2016, 752,345 people have been given access to clean water through the Soneva funded Whole World Water campaign.Waste management is another area where Soneva truly shines. With a resident team running the "Eco Centro" on each property, this facility converts waste to wealth.  For Soneva, 70% of their waste is organic matter which is composted and reused in their world class gardens.Materials such as wood are recycled into charcoal and used at the grills on the resorts. Plastic bottles are entirely banned on the island, and glass bottles that cannot be reused are recycled into construction materials and designer glassware at the Maldives' first glass blowing studio. A true escape for the mind and soul, holiday makers are able to reach a state of physical, mental and social well-being at the Soneva properties.In addition to the presentation of the case study by Soneva, keynote speeches will be given by leading well-being consultant Anni Hood, Founder and CEO of Wellness Business Consultancy and Jesper Hougaard, the Managing Director of Serena Spa who also serves as an Advisory Panel member for the Summit. Panel discussions will also be held at the Summit on the topics; 'Global Wellness Trends' and 'How Wellness can Enhance Revenue for Resorts'.
Confirmed panellists for the Summit include Renate Hermes, Group Spa Director, Duniye Spa and Advisory Panel Member for the Summit, Trent Munday, Senior Vice President – International, Steinar Spa Consulting / Mandara Spa, Dr Sunny Umar, CEO, Maldives Getaways, Herchell Cabrera, Associate Spa Director, One & Only Reethi Rah, Shosil Mahato, Spa Manager Velaa Island and Patrick de Staercke, GM, Kuredu Island Resort & Spa.
Please visit hoteliermaldives.com/wellness-summit-register to book your attendance at the summit, or visit hoteliermaldives.com/wellness-summit for more information. For further inquiries, please contact Hussain Jazlaan, hussain.jazlaan@167.172.155.58 or call + (960) 791 0858.