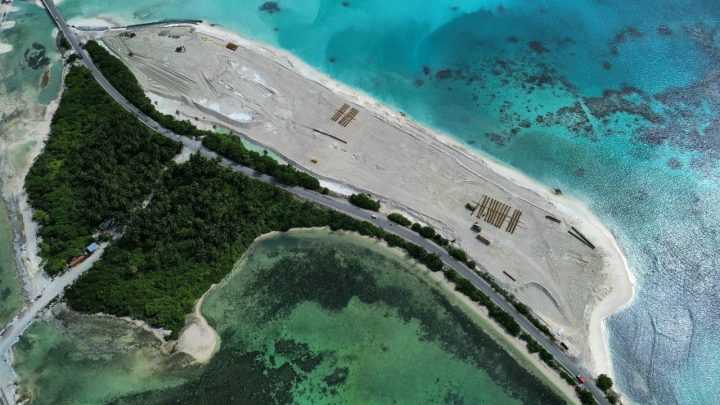 Land reclamation completed for Hankede tourism project in Addu
The long-awaited Hankede tourism project, aimed at developing integrated tourism in the southernmost Addu atoll of the Maldives, has reached a significant milestone as land reclamation has been successfully completed.
The state-owned Maldives Fund Management Corporation (MFMC), responsible for executing the project, made the announcement on Twitter on Monday, stating that the designated land for the project has now been reclaimed. The reclamation extends from Maradhoo to Gaukendi, effectively separating Hankede from the mainland.
Earlier this year in March, the MFMC awarded the Hankede tourism project to the China National Electrical Engineering Company (CNEEC) after securing a substantial loan of USD 142 million (MVR 2.2 billion) from a Chinese bank.
The ambitious project is set to feature 1,041 rooms of various categories and ranges, aiming to boost tourism in the region and create job opportunities in Addu. It is also expected to pave the way for further development in the southernmost city.
The history of the Hankede project has seen several ups and downs over the years. In 2006, Thoondu Private Limited was awarded a contract to develop a city hotel in Hankede, but the agreement was terminated due to the lack of progress. The project was then handed over to Half Degree in 2008, but they too failed to initiate any work.
Subsequently, in June 2011, all rights related to Hankede were transferred to a Singapore-based company called Dalton Private Limited, which planned to develop Hankede as a five-star resort. However, the deal was eventually scrapped in 2019.
Finally, last month, the government decided to move forward with the real estate tourism plan for Hankede and entrusted the project to MFMC.
With the completion of land reclamation, the Hankede tourism project is now closer to becoming a reality, promising new opportunities for the southernmost city's growth and contributing to the overall development of tourism in the Maldives.