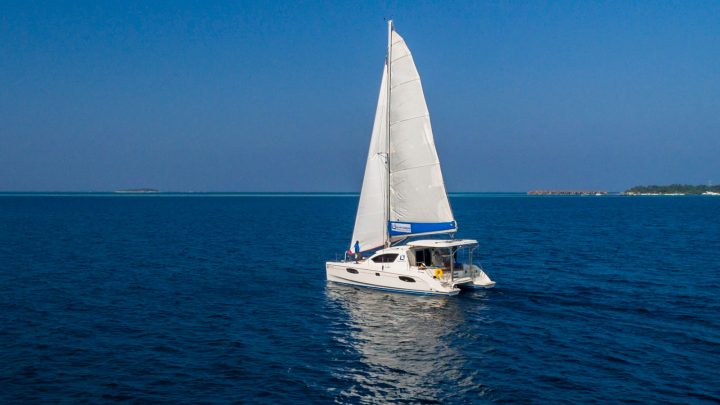 White Sand
Just a short ride away, on the harbor of Hulhumale', is a catamaran by the name White Sand. As one of the twin catamarans owned by Blue Horizons group, it is a lovely option for anyone looking for a quick escape from their hectic life, just perfectly fit for a simple relaxing cruise along the archipelago that is Maldives.
Upon boarding the White Sand guests are provided with cool refreshments, and greeted by the warm and welcoming crew. One has a wonderful view of the Maldivian waters, the ocean as far as the eye can see, that is until it meets the sky.
It is on the open lounge of the catamaran that I met the Managing Director of Blue Horizon, Mr. Ahmed Zubair Adam. "We acquired White Sand and Sun Kissed (other catamaran) around last year but due to lack of marina facilities in Maldives the vessels had to be modified and fitted with water maker and generator to run the air conditioning system on board. We also upgraded and customized them, they are fully operational by January, 2016."
White Sand offers comfortable four guest cabins that can accommodate eight people, along with two toilets with showers. Each room is air conditioned and comes with their own wardrobe. Its sun deck under the sails is the perfect spot to tan, or to relax and read a book, or to just enjoy the magnificent view as the salty balmy air dances in your hair and sings in your ears. The newly refurbished catamarans can be operated on both solar panels and a generator as well. "The solar panels can run the fridge, charge the phones and run the pumps" says Mr. Zubair.
The catamarans are operated by Blue Horizon, sister company to VAMCo, a trading entity founded in 1979 that eventually expanded to tourism. "My father, late Mr. Velidhoo Adam Maalimee ventured into tourism in the early 80's with a yacht dhoni called Niru," says Mr.  Zubair. "Then we only had one vessel through which we provided our facilities. Currently the company owns four vessels, including this one."
"The Maldivian wooden basic small yacht dhonis without electricity evolved as cross breeds to current floating hotels or liveabaord vessels offering Maldivian cruises catering to the needs of action seekers such as divers and surfers, in Maldives a safari cannot be done on a jeep but on a boat" says, Mr. Zubair, referring to Blue Horizon's other vessels as well.Mr. Zubair says White Sand and Sun Kissed (fibre glass yachts built to international standard) are for the people who like to cruise and sail, relax and enjoy white sand, the sea and of course the sun kissed beaches.
Available to be chartered by resorts, guesthouses, and private individuals alike, the catamarans offers a great variety of activities guests can partake in, most of them water-related such as snorkeling, water sports, fishing or simple going out for a swim. Additionally, excursions can be arranged to sandbanks or uninhabited picnic islands where picnics or outings can be arranged. Island hopping is an activity very much revered by those that go on these sailing cruise trips, as these little excursions arranged provide and inside look on how the locals live their everyday lives in Maldives.
The catamarans are able to accommodate their passengers crewed or bareboat (without the crew) depending on preferences and requests. They aim to provide their customers with the most pleasant and relaxing of experiences. "When resorts and guest houses reach to us to arrange for our facilities, usually a day-excursion, they tend to send one of their butlers with their passengers to see to their needs," says Zubair. "However, if you charter directly with us, all of your needs will be looked after by our highly professional crew."
As the twin catamarans White Sand and Sun Kissed are essentially sailing cruises, many of the day-charters, or excursion trips may include a sunrise sail or a sunset sail, where refreshments can be enjoyed on the sun deck or the lounge as you slowly follow the sun.
However, if booked for a week-long exclusive trip, the plethora of activities at your disposal can be enjoyed to the fullest, as the pressure to choose just one or two activity is taken out of the equation. You could rise to watch the sun slowly wake Maldives up, followed by a bit of fishing later on in the day. The catch can be barbecued on the boat itself for lunch, on the grill on board. An amazing mix authentic Maldivian taste is what you'll get, with the barbecue sauce being filled with herbs and spices, not that strong but just right. Every day will be an adventure, more memorable than the one before.
"Right now, we mostly work with resorts and guest houses apart from working independently, says Mr. Zubair. " We are also looking to work alongside city hotels in the capital, if their guests would also like the option of day charters available for them."