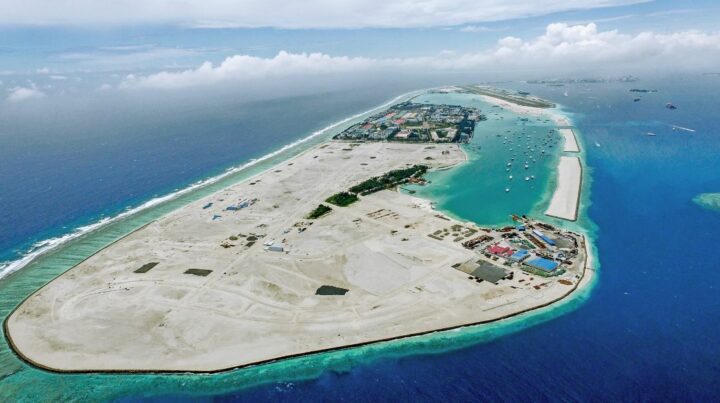 Mega infrastructure in the Maldives – Broadening the horizons and the gateway to paradise
The Maldives is known for its crystal-clear waters and sandy beaches, establishing itself as one of the leading holiday destinations in the world with the highest concentrations of luxury resorts in the world. There has been healthy growth in visitor arrivals in the Maldives. YTD May 2017, visitor arrivals have increased by 5.8% year-on-year, supported by significant growth in top markets such as Italy, Russia and India.
Visitor arrivals to the Maldives were recorded at 1.3 million for the full year of 2016. The future looks bright as the Maldives builds capacity for tourism growth and can count on the support from the Maldivian Ministry of Tourism with campaigns to strengthen the Maldives brand. In 2016, there has been an addition of 12 new resorts opened. They include the following 5 new notable resorts.We expect further growth in the tourism industry, fuelled by ongoing tourism infrastructure improvements, such as the Velana International Airport expansion and the Hulhumalé urban development and bridge project.
Velana International Airport capacity and upgrading project
A US$800 million expansion plan for Velana International Airport was unveiled in December 2016. It has been designed to offer a smooth transfer experience for travellers. The expansion is expected to increase from its current capacity of 1.5 million arrivals a year to 7 million international passengers and 1.5 million domestic passengers.
The plans include new VIP terminals which will be able to accommodate the most affluent tourists. By mid-2018, there will be a new seaplane terminal and a new 65m by 3,400m long runway ready to accommodate aeroplanes of any size.
Hulhumalé: the planned mini-city & bridge project
Another exciting infrastructure project is expected by mid-2018. Hulhumalé, which is 3 kilometres from Malé, will be connected by a bridge via the airport.
Hulhumalé Phase I is now connecting the International Airport by road and provides for a wide range of land uses from residential, industrial, institutional, commercial, sports and recreation and Government properties. The current population of over 40,000 is projected to grow to 60,000 at its completion in 2020.
With the vision to generate a vibrant community, Hulhumalé Phase II will be developed as a modern youth city focused on creating the ideal environment to spur creative entrepreneurship. Hulhumalé Phase II offers opportunities in residential developments, light industrial parks, a tourism district, yacht marina, institutional and commercial developments and sports developments.
It is forecasted that in the tourism district in Phase II, a cluster of branded hotels is to be built which will increase the number of hotels catering to leisure and business markets with convenient access to Malé and the Airport.
Existing supply
There is an existing supply with a total of 122 resorts with 26,089 beds, 16 hotels with 1,713 beds, 373 guest houses with 5,509 beds and 142 safari vessels with 2,608 beds.
A high concentration of hotel supply is within the North Malé Atoll and South Malé Atoll, where 18% of the total hotel supply is located. All the resorts are accessible by speedboat from the airport making them a popular choice with visitors.
Future Pipeline
Overall the upcoming hotel supply in the Maldives is expected to be in the upscale and midscale segment. There will be between eight openings in 2017, five in 2018 and four hotels in 2019. This will add an approximately 2,198 rooms, bringing the total supply to 15,570 rooms.Over the next five years, the Maldives is in in the face of an unprecedented scale up in public infrastructure and large integrated lagoon projects which are currently being developed. Combined with the support of marketing efforts of the Maldivian Government, it creates a broader market appeal for the destination.
As the projected arrivals into the Maldives increases, it is anticipated that hotel supply will balance itself out to meet the growing demand in the medium to long term future. We will be on the lookout for more lagoons and uninhabited islands released for sale to initiate the development of more accommodation options.Editor's Note: Featured aerial image of Hulhumalé was photographed by Mohamed Nabeel (Housing Development Corporation, HDC).