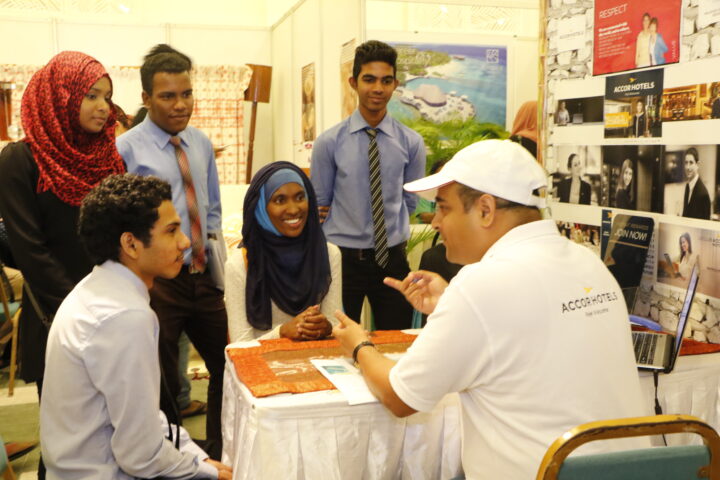 Mercure Maldives Kooddoo Resort participates in Youth Challenge 2016
The Talent & Culture team of Mercure Maldives Kooddoo Resort (AccorHotels) took part in the Youth Challenge 2016, a fair organised by the Ministry of Youth & Sports.
This year's fair took place at the Dharubaaruge' convention centre in Male', from 4 – 6 August 2016.
The exhibition featured over 64 stalls by various participating organisations including government bodies, local and national universities, resort companies and private institutions.
"Mercure Maldives Kooddoo Resort offered the latest job opportunities to a captive audience of potential youth, parents and those aspiring for a professional career in the area of hospitality," the resort said in a press statement.
"The Talent & Culture team of AccorHotels, Maldives took this as an opportunity to promote the upcoming Mercure Maldives Kooddoo Resort scheduled to open in November 2016, while developing a better understanding among youth on the importance of work ethics in the hospitality industry."
The AccorHotels stall showcased all AccorHotels brands, corporate initiatives and its philosophy through an attractive pictorial collage to create awareness among the visitors about the company.
The stall was designed to reflect the charm and aesthetics of the Maldivian islands, combined with AccorHotels' brand values, initiatives and philosophy through a story board. A special social media photo frame was a big hit among the visitors.
The resort also organised a poster making competition and an on the spot quiz activity to keep the visitors engaged.
"To this end, the Talent & Culture team of AccorHotels, Maldives was able to give a chance to youth of Maldives to expose themselves to the world of hospitality and survival skills in the 'real world' through interactions and counseling. The total walk-ins to our AccorHotels Stall was more around 209 footfalls and we highly benefitted with the event as we were able to get good candidates profiles for our pre-opening HR database for upcoming job requirements while promoting our new upcoming resort and company values," said said Vaibhav Garg, Cluster Director of Talent & Culture at AccorHotels, Maldives.
"Apart from this there was a great learning in terms of getting to know other resort companies, engaging and networking with fellow industry colleagues and getting an opportunity to interact with ministry and other regulatory bodies under the same roof while sharing thoughts for cross learning and exposure."
The Youth Challenge fair aims to provide the youth an opportunity to have direct contact with institutions, universities and other such organisation that offers a variety of career fields.
Mercure Maldives Kooddoo Resort, located 385 kilometers south of the Male' International Airport , can be reached by a 55 minute domestic plane flight. It is the only resort directly accessible via domestic plane without an additional speedboat transfer.
Located at Kooddoo Airport in Gaafu Alifu Atoll, it is the first airport resort in Southern Maldives.
Mercure Maldives Kooddoo Resort will provide one of the best value full-service resort options in the mid-scale sector.  With 68 Villas, the resort offers the best-in-class Sunset over Water Pool Villas.
The resort is scheduled to open in November.