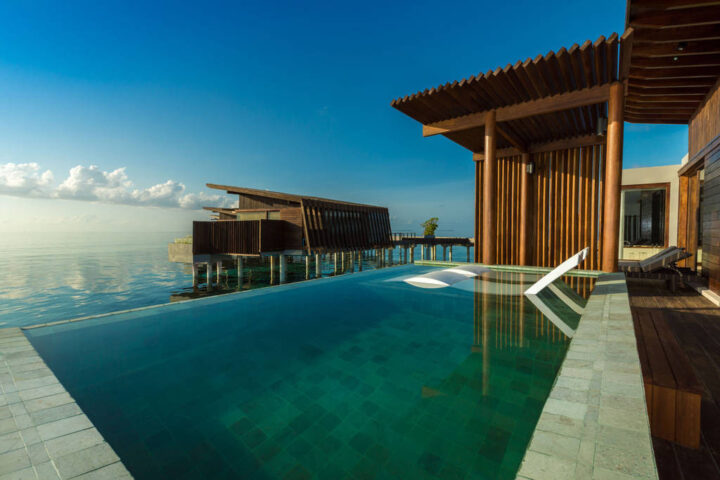 Park Hyatt Maldives Hadahaa launches Perfection of Pool and Ocean
Park Hyatt Maldives Hadahaa has reinvented and unveiled refreshed Park Sunset Ocean Pool Villas. The sunset water villas now feature a freshwater plunge pool with semi-submerged sun loungers and a cabana for guests to experience the Perfection of Pool and Ocean At The Park.
The resort opened in September 2009 and has since undergone numerous refurbishments and maintenance. The refurbishment of the selected villas was an undertaking to continue meeting the needs of the modern day traveller. The reinvented villas allow guests to take a dip to endless vistas while basking under the Maldivian sun or choose a romantic late night dip under the starlit skies.
Guests can now set their sights on breathtaking, panoramic views of the Indian Ocean, perched above the water in your the private 115 sqm villa. They can indulge in nature's unrivalled beauty, gazing into a panoramic sunset from a suite constructed with native Maldivian timber and stone, boasting floor-to-ceiling windows and a king size bed. Guests can also relax under the stars on their own private deck with plunge pool and outdoor bale/cabana as they take in the full Maldivian experience.
Located 400 km south of Malé, among only eight resorts in one of the largest natural atolls in the world, Park Hyatt Maldives Hadahaa offers guests a secluded island retreat experience. The resort features fine white sandy beaches and pristine waters teeming with marine life, a house reef that completely surrounds the island, spa facilities and specially crafted private dining options.
Park Hyatt Maldives Hadahaa features 50 villas, with 36 on land and 14 over the ocean. Whether burrowed within the island's tropical foliage or raised above the water, their villas are steps away from a tranquil beachfront, giving guests straight access to this area or the house reef. All spaces feature floor-to-ceiling windows and doors that lead to a private deck, with some villas inclusive of a private plunge pool. For more information, visit www.hyatt.com/park-hyatt-maldives-hadahaa.