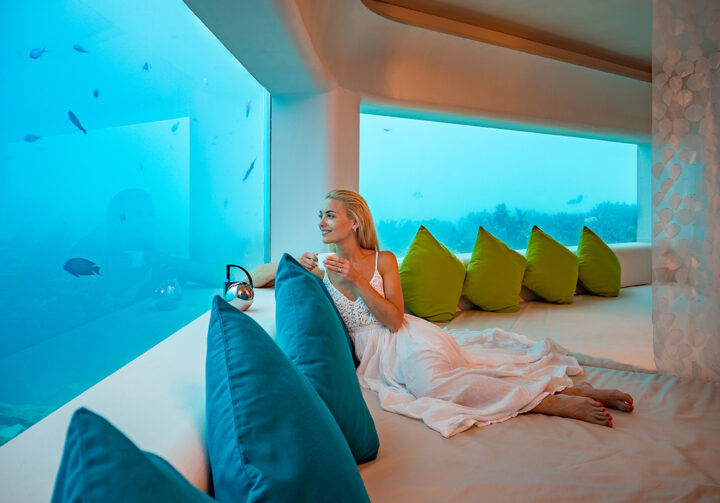 Rejuvenate your mind, body and soul at Huvafen Spa & Pearl
Indulge in a world of serenity and pure luxury in bliss-inducing and magical surroundings on an island set in the waters of Kaafu Atoll, just a 35 minute speedboat ride away from Velana International airport. Huvafen Fushi Island Resort and Spa opened its doors in July 2004, and since then the resort has created unique once-in-a-lifetime experiences for its guests, many often returning each year.
Featuring some of the largest guest villas and water bungalows in the Maldives, each with their own private swimming pool; the resort offers exceptional levels of service, comprehensive spa facilities and extraordinary fine dining experiences. All enhanced by cutting edge and ergonomically sound designs in an elegant yet simple manner that is bound to delight and surpass the expectations of even the most discerning guests.
Huvafen Spa & Pearl's luxurious treatments are available to all, and overwater treatment villas feature all the hallmarks of attention, luxury and indulgent comforts of a world-class spa. The spa holds a special allure for couples, whether young or old. Its two couples' rooms beneath sea level have large windows that offer a panoramic view of the underwater wonderland. Not only immersing guests in the sensory delights of the innovative treatments themselves, but also allowing them to lose themselves in the azure blue waters teeming with colourful marine life.
Revitalize together whilst you sip away your welcome drink; a soothing elixir of natural healing herbs and exotic spices that is guaranteed to awaken the senses. You are now ready to be expertly guided through the spa's wide selection of facials, body treatments, traditional Maldivian medicine, yoga and "PURE" massage — a world famous modern massage concept pioneered by Beata Aleksandowics. Once your selection is made, you and your partner can lose yourselves in relaxation brought on by both the treatment, and the calm turquoise underwater surroundings. You can round off this one-of-a-kind experience with private yoga and meditation sessions. All amidst the gentle lapping waves and sea life surrounding you.
After the treatment, having every memory of stress wiped clean from the mind, satisfy your appetite with the enlivening flavours of the spa's international and local cuisine – arguably one of the best in the Maldives. Huvafen Spa & Pearl is equipped with two restaurants situated on the seaside and overwater. One serving healthy 100% raw organic food, the other serving a creative fusion cuisine influenced by Asia and Europe, all paired with delicious wine from the very first underground wine cellar in the Maldives, home to the best Cuvee and Champagne collection in Asia.
Huvafen Spa & Pearl at Huvafen Fushi Maldives, has been recognised as the "Best Luxury Romantic Destination Spa in the Indian Ocean" at the annual "World Luxury Spa and Restaurant Awards 2019" celebrating luxury restaurants and spas across the globe for their impeccable standards and memorable experiences.
Endless seascapes. Infinite seduction immersed in a cocoon of timeless luxury. A dreamscape of hidden pleasures, where every second transcends time. A sanctuary for lovers of life. Surrender to the embrace of Huvafen Spa & Pearl – a powerful experience that will revitalise your mind, body and soul.