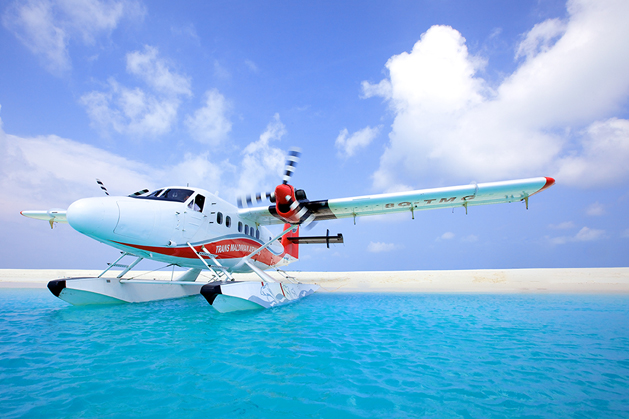 Transforming Transfers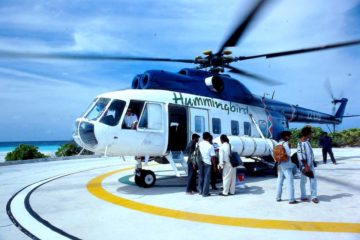 The geographical features of the Maldives, its scattered atolls and islands that have a particular allure for visitors, presents unique challenges to transportation. However, within three decades of the introduction of helicopters for rapid inter atoll transportation, transfers have improved and evolved remarkably. The growing popularity of the seaplane in medium and long distance transfers is particularly noteworthy. It is not for purely practical reasons, for, as several passengers have described, seeing the variegated shades of blue and green encircling the atolls and islands of the Maldives from above is an awe inspiring experience. And, as with all first impressions, this experience affects and shapes their view of the country and their stay.
Last year alone, the leading seaplane company, Trans Maldivian Airways (TMA), saw close to a million transfers. The bulk of its passengers were tourists. TMA is a company with a rich history. It started operations in 1989, operating a helicopter fleet under the name Hummingbird Island Helicopters. "There were a few helipads scattered across the atolls, some of them in resorts," says Ibrahim Shifan, TMA's Public Relations and Marketing Manager. "Passengers would be dropped off at these locations, and they will be taken to wherever they are staying from there."
But the helicopters did not prove to be reliable; there were several incidents over the years. Eventually TMA had to consider other modes of transportation. "The most successful mode appeared to be seaplanes," says Shifan.
The scene shifts from TMA to Maldivian Air Taxi (MAT), the first local company to operate seaplanes. It commenced seaplane flights in 1993, under the guidance of its founder, Lars Eric Neilsen, a Scandinavian with a love of amphibious aircraft and an entrepreneurial spirit. MAT began with two Twin Otter aircrafts, and by 2013, it was transferring over half a million passengers a year.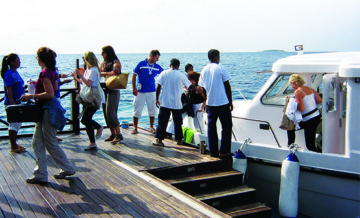 Meanwhile, in 1997, TMA started its transition from helicopters to seaplanes. It changed its name to Hummingbird Island Airways and managed to complete the transition to a strictly seaplane fleet two years later. The following year it was renamed Trans Maldivian Airways. The company grew to rival MAT and was transferring around 400,000 passengers a year by 2013. "We had a healthy competition between us," says Shifan. "Our clients were evenly distributed and we grew together."
The growth of the two airline operators was beneficial to the tourism industry; they had a symbiotic relationship. Seaplanes propelled the drive to establish tourist resorts further afield, opening up new vistas for development. "We cover resorts from Shaviyani Atoll up North, to Dhaalu Atoll down South," says Shifan.
In February 2013, an event of great import to the tourist industry and the domestic air transport market took place. A US-based private equity fund, Blackstone, bought controlling stakes at both seaplane companies, catalysing the merger of MAT and TMA. It affected TMA (the new merged entity) in more ways than one. Resorts were initially unhappy, and viewed the merger with suspicion. "It wasn't an easy time," says Shifan. "We had to deal with the reaction from the resorts. On top of that we had to bring together two different systems . So we encountered challenges in following common operational procedures. It took time for people to adjust. We went through a teething period of about six months."
By January 2014, TMA had smoothed things over and regained some composure. "By then we were able to ensure that guests departed within two hours of checking in," he says. "And I consider it a major achievement."
Today, TMA operates the world's largest seaplane fleet with 44 aircrafts. Yet, Shifan believes, there is still room for growth. "Our fleet will need to be expanded," says Shifan. "There are more resorts coming up, which means more passengers, so we will need to grow as well."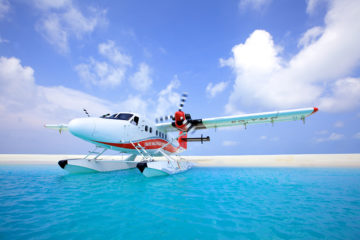 While seaplanes have carved a hefty share of the transfer market, speedboats still thrive in the gaps left by seaplane travel. Souvenir Marine (SM), a leading marine transport company, conducts more than a thousand transfers daily. It started out small, with two speedboats in the Early 90s. Today it has a fleet of over 50 vessels and counts some of the most exclusive resorts in the country as its clients.
With the establishment of Gulf Service Centre Maldives Pvt. Ltd. (affiliate of Gulf Craft LLC., Dubai) SM was one of their first clients. This relationship helped SM attain a high level of sophistication early on. "It was a great relief to clients when Gulf Craft began operating here," says Riffath Wafir, Operations Director at SM. "They could modify their crafts to the customers' liking, and the process was very straightforward. To be frank, Gulf Craft brought a revolution to the entire marine transportation industry ."
This sentiment is echoed by the company's Manager, Mohamed Asbah. "They brought about a massive change," he says. "Prior to that, people were bringing in vessels from various places. Most of them could carry only a few passengers. There wasn't a standard as such. What Gulf Craft did was to introduce a certain standard in terms of efficiency and capacity. Their vessels offered spacious interiors accommodating 18, or on the larger vessels, 35 passengers." Gulf Craft vessels have since become ubiquitous, a fact that would strike anyone observing the jetties or the harbour area in Male'.
A point that Asbah wants to stress is that SM provides what he calls a complete solution to resort clients. This is a new concept that the company came up with in 2010 that further standardised their services. "What this means to our clients is that none of them will be spending a single dime on setting up and operating sea transportation services," he says. "They won't spend on acquiring boats, maintenance, salaries to crew, or fuel. It's all taken care of by us. They also get to customise their vessels, with their own brand, livery and so forth. Our concept is very simple – if our clients make money, we make money; by providing and managing the sea transportation service to their required standard."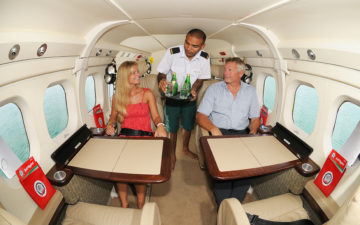 SM started off with Holiday Inn as their first client under the new management concept and presently it has a clientele of around ten resorts. Among them are Robinson Club, The Residence and One & Only Reethi Rah. "One & Only approached us in late 2012," says Asbah, "They wanted a total solution as well. They required luxury vessels with surround sound systems and LCD screens. It forced us to put the bar up higher."
This is also indicative of a trend among resorts of outsourcing their transfer operations. "I think this is evident as prominent brands such as Jumeirah, One & Only, Club Med, Robinson Club and so forth have opted for that," says Asbah. "The market is there, I believe. But we, as a single company, can only do so much. There is scope for others to do what we are doing."
TMA and Souvenir Marine, along with a host of smaller speedboat companies dominate the transfer market. However, there remains a sizeable niche for domestic carriers, such as the Maldivian, to exploit. The carrier estimates that it transports between 36,000 to 40,000 passengers a month, around half of which are tourists. "Within the 'season' tourists can account for more than 60 percent of the total passengers," says Ali Nashath Hameed, Head of Administration at Maldivian. "The number of foreign passengers increases again during the Chinese New Year."
The carrier benefited greatly from the expansion of the tourism industry. "That's when Island Aviation Services (IAS, which operates Maldivian) really made big strides," Hameed says. "The airline component wasn't profitable when resorts were concentrated near the Male' region and nearby atolls. It's all changed now. Today, our most popular destination is Dharavandhoo in Baa Atoll. We have at least six flights a day there. The demand is pretty high as there are a number of resorts nearby."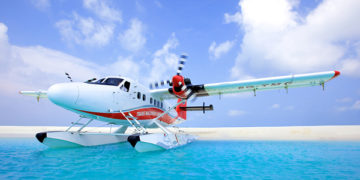 Maldivian streamlines the procedures for tourists. "Their agents have to deliver them to Maldivian's lounge, and our staff will take over from there," says Hameed. "The lounge provides VIP services including snacks and meals. There's also a spa, and a kids' corner. Our aim is to make them feel like they're on holiday from the moment they land."
The Maldivian also introduced seaplane services in July 2014. They started operating flights to Maalifushi in Thaa Atoll and within a month secured a contract with Manafaru, in Haa Alif Atoll. "It's not good for the tourism industry when there is a monopoly ," Nashath says. "I believe there is scope for us, as a seaplane operator, and the industry will benefit greatly from this."
The future of transfers appear promising. Guest arrivals are on the increase and new destinations are cropping up across the country. "The future does indeed look very bright," says Asbah whose company is tapping into the luxury vessel market. "More resorts, and more domestic airports mean more opportunities for us." Other smaller operators are increasingly finding means of expanding their business. TMA too is strengthening their fleet to cater to the burgeoning demand for seaplane services, as is Maldivian; the latter hopes to secure more destinations in the coming year. The success and growth of tourism in the country which translates to the emergence of new destinations can only be a boon to those involved in guest transfers.