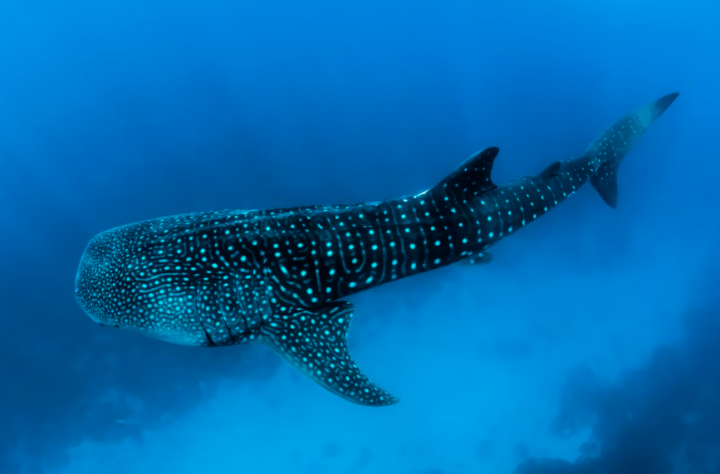 Whale Shark Safari Operators Urged to #SearchSlowInSAMPA
A new awareness campaign by Maldives Whale Shark Research Program (MWSRP) urges whale shark safari operators to #SearchSlowInSAMPA. The campaign is a response to increased reports of some (not all) vessels exceeding the 10 knot speed limit imposed by EPA in the South Ari Marine Protected Area (SAMPA).
Vessels speeding to whale shark encounters has led to an increase in whale sharks with propeller injuries. Research conducted by MWSRP shows that 66% of the whale shark population in South Ari have been injured over their lifetime. Over the past five years, MWSRP has observed a 16% decrease in whale shark abundance and suspects it is correlated with an increase of vessels in the area.
Sustainable whale shark tourism is possible with practices that prioritize the wellbeing of whale sharks and guests during encounters. Safari operators are urged to brief guests on the code of conduct for safe whale shark encounters. Whale sharks should be approached slowly, quietly at a distance of at least three meters. Tour operators should encourage quality encounters over quantity.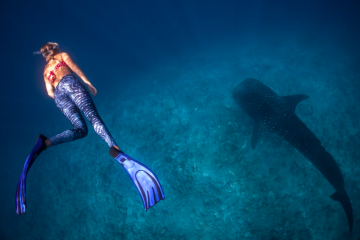 Featured Image: Unsplash 
Be Gentle to Giants is a campaign by Maldives Resilient Reefs and Blue Marine Foundation that encourages guests to seek out ethical whale shark encounters. A number of Maldivian resorts and tour operators have already committed to the principles of the campaign.
John Rogers, the General Manager of LUX* South Ari, explains why the resort is Gentle to Giants, "We actively promote and follow the code of conduct for swimming with whale sharks during each excursion; educating our guests on the importance of respecting these amazing creatures by providing awareness sessions prior to entering the water. It would be great to see whale shark tourism in the Maldives carefully regulated to avoid losing sight of whale sharks completely. Proper regulations will not only protect the sharks, but it will also continue to attract the tourists to visit South Ari Atoll and benefit from the tourist industry in the long term."
Ethical encounters not only benefit whale sharks but also the local economy. Whale shark tourism in SAMPA generates $9 million USD in tourism revenue annually. With proper regulations, ecotourism can benefit conservation efforts and local populations. To ensure the longevity of whale shark tourism, resorts, guest houses, tour operators and guests must work collaboratively to #BeGentletoGiants and #SearchSlowinSAMPA.
Featured Image: Unsplash