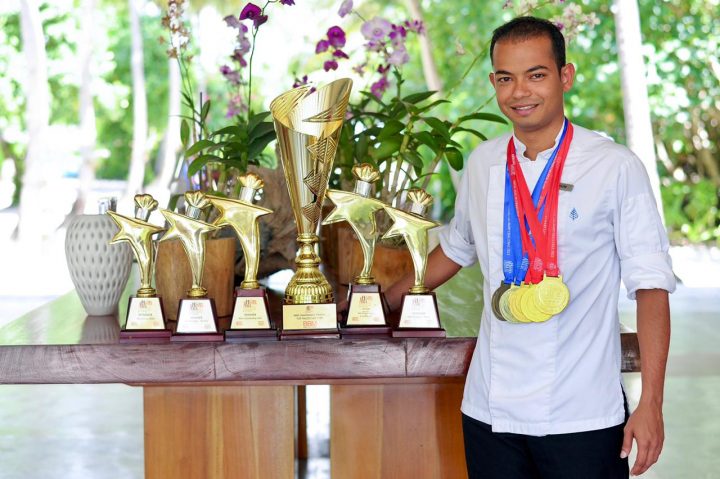 Chef of the Month: Ahmed Mazim, Chef de Partie at Four Seasons Landaa Giravaaru
Hotel Asia International Culinary Competition Special
Wining accolades in any profession takes practice, time and dedication – ask any top athlete, sportsman, musician, artist etc. Culinary competitions are no different, although the participants are usually practicing in addition to their full-time role.
In a Hotel Asia International Culinary Chef of the Month Special, we feature Ahmed Mazim, who has had an incredible year of culinary achievements, winning the title of Best Maldivian Chef at the FHAM and recently clinching seven awards at the Hotel Asia International Culinary Competition, including the converted titles of "Best Maldivian Chef" AND "Most Outstanding Chef".
Hotelier Maldives talks to Ahmed Mazim, to learn more about his culinary journey and gain a sneak peek into what is required to become an award-winning Chef.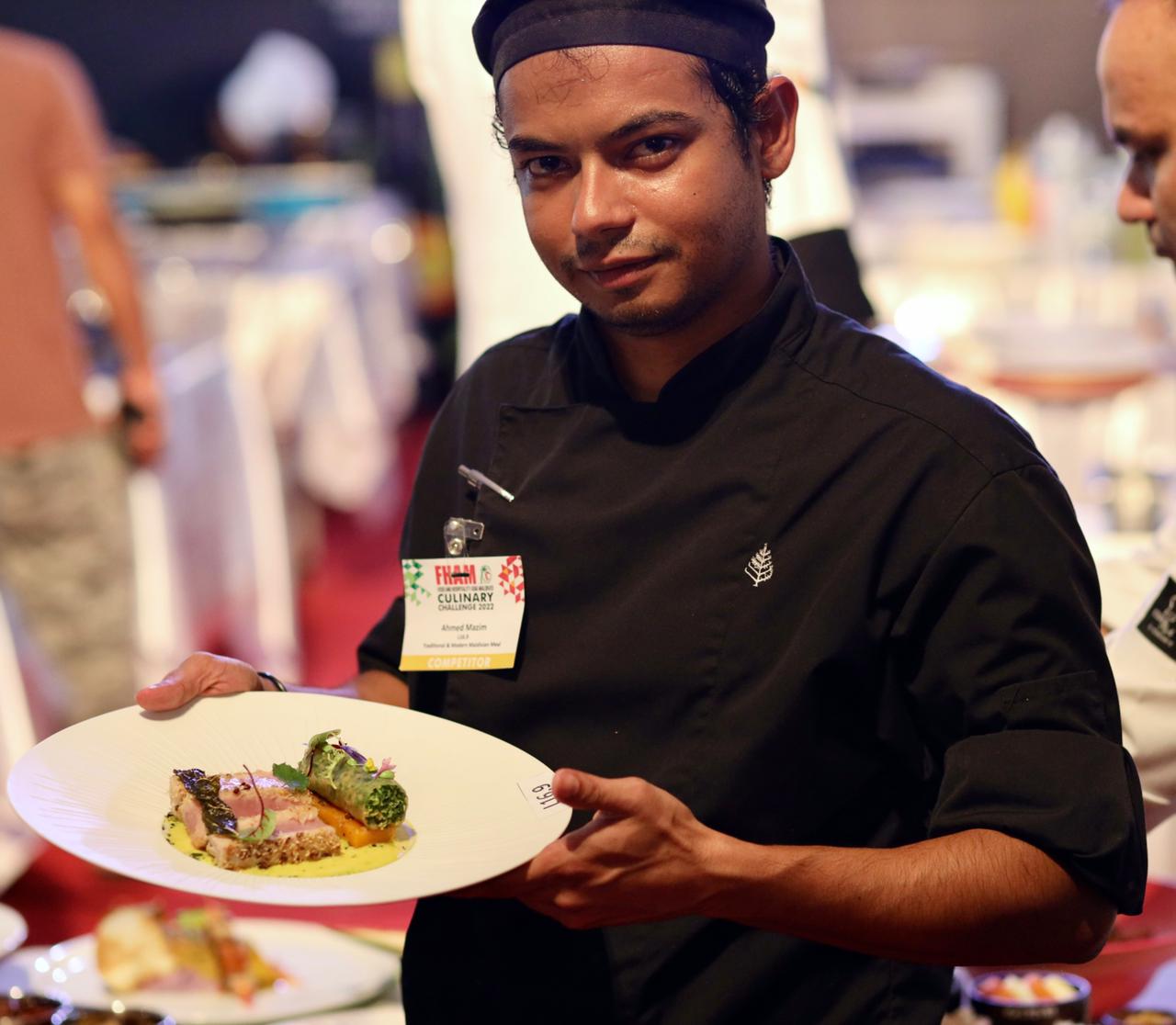 Featured Image: Ahmed Mazim, Chef de Partie at Four Seasons Landaa Giravaaru
HM: What drew you to the culinary field and becoming a Chef
Mazim: Even though my mum and grandmother are great cooks and gave me my first appreciation of delicious food, I never actually thought that I'd become a chef and went to Male to study IT. I didn't even know how to cook, except simple dishes such as noodles. However, my brother was working as a Chef at Four Seasons Landaa Giraavaru, and when he came home to Addu for the holidays, he would cook meals for the family, and ask me to help him in the kitchen.
So, while helping him, I remember thinking that this cooking thing isn't actually very difficult; just simple processes that we tend to think are very complicated. It sparked an interest in me and I asked him whether I could train to be a chef as well? He said of course and told me to apply for the Four Seasons apprenticeship programme, I did and joined Four Seasons Landaa Giraavaru as an intern in December 2014. That's how it began.
HM: Where did you learn your skills?
Mazim: I joined with basically zero knowledge, so it was very difficult for me, to be honest. As an apprentice you spend time in all sections of the kitchen, so I got all the basics from the senior chefs and section heads. Also, Four Seasons bring speciality Chefs to train us and I learnt a lot from watching and practicing
HM: Who has had the greatest influence on your career to date?
My brother played an important part during my first few years as it was quite challenging to find my way through at the earliest stage of my culinary journey. I have also had lots of support from the senior chefs I've worked with who have all played a significant part in my development.
HM: What effect did the pandemic have on you and your career?
During the pandemic I was at my home, so I took my time to be with the family without stressing myself over things which i cannot control. But when I went back to work it was very different with new procedures, such as working with a mask on, which was something i never liked, although I was able to adjust.
HM: What first inspired you to compete in culinary competitions and can you share some of your past competition experiences?
Mazim: My first competition was 2015, I still remember Chef Yoosuf Abdul Gadir asking me if I was interested in participating in a competition. I was a bit scared and didn't have much confidence, but he helped me get my dish ready for competition. I only got a merit award, but chef encouraged me, saying it was only the beginning, I now knew where I needed to improve and what to focus on to develop and get better. From that day, I told myself I would participate in every single competition until I achieved a gold medal.
I didn't even know about the special awards and titles until 2016 when my brother got the award for Best Maldivian Chef. That inspired me even more, as I wanted to earn that title too, so I started putting in even more effort, and every time I improved, turning merit awards to Bronze Medals, Bronze Medals to Silver and finally Silver Medals to Gold Medals. Then in 2019 I was selected to represent the Maldives in a team event in China where we came third, winning a bronze in the Chinese Cuisine World Championship Team Challenge, I was the youngest of the team, so it was a great experience for me.
HM: What prompted you to enter both the FHAM and Hotel Asia this year?
Mazim: After competing in FHAM competition and winning Best Maldivian Chef, I wasn't planning on competing in Hotel Asia as both competitions were very close together and I wanted to give other team members the chance, however Chef Shiv who was organizing the whole event from our organization, told me he would find cover for my shifts, and I should take part and make them proud. This meant I didn't need to worry about the operation which gave me time to focus on my dishes.
HM: How much time did it take to select your dishes and get ready for Hotel Asia?
Mazim: It took me a day and half to decide which categories I would compete in, as my goal was to win Most Outstanding Chef, so there were certain categories I had to compete in. Planning the dish takes time, I always plan a dish on a piece of paper, then show it to my senior chefs, plate the dish afterwards, see if the flavours go together or not, work on the individual components of the dish until I'm satisfied with the results.  It took me a week or two to build up one dish to my complete satisfaction. I was very lucky to have the best mentor to guide me through the whole journey, my Executive Chef Axel Godefroid.
HM: How did you manage to juggle your time to get ready for the competition and fulfil your normal daily duties?
Mazim: I was doing my regular shift plus spending extra hours on putting my dishes together. To me it never mattered if I had to work on my dishes on my day off, because I knew if I win, it will all be worth it. I am the kind of person that when I see something I want or like, I put my mind to it and work for it.
HM: Aside from the accolades, why do you participate in competitions?
Mazim: I love to participate in competitions, it gives me confidence, it excites me, sometimes to the point where it doesn't let me sleep. I find myself doing better when i have a challenge. It also is a great way to learn, get ideas for plating dishes and meet people.
HM: Did you expect to win Most Outstanding Chef as well as the Best Maldivian Chef?
Mazim: As I'd won Best Maldivian Chef at FHAM Culinary competition, I wanted to be the Most Outstanding Chef at the Hotel Asia Culinary Challenge. I always had a clear picture of the target and what I needed to focus on. During the competition I had a dream of becoming the Best Maldivian chef as well as the Most Outstanding chef. I did share this goal with my brother and chef Axel, who encouraged me, plus the feedback I was getting from the judges gave me hope and motivated me to go further.
HM: It is the first year that the BBM Chairmans' Trophy has been awarded, how do you feel to be its first recipient?
Mazim: I hadn't realised that there was a trophy as well as my focus was on the title, however when I saw the BBM trophy during the ceremony it stood out and I really wanted to win it. Gaining it was a great achievement for me and something I feel very privileged to have won first.
HM: Can you give us an insight into what it takes to excel in competitions?
Mazim: I see lot of people get inspired to take part in culinary competition and try to go further, which is something really good to see, but getting inspired is not enough to win the title, there is so much sacrifice and effort that goes along with it. You need to do your research, learn the flavours, the techniques and get the mise-en-place right! An award-winning dish is achieved by proper mise-en-place, beautiful presentation and most importantly taste, and how the flavours go together.
HM: Does competing help develop your culinary skills?
Mazim: Yes, it gives confidence, and helps me understand where I needed to improve.  Then i take my time and focus on those areas, asking for help from my senior chefs who have that experience which helps me to develop my skills day by day.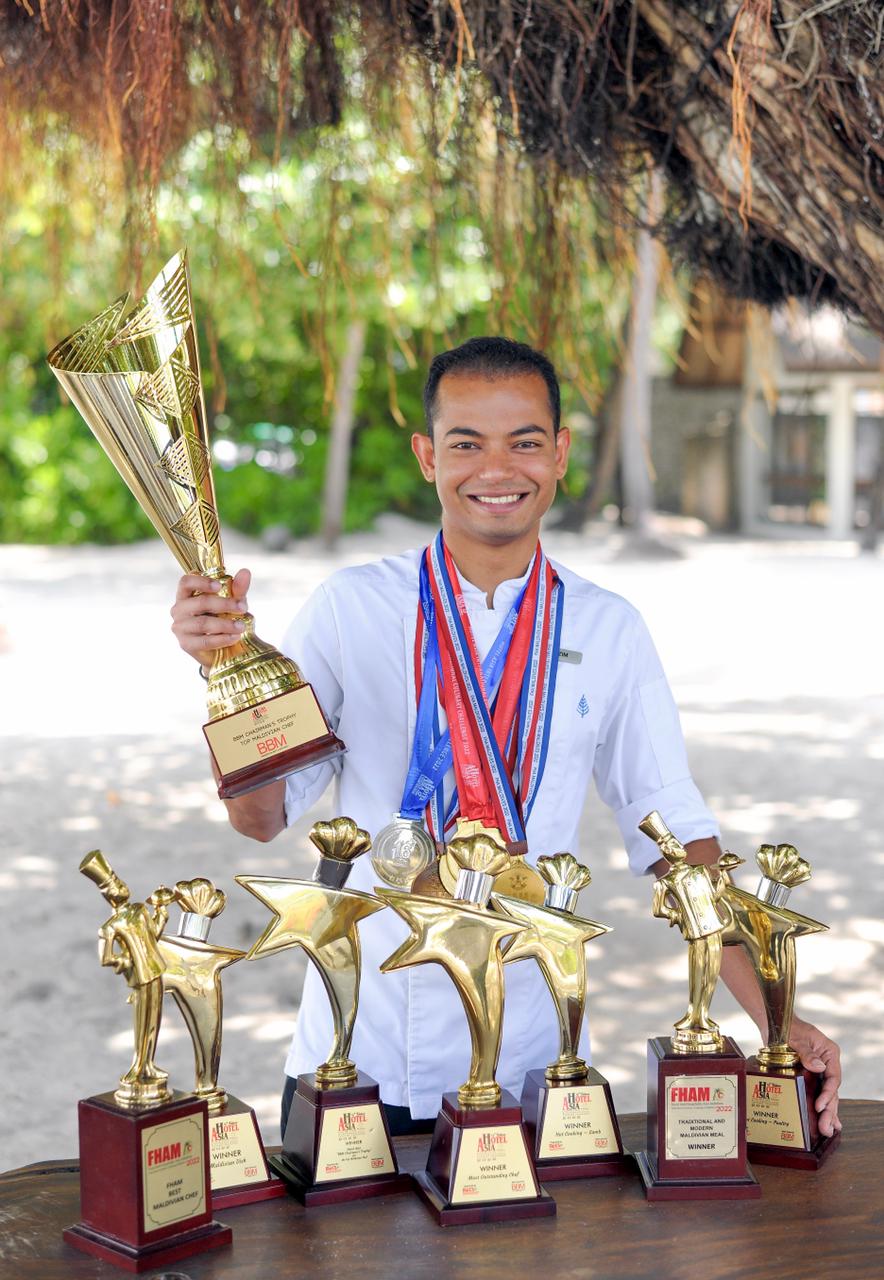 Featured Image: Ahmed Mazim, Chef de Partie at Four Seasons Landaa Giravaaru
HM: What 1 piece of advice would you give someone considering a competition?
Mazim: Aim high! Focus on winning regardless of your level, always aim higher. The moment you put your mind on winning, you will try harder, always note the mistakes you do and reach out to the right people to help you correct them.
HM: Apart from your Culinary awards this year what would you say has been the highlight of your career to date?
Mazim: I was given the opportunity to work at Four Seasons Beijing for six months which was one of the best experiences that I ever had. Learning the cuisine and the culture was something incredible.
HM: Where do you see yourself in 5 years' time?
Mazim: I see myself growing within The Four Seasons and inspiring the next generation to excel in the industry.
HM: What do you consider are the key attributes / skills required to become a good chef?
Mazim: I believe anyone can become a good chef if they have an interest, passion and excitement to go through the journey. I started with zero skill, zero knowledge of food but with alot of passion and energy to do my best, so anything is possible with the right mindset. There are no short cuts, start from the bottom, learn the basics, then focus on taste and flavours before presentation. And you must learn to make use of the opportunities that come your way and focus on building your career.
HM: Can you share one of your award-winning dishes?
Mazim: Certainly – Whole Roasted Celeriac with Celeriac Veloute split in Parsley oil.
Ingredients
1 Whole celeriac
1 nos white onion
2 stem thyme
1 leek
1 stem celery
80g butter
2 clove garlic
500ml whole milk
200g spinach
30g shimeji mushroom
20g crispy quinoa
200g parsley
200ml grape seed oil
Method
Aluminium wrap whole celeriac with sea salt thyme, garlic and roast the celeriac inside the oven at 150 degree for 3 hours.
When the celeriac is cooked cool it down to room temperature and peel off the skin, take a cylindrical steak
Cut the remaining celeriac in to small pieces,
Sauté onion, leeks, celery, in butter and thyme.
Add milk and simmer for 20 minutes.
Blend the celeriac to make a smooth soup consistency.
Toss the celeriac steak in butter and thyme to give a caramalized flavour
Sauté spinach and keep in the side, later to be used on the plate.
To make parsley oil, chop parsley and mix with grape seed oil, bring up to 60 degree
Using a thermomix blend the parsley together with the oil for 2 mins and strain using a chix cloth leaving only the green oil.
Remove the impurities before use.
To finish the plate
Pour celeriac velouté split with parley oil on the plate, after that place saute spinach below the celeriac steak, sauté mushroom and crispy quinoa on top of the celeriac.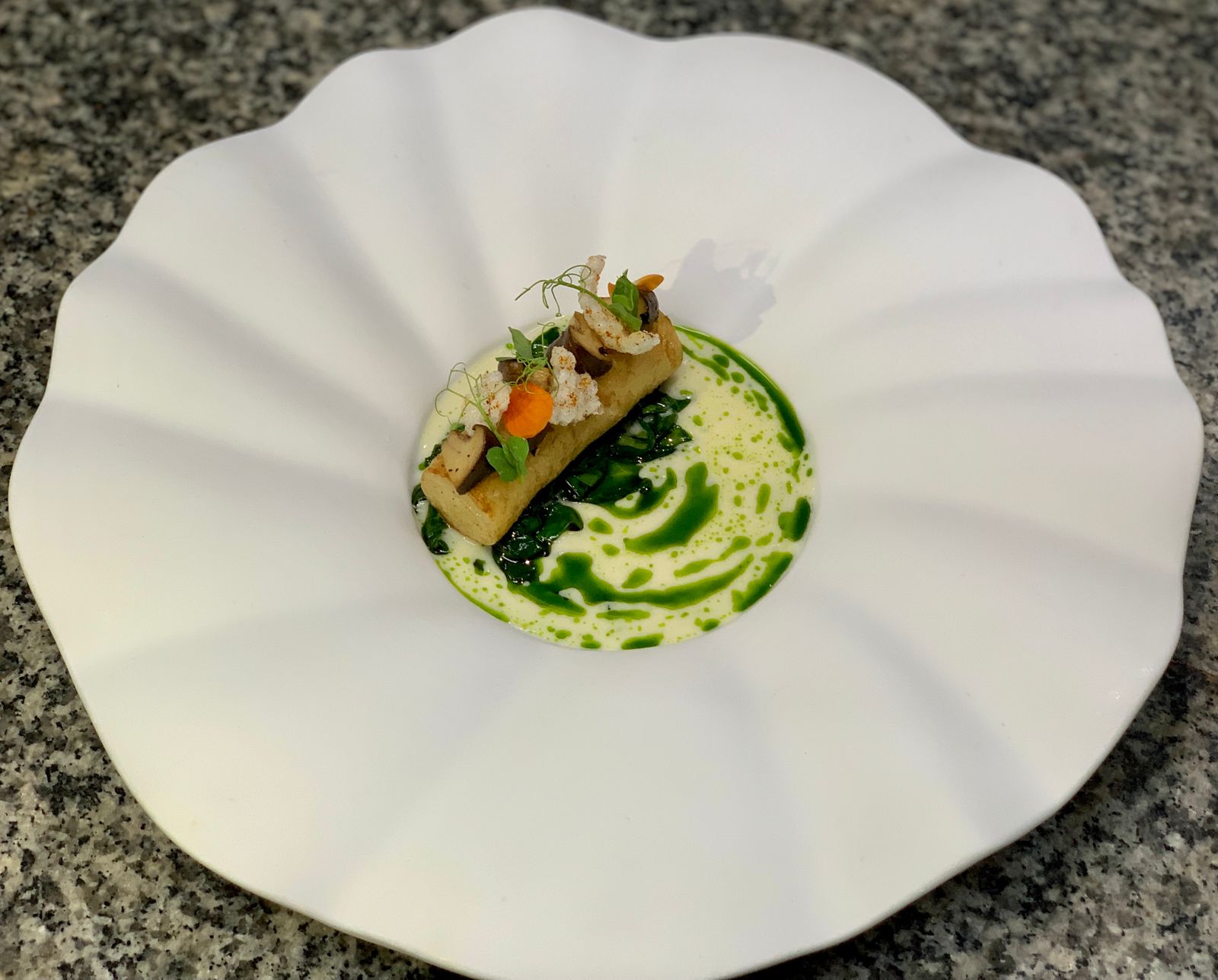 Featured Image: Whole Roasted Celeriac with Celeriac Veloute split in Parsley oil