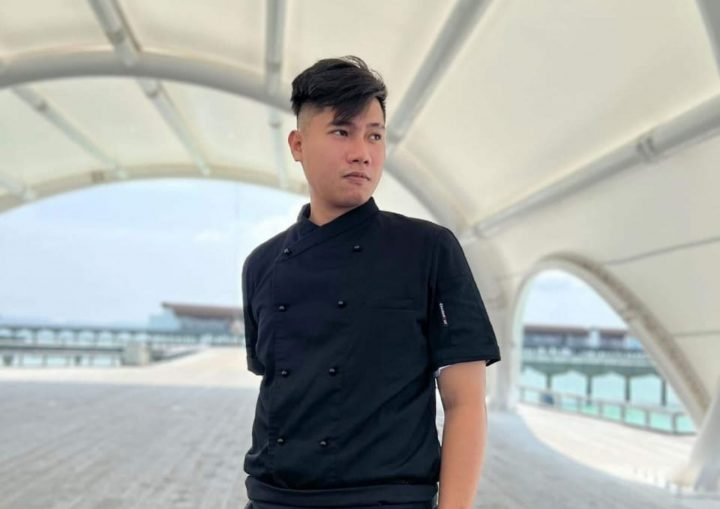 Chef of the Month: Christian Bagasol Mac, Commis I at The Westin Maldives Mirandhoo Resort, Baa Atoll
Growing up in the wet market area of Manila in the Philippines, Mac was surrounded by fresh food from an early age, however he initially wanted an adventurous career such as a pilot or fireman, before being drawn to the culinary profession. A reconnection with an old school friend opened the door to a kitchen position in the Maldives, an opportunity he seized, joining the culinary team at the Westin Mirandhoo Resort, where he is honing his skills and discovering how to incorporate the flavours of the Maldives with his Asian roots. Hotelier Maldives spoke to Mac about his journey and his aspirations for the future.
HM: What drew you to the culinary field and becoming a Chef
Mac: I grew up surrounded by fresh meat, fish, and vegetable vendors in a wet market in Caloocan, where my family had a stall selling fresh eggs and Chinese style noodles. My father was from Taiwan and a chef, my mother was Filipino, between them, they would create amazing meals for the family, friends, and neighbours. I was always struck by how they really cared what the food looked and tasted like. Everyone always enjoyed these meals and were impressed.  I realised learning to be a pilot was expensive, so after I left school, I decided I wanted to give people the same impressions through food that I'd seen my parents do when I was a kid, as a result I went to study Culinary Arts at Lyceum of the Philippines University, and my journey began.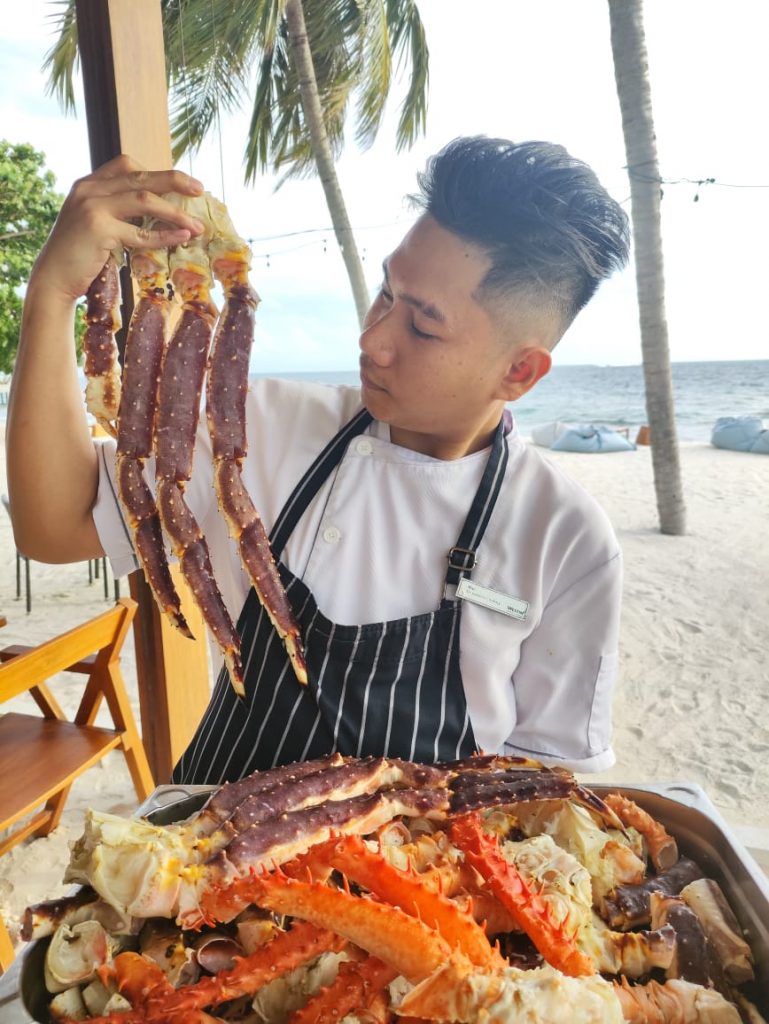 Featured Image: Christian Bagasol Mac, Commis I, The Westin Maldives Mirandhoo Resort
HM: Where did you learn your skills?
Mac: Until I did my studies, I didn't realise how much I'd learnt from my parents and being in the wet market. There was fresh food and lots of live animals, so I learnt how to recognise fresh products, how to butcher meat and cut fish. My dad influenced me the most, showing me Chinese techniques such as how to make white chicken, the use of Kutchay (Chinese Chives) and some unusual ingredients: century egg, sesame oil and alcohol, (as a boy I couldn't understand why he used alcohol in noodles and beer in mussels, then when I was studying, I understood that they enhanced the flavours). He also taught me the value of ingredients and how to utilize them without any fancy equipment.
Whilst studying we had to find places where we could do our 1000 hours of practical, so I worked in lots of different places.  Curiosity and desire are keys to growing, so I always asked questions and had a notebook to get as much knowledge as I could. I squeezed in as much learning as possible working in butchery, cold, hot, wok, western and Japanese sections, so I can take pieces from all the puzzles to make my own. This is where I got to understand that food is an art, created by a constant search for harmony between 2 to 3 simple ingredients. As a Chef, I truly believe we are all an artist by heart, the plate is the canvas for me.
HM: Who has had the greatest influence on your career to date?
Mac: My parents, especially my father as he taught me so much, but I would say Chef Gordon Ramsay and Chef Marco Pierre White gave me more eagerness to choose this career. I loved watching them on YouTube.  They showed me that Chefs are people with genuine and strong character, who never accepted a "No" as an answer and endure hardship like it's a pleasure.
HM: Of all the many facets of your role, which do you enjoy the most / find the most rewarding
Mac: I enjoy the complexity of western cuisine and find the French terms and techniques intriguing. However, the most rewarding for me is seeing the faces of the people you've served smiling and saying they truly enjoyed what you made. The visuals are awesome, this is what keeps me ecstatic.
HM: Did the pandemic affect your career path?
Mac: Yes, I had an opportunity to work for Viking River Cruises and had completed all the induction processes, but the borders started to close so it was put on hold. I thought it would all be over in 3 months like Sars, so I started making food and selling made to order bento boxes online.  Then I took a job in an Amazon Call Centre. I worked hard and it really improved my English-speaking capabilities, but I missed the kitchen so after 6 months I took a job in a local hotel.
HM: What enticed you to the Maldives and your current property?
Mac: My childhood friend from Elementary school was the one who got me the opportunity. We had lost contact and only reconnected after a gap of 20 years. I learnt he was also a chef and working in the Maldives, which is a very prestigious place to work for Fhilipino's, so I asked him if there were any opportunities. Luckily for me he was part of the pre-opening team at the Westin and got me a chance to interview and I came here last year.
HM: What do you consider are the key attributes / skills required to become a good chef?
Mac: Attitude & Discipline. Discipline is needed in a kitchen to keep it running, just like the army, but you need to be resourceful too and find ways to get things done. The best teacher is failure, to be a great chef you need the attitude that makes you try again and never give up. Thomas Edison made the lightbulb 10,000 times before finally succeeding.
HM: What do you consider are the greatest challenges to working in a kitchen, especially in a foreign country?
Mac: Challenges are everywhere, getting up early for breakfast shift, not having the right ingredients and having to adapt on the spot. When I first arrived in the Maldives, I was culture shocked. There were a lot of different nationalities in our kitchen, but at the end of the day, we wear the same jacket, and you learn from each other. The more different you are, the smarter you can become. In a kitchen, everyone thinks the same which is nice.
HM: What has been the highlight of your career to date?
Mac: Taking part in an interschool culinary challenge in the Philippines 7 years ago. I didn't win but it made me eager to learn more and improve my skills. Also, being featured in this magazine for one of the things I love the most – cooking, is a good experience.
HM: What do you consider are upcoming food trends in the Maldives and why?
Mac: Asian cuisine. Most Maldivians like spicy food and especially seafood – Asian flavours have almost the same profile. We have a lot of Asians at the resort so we can use Maldivian flavours to create fusion with Asian and Japanese dishes. Maldivian chilli can be used in Chinese dishes and wok techniques like Wok Hei, cook with fire, a technique to make the food taste like it is charred. It's unique and takes practice to get right.
HM: Tell us a unique / interesting fact about you
Mac: I always have my phone by my side to write down ideas for food as that is how I build up my knowledge. Also, when I was at elementary school, I saved up to buy a guitar and taught myself how to play it, I used to play with my friend, the same friend who is the chef here! I also know how to write and speak basic Chinese and am a bit techy so I can do things like coding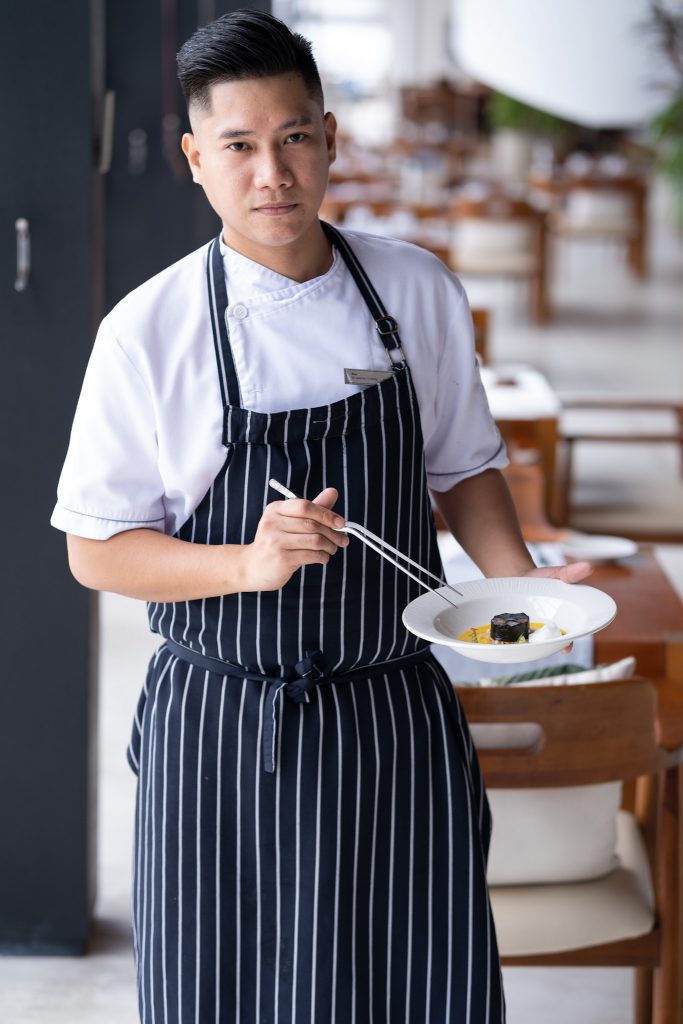 Featured Image: Christian Bagasol Mac, Commis I, The Westin Maldives Mirandhoo Resort
HM: How do you spend your free time?
Mac: Playing games, basketball, and the guitar, (but most probably doing laundry or cleaning up the room). I always want to be productive and explore new things, you only live once!
HM: What are your goals for the future?
Mac: My goal is to become a Michelin stared chef and a head chef given the right opportunities. I also want to compete in one of the culinary competitions here next year as it wasn't possible this time.
HM: What 1 piece of advice would you give aspiring chefs?
Mac: Never give up on your dreams, find a great mentor. Explore YouTube for recipes, and always take down notes, I always have my notebook with me. Remember, being a Chef is not a walk in the park, you must sacrifice time and energy. Failure is a good teacher, so learn from all your mistakes. Be like coal, thrive under pressure and be ready to shine bright like a diamond. All of us are a coal at some point of our lives.
HM: What is your favourite ingredient to work with?
Mac: Egg. It is one of the most taken for granted ingredients, but if you respect it, you can make a lot of dishes, some simple, some quite complicated such Quiche, Frittata, Béarnaise, Mayonnaise, Egg floss, Cured Egg yolk, Merengue, Souffle. Etc.
HM: Do you have a favourite / signature recipe to share?
Mac: Yes, Fish Mosaic with ensalada sauce. This Dish was inspired by the Filipino food called Kilawin, I made this dish 7 years ago during a competition and it looked hideous, now I have had the chance to refine and recreate the dish adding the Japanese and Western influences I have gained over the past 7 years, plus a lot of trial and errors. It is a dish which combines the three cultures that I think represent me, I'm proud to say that this is my personal signature dish.
Fish Mosaic in Ensalada sauce with Passion Fruit Caviar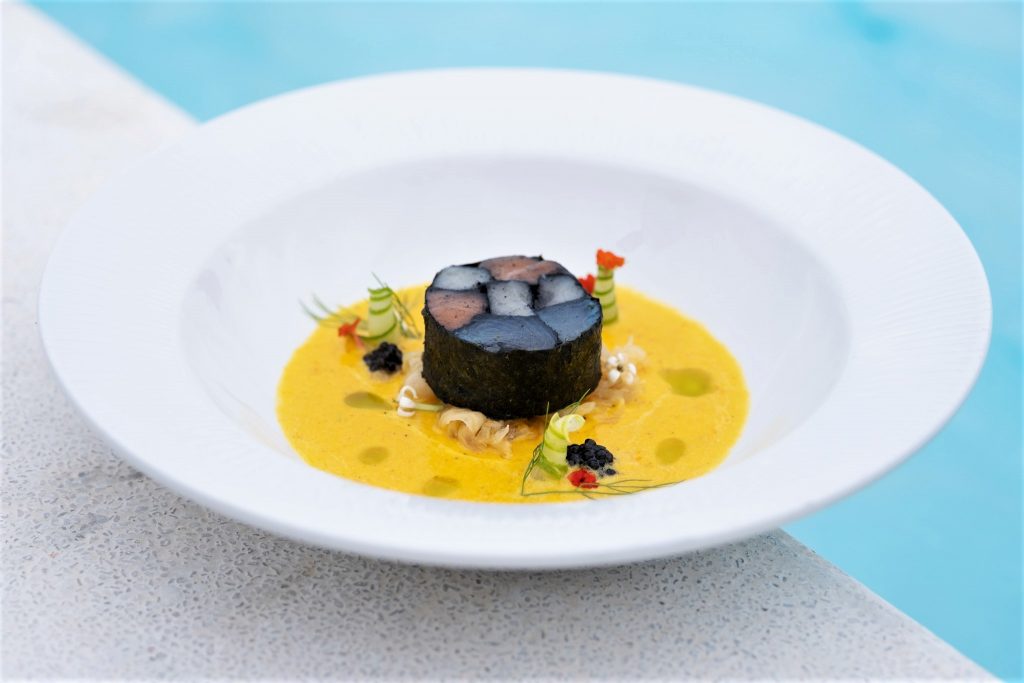 Featured Image: Fish Mosaic in Ensalada sauce with Passion Fruit Caviar
Ingredients – Fish Mosaic:
Hamachi, Wahoo, Salmon
20 g Charcoal powder
1 pc Nori
Method: Cut the Fishes in manageable size then coat with the charcoal powder and roll, and then set aside.
Ingredients – Ensalada sauce:
30g Aji Amarillo
5g Onion
5g Garlic
10g Tomato
5g Ginger
10g Passion Fruit Puree
10g Vinegar
Salt and pepper to taste
Method – Blend everything.
Ingredients – Passion Fruit Caviar:
1/3 cup Passion Fruit juice
¼ teaspoon Agar Agar
½ cup Olive oil
Method
Chill the olive oil
Mix the agar and passionfruit juice in a saucepan and simmer for 3-5 mins until the agar is dissolved. Then let it cool down.
Take squeeze bottle fill it up with the mixture then drop tiny droplets into the cold oil to form a sphere.
Rinse with water to remove excess oil.
Then plate