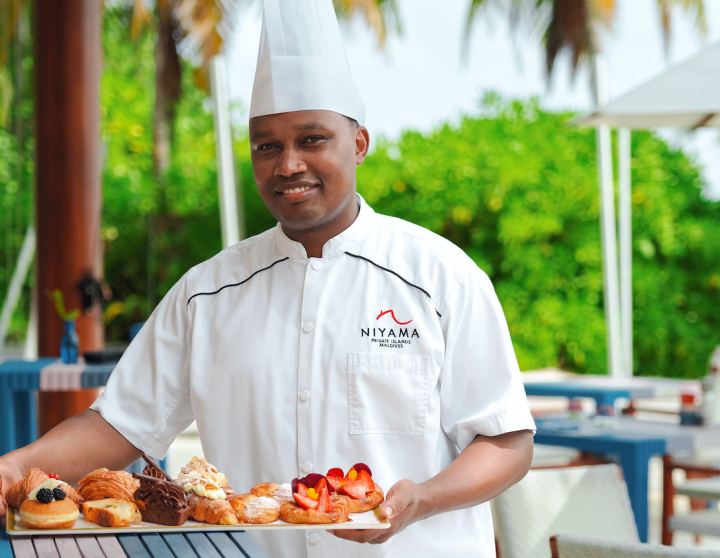 Chef of the Month: David Saria
David Saria is the head baker at Niyama Private Islands Maldives
David Saria hails from Arusha, a small city in the shadow of Mount Kilimanjaro, East Africa. Growing up in a small family, his mother was always cooking and baking, surrounding David with food from an early age. This ignited a love of cookery that has grown over the years, enticing him to the Maldives for the opportunities it offered in terms of culinary diversity and career progression. This love has evolved into a passion for bakery and opened David's eyes to what is possible with the right mentors, mindset, and motivation. Hotelier Maldives spoke to David about his journey and his aspirations for the future.
HM: What drew you to the culinary field and where did you learn your skills?
DS: I started learning from my mom, as she was always in the kitchen. We used to bake donuts, breads, fried rice breads, chapati, etc. I fell in love with cooking so after my education I found the best college in my country, The National College of Tourism Arusha Tanzania, to learn to cook and bake. Towards the end of my course, Four Seasons came to the college looking for trainees for their lodge and I was selected. There I met different chefs from different countries where I learned both culinary theory and practical skills. Then I came to the Maldives and learned even more from so many talented chefs.
HM: Who has had the greatest influence on your career to date?
DS: Firstly, my mother, as she was my initial inspiration. Once I was in the industry, I have had some great influencers and mentors. The first was Mr. Martin Cody, GM, at Four Seasons who gave me the opportunity to join even before my time as a trainee finished. He was, and still is, a great inspiration and support to me. Then a couple of international chefs who taught me so much; Executive Chef Curtis Smithen, Chef Bir Kumar and Executive Pastry Chef Sandeep Semwali, who I met in the Maldives. Later, Culinary Director Chef Philippe Wagenfuhrer was a great support, and gave me the opportunity to develop my baking. He is still my mentor now. Then there have been many others along my journey and now I'm learning more skills from Chef Luke Borg here at Niyama Private Islands Maldives.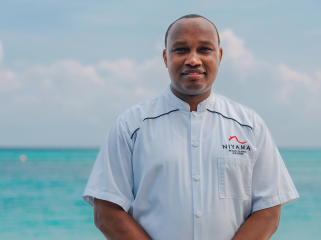 Featured Image: David Saria
HM: What do you consider are the key attributes / skills required to become a good chef?
DS: I believe hard work, learning new skills, good communication and great teamwork will help you grow. A talented chef knows the art of making meals to balance the pallet of their guests. To achieve that, you need skills, passion, self-discipline, a good attitude and positive mindset.
HM: What enticed you to the Maldives and your current property?
DS: The international chefs I worked with at Four Seasons saw I was hungry to grow my career. They told me the Maldives was a great place for hospitality with many nationalities, lots of opportunities to learn, access to good ingredients and equipment. So, I took a big step, left my family, and travelled to join this beautiful paradise with so many incredible cuisines from all over the world.
That was five years ago when I arrived as DCP and started my career journey. Last year Chef Phillippe told me Niyama Private Islands were looking for a Chief Baker. It was a big challenge in size and scope – two big islands and nine outlets with different cuisines. He knew I was looking for the next step up and said I could do it! I applied and was selected.
HM: What was the best piece of advice you have been given in your career to date?
DS: My favourite life quotes are, "passion will take you where your name will not", and "live to leave a mark." They are both translated from my language and mean you should leave your mark wherever you go. I would also like to add the four seasons motto, "be the reason for someone to smile and treat others as you wish to be treated." Together, these quotes inspire me every day to be the best I can be, and a chef that makes people feel at home by cooking from the heart with a smile.
HM: What do you consider are the greatest challenges to working in a kitchen?
DS: Honestly, it is long hours but they are always worth it in the end for your career. The other challenge is lack of equipment and space!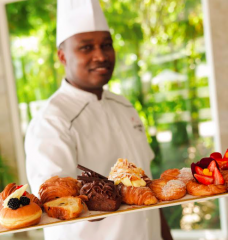 Featured Image: David Saria
HM: There are numerous areas to master within a kitchen. What drew you to specialise in bakery?
DS: I started my career in the hot kitchen at Four Seasons, then as I could bake, they asked me to help in pastry over the Christmas season. That was the beginning of it all. I stayed in pastry and came to the Maldives as a pastry DCP. Over the pandemic I was the only chef in the pastry department, so I needed to do bakery as well. This gave me the chance to practice my baking skills, and I honestly fell in love with baking. Making bread is amazing and baking is something incredible as it connects skills, passion, and love.
HM: What has been the highlight of your career to date?
DS: This industry has given me so many great opportunities and allowed me to travel to over ten countries. I have learned different cuisines and have worked for well-known brands. There have been many highlights; working in Maison Kayser in Paris was amazing as I met so many Michelins starred chefs.
HM: What do you consider are upcoming food trends that chefs should be aware of?
DS: The world has changed a lot. Healthy options are a trend, especially with the younger generation. We now get vegan, gluten-free, lactose intolerance and diabetic guests, plus those with special food requirements, so as a baker I am learning more about baking healthier items. It's the same for all chefs, we need to create healthy dishes to meet upcoming food trends.
HM: Tell us a unique/ interesting fact about yourself?
DS: Apart from baking I play music, dance, and play pool. I play the guitar, keyboard, and drums. Also, I have also won awards and a great set of chefs' knives from culinary competitions, both here and in my country.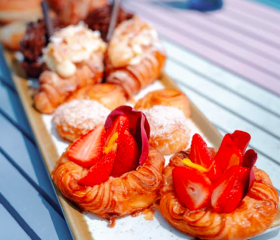 Featured Image: Pastries by David Saria
HM: What do you enjoy the most/ find the most rewarding about being a chef?
DS: Seeing guest's happy faces and hearing their positive feedback is one of the greatest rewards. I love baking because it is the first meal of the day.
HM: Where do you see yourself in the next 5 years and what is your career goal?
DS: I see myself as a great baker who owns different bakery shops in the Maldives and Africa. My goal is to open a coffee shop, bakery and baking school in Arusha so people can enjoy and learn how to bake and create pastries which will support our hotels and hospitality industry.
HM: What piece of advice would you give to aspiring chefs?
DS: Being a chef is great, but it has its challenges such as long hours and not being able to celebrate special events. However, it is rewarding, and you will come to know it is one of the best careers you can have. Keep working hard, don't give up, and strive to learn more and more each day. Finally, practice daily because practice makes perfect.
HM: You are very active on social media. Do you find it a beneficial resource or a distraction?
DS: It's very beneficial as I can share my work which generates a lot of interest and connections. It also allows me to learn many things from different people in the world.
HM: What is your favourite ingredient to work with and why?
DS: Flour is my favourite ingredient because it is the main ingredient for baking. With flour, I can bake anything. I can also make natural yeast from flour.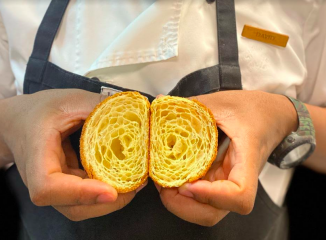 Featured Image: David Saria with signature croissant
HM: Do you have a favourite/ signature recipe to share?
DS: Certainly, a croissant. A buttery, flaky, viennoiserie pastry inspired by the shape of the Austrian kipferl but using the French yeast-leavened laminated dough. The dough is layered with butter, rolled and folded several times in succession, then rolled into a thin sheet, in a technique called laminating. The process results in a layered, flaky texture, similar to puff pastry.
I learnt to make authentic French croissants whilst I was in Paris where we were making 6000 at a time. In Niyama, I use a process that takes 24 hours. The recipe makes fifty 70gm croissants.
David Saria's Croissant Recipe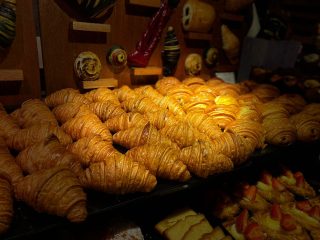 Ingredients
Flour 1625g
Salt 30g
Fresh 50g
Improver 20g
Butter 200g
Sugar 120g
Egg 4pc
Ice Water 650g
For lamination dough
1650g of dough

Butter 850g
Method
Combine warm water, yeast, and 1 teaspoon sugar in a small bowl. Let stand until yeast softens and begins to form a creamy foam, about 5 minutes.
Measure flour into a mixing bowl. Combine warm milk, 2 teaspoons sugar, and salt in a separate bowl: blend milk mixture, yeast mixture, and oil into flour. Mix well and knead until smooth. Cover and let rise until over tripled in volume, about 3 hours.
Deflate gently, and let rise again until doubled, about another 3 hours.
Deflate dough and chill for 20 minutes.
Massage butter until pliable, but not soft and oily. Pat dough into a 14×8-inch rectangle. Smear butter over top two-thirds, leaving a 1/4-inch margin all around. Fold unbuttered third over middle third and buttered top third down over that. Turn 90 degrees, so that folds are to the left and right. Roll out to a 14×6-inch rectangle. Fold in three again. Sprinkle lightly with flour and put dough in a resealable plastic bag. Refrigerate for 2 hours.
Unwrap, sprinkle with flour, and deflate gently. Roll to a 14×6-inch rectangle, and fold again. Turn 90 degrees, and repeat. Wrap and chill for 2 hours.
Preheat the oven to 475 degrees F (245 degrees C).
To shape, roll dough out to a 20×5-inch rectangle. Cut in half crosswise, and chill half while shaping the other half. Roll out to a 15×5-inch rectangle.
Cut into three 5×5-inch squares. Cut each square in half diagonally. Roll each triangle lightly to elongate the point and make it 7 inches long. Grab the other 2 points and stretch them out slightly as you roll it up.
Place on a baking sheet, curving slightly. Let shaped croissants rise until puffy and light. (Use off cuts to make Danish pastries).
In a small bowl, beat together an egg and 1 tablespoon water. Glaze croissants with egg wash.
Bake in the preheated oven until crisp, flaky, and golden brown, about 12 to 15 minutes.