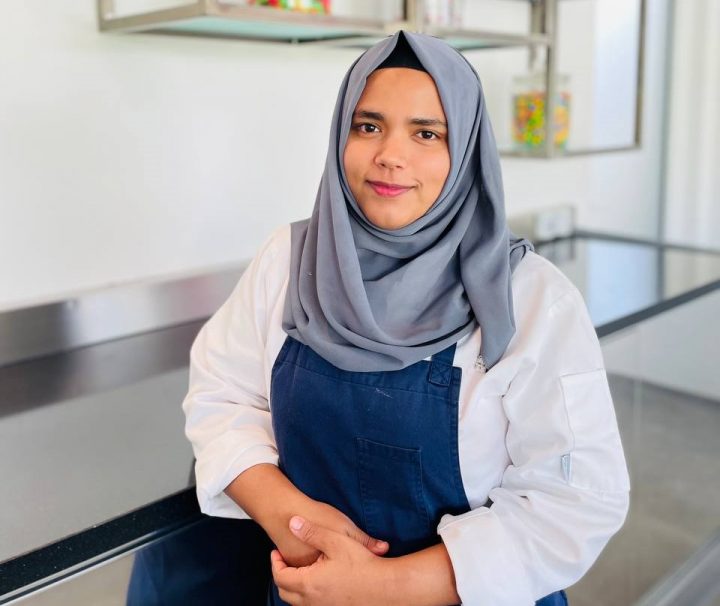 Chef of the Month: Mariyam Lahufa, Jumeirah Maldives Olhahali Island
Mariyam Lahufa (Lahu) is the Commis II at Jumeirah Maldives Olhahali Island. Originally from Ulkulhas in Alif Alif Atoll, Lahu had a somewhat unorthodox start into the culinary field, choosing to study for a degree in Marketing and Management, a far cry from the kitchen. However, she had always been drawn to cooking, inspired as a child by her mother and grandmother. Hotelier Maldives spoke to Lahu about her journey into the culinary field and her aspirations for the future.
HM: What drew you to the culinary profession and started you on your journey to become a Chef?
Lahu: I've always loved to cook. As a child I watched and helped my mother and grandmother, plus I was fascinated by Master Chef and took a few cooking classes. Even when I was studying in Male' for my degree I would cook for my friends, they would bring round the ingredients and I would make something. It was always something sweet as I've always had a sweet tooth. This made me start looking around for internships to see if I could find a way of trying out what it would be like to work as a Chef, but I didn't find anything in Male'. Luckily for me, I had a close friend Chef Nemy who was working in the Pastry at LUX* North Male', he asked if there was any opening and as they were really busy at the time, I was offered a six-month internship.
HM: Where did you learn your skills?
Lahu: Most of them have been learnt "on the job", as before my internship I only knew the basics. Chef Nemy became my mentor and gave me the biggest eye opener into what a career as a Pastry Chef could be, he also helped me with adapting to resort life. It was my first time in a resort and there was so much to learn, so it was hard work and very challenging, but I loved every minute of it. Chef Nemy really helped me refine my skills within the world of Patisserie. However, I've also learnt a lot from Chef Jitender who taught me how to use different ingredients and flavour combinations. The whole team helps me, which is why I've learnt so much in such a short time.
HM: Did the pandemic affect your career path?
Lahu: If anything, it helped me, all my degree classes moved to online so I could work and study. It also gave me a chance to explore my creativity and gain more knowledge. During the pandemic there was a smaller team, so I was able to experience other fields within the kitchen apart from pastry.
HM: Who has had the greatest influence on your career to date?
Lahu: Firstly, it was definitely Chef Nemy, who had been a friend and an inspiration for several years even before I became an intern. Then there is the team I am working with currently. Chef Jitender gave me the best advice on how to improve and refine my skills. Chef's Sanjib, Randika, Zaan, and Raspreet are my biggest helpers. They teach me the best ways to play with ingredients and techniques on how to use them. Last but not the least, Executive Chef Taylor and Chef Alex who give us the best chance to shine and encourage us to join in with the guest cooking classes which has given me opportunities to interact with the guests, whilst watching and learning.
HM: What do you consider are the key attributes / skills required to become a good chef and what have you learnt on your journey so far?
Lahu: Having a good attitude and discipline. Be willing to learn and change. Teamwork, caring for, and helping each other. Work tidily and efficiently and respect both people and ingredients. Have integrity in everything you do and communicate.
For me, I have changed a lot! Working in a kitchen and as part of a team has helped me develop far more than my degree course did. I have far more self-awareness and am more confident as a person, plus I've learnt how to communicate and interact with so many types of people from different cultures. I've also met lots of interesting people both as teammates and guests.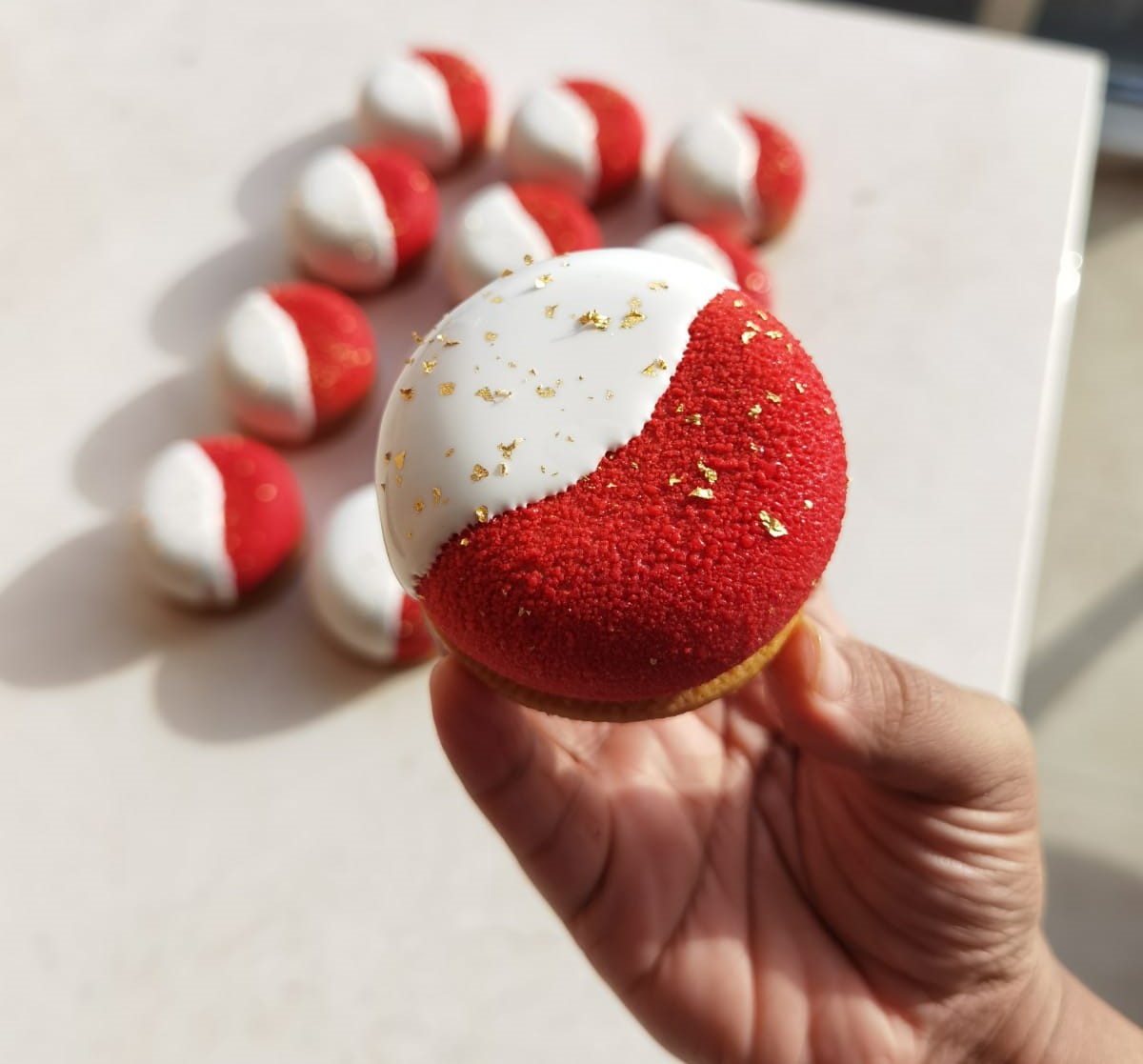 HM: Of all the many facets of your role, which do you enjoy the most / find the most rewarding
Lahu: There are so many things, and I am still learning. We make our own ice-cream, so I enjoy working in the ice cream shop, and love glazing work. Definitely the most rewarding is getting appreciated by my guests and seeing their smile. I also love being busy and helping other team members.
HM: What do you consider are upcoming food trends in the Maldives and why?
Lahu: Certainly more focus on using local produce and traditional dishes reimagined in a more modern way. Many of the younger generation of chefs are more aware of preserving our culture and are experimenting with local ingredients.
HM: Tell us a unique / interesting fact about you
Lahu: I finished my Marketing and Management degree by virtual studies which I'm very happy about. I used to be extremely quiet and shy but working with a team has really given me self-confidence. Kitchen wise, I think it's that I never give up on what i am working on until it has reached perfection. I also experiment and like to create new dishes that are true to my routes.
HM: What do you do to relax?
Lahu: Watch thriller movies and my guilty pleasure is online shopping for perfumes!
HM: What has been the highlight of your career to date?
Lahu: Getting offered my current job, which started off as an internship is something I will never forget. Within three months I was offered a commis III position which I jumped at. I was promoted to commis II in January this year, so I feel very proud of myself.
HM: What does the future hold for you?
Lahu: I've only just started so I still have so much to learn. I want to develop as a person and as a Chef, so I'd love an opportunity to work abroad. I have always been drawn towards chocolate work (I love chocolate), so I want to develop those kinds of skills and become a chocolatier. My dream is to have a small cake shop on my island.
HM: What one piece of advice would you give aspiring chefs?
Lahu: Your biggest inspiration is yourself, so always try to do better than yesterday. A Bob Ross quote from a team briefing really stuck with me "we don't make mistakes we make happy little accidents".
HM: What is your favourite ingredient to work with?
Lahu: Sea almonds / Kanamadhu, which comes from my childhood. We used to collect them from under the tree and dry them in the sun. Nowadays they are much harder to find and more expensive, but they are so versatile and have so much flavour.
HM: Do you have a favourite / signature recipe to share?
Lahu: Certainly, its Papaya and Kanamadhu tart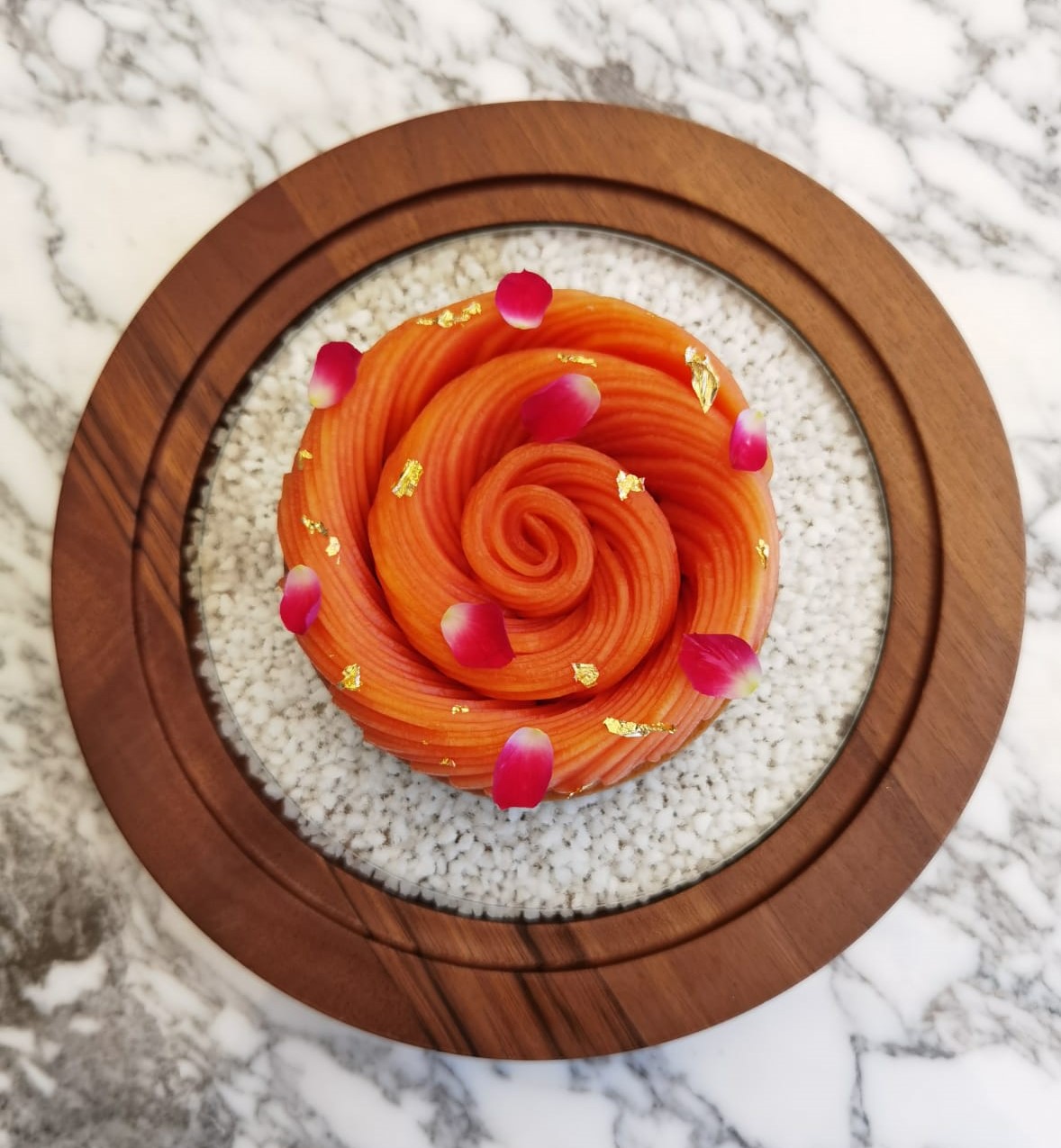 1) Tart shell
Butter 360g
Icing sugar. 180g
Sea almond powder. 92g
Hazelnut powder. 92g
3g
504g
Egg yolks. 168g
Mix all the dry ingredients together with the butter, except the egg yolks
Once it forms a dough add in the beaten egg yolks. Roll the dough out and line a 9-inch tart ring. Bake at 160 degrees for 10 to 12 mins until golden brown
2) Frangipane
Almond powder 160g
Sea almond chopped 50g
Caster sugar 200g
Butter 200g
Flour 80g
Eggs 4 nos
Beat the sugar and butter till light in colour, add in the eggs and mix till incorporated. Sift in the flour and mix until you don't see any dry spots. Pipe the frangipane into the blind baked tart shell and press some whole and chopped sea almonds into it.
Bake at 170 degrees for 10 to 12 mins
3) Coconut and pandan cremaux
Coconut puree 160g
Pandan leaves 4 pcs
Egg 190g
Sugar 45g
White chocolate 135g
Cocoa butter 6g
Gelatine mass 28g
Whisk together the eggs and sugar. Heat the puree and pandan leaves to a simmer and slowly add into the egg mixture. Return the whole thing to the heat and keep constantly whisking it.
4) Sugar syrup
100 g sugar
50 ml water
10 g rose water
4 pcs pandan leaves
Heat everything together until the syrup gets thick
Last thinly slice papaya and arrange according to your creativity, then brush them with the syrup.
Chef of the Month series features interviews with some of the top chefs in the industry and their signature dishes.
Read the first article of the series: Ali Ziyan, Milaidhoo Island Resort