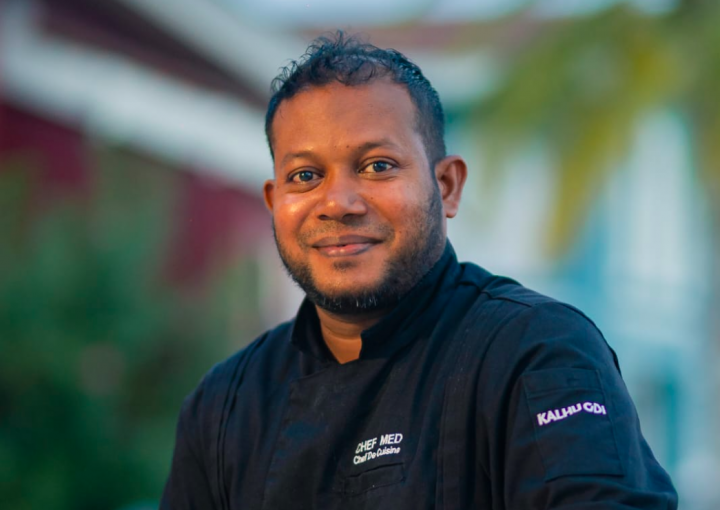 Chef of the Month: Mohamed Shujau
Mohamed Shujau is the Chef de Cuisine at Kalhu Odi Maldivian Restaurant at Crossroads Marina
Growing up in a large family in Hithadhoo, Addu, Shujau was surrounded by food from an early age. His father would provide fish that his mother and grandmother would prepare or pickle for family meals, events, and gatherings.
Disillusioned by the school system, Shujau decided finding a career would be more sensible than A levels. A number of his brothers and cousins worked at nearby resorts, but young Shujau wished to aim higher and researched options at the 5* properties. He found an advert for an apprenticeship scheme. He joined the program with the sole intention of using it as a learning platform to further his career. His mother persuaded him to stay with the company.
The decision was the start of a 15-year journey that took him to Bangkok, Singapore, Texas, and Egypt to always learn and improve his skills. Hotelier Maldives sat with Shujau to learn more about his career path and aspirations for the future.
HM: What drew you to the culinary field to become a Chef?
MS: Although as a child, I always enjoyed helping my mother and grandmother in the kitchen, initially I was drawn to the opportunities the culinary field could offer as opposed to the actual cooking. The apprenticeship program at Four Seasons really opened my eyes to the possibilities a culinary career could offer. In 2001, I chose the F&B apprenticeship as I saw the potential to grow and gain recognition, as at that time there were very few Maldivian chefs.
HM: Where did you learn your skills?
MS: A lot of the cooking basics came from helping my mother and grandmother. I learned to prepare traditional Maldivian food and pickle vegetables and fish. These skills were enhanced by the apprenticeship program during the theoretical and practical classes by experienced master chefs from Sweden, Japan, and France. I excelled at Japanese cuisine and received the opportunity to help in the Japanese restaurant in Four Seasons Sharm El-Sheikh. My skills were developed by each of my Exec Chefs from several of Four-Season properties abroad. I discovered that the skills I learned from the apprenticeship program gave me an advantage over others in the kitchen. I progressed quickly before returning to the Maldives as part of the pre-opening team at Landaa Giraavaru. Later, when I joined Minor International Hotels, I gained more skills, including Italian cuisine and menu creation.
HM: Who has had the greatest influence on your career to date?
MS: My mom! She is a great cook, so I learned a lot of her techniques and the authentic methods of preparing local foods. She was also the person who pushed me to stay at Four Seasons, which turned me into the professional I am today.
HM: Of all the many facets of your role, which do you enjoy the most / find the most rewarding?
MS: Customer satisfaction, seeing happy faces and hearing great comments is very rewarding. This is why I love Japanese cuisine and being out front in direct contact with the guests. When you are in the back of the house, you only get told the comments.
HM: Did the pandemic affect your career path?
MS: Yes, big time! Although it did give me a chance to spend time with my family. The pandemic also provided a turning point for my career in a way I hadn't considered.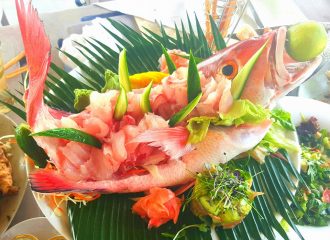 Featured Image: Red Snapper dish by Chef Mohamed Shujau
HM: What enticed you to your current property?
MS: It happened during the pandemic. My sister suggested I keep my skills sharp by doing some catering for offices. I found out that a local entrepreneur was seeking a talented local chef to take Maldivian cuisine to the next level, but had had very few applicants. I discussed the potential and what changes I could bring to the community with a few key chefs. I told myself, "I can do this!" I applied and began developing menus for the first Maldivian "fine dine" concept. It gave me the opportunity to use responsibly sourced local ingredients that support local fishers and farmers. Everything is fresh and most things are made from scratch, as our grandparents used to do in the past.
HM: What do you consider are the key attributes / skills required to become a good chef?
MS: I have a few:
Begin your work with a smile and greet everyone daily.
The chef must try new things if they are determined to make every meal great.
Be consistent at work. Work hard but also work smarter.
Be adventurous at work. Explore the cuisine, take risks, make mistakes, but carry on.
Keep learning every day as it builds your experience.
Communication is very important. Talented chefs should express their culinary vision to their co-workers.
Teach those younger than you what you have learned so that they can continue and expand on their journey.
HM: What do you consider are the greatest challenges to working in a kitchen? 
MS: Lack of equipment and space! Both increase the workload required to meet customer expectations.
HM: What has been the highlight of your career to date?
MS: I'm really lucky to have been able to explore many countries' cultures and traditions. I take this inspiration to my menu and restaurant concepts. One of the key highlights was in 2005, I was a commis and helped twenty international guest chefs at the world gourmet festival in Thailand. Another achievement I am proud of is being nominated twice as 'Leader of the Year' at Anantara.
HM: What do you consider are upcoming food trends in the Maldives and why?
MS: Several things have changed since the pandemic. Demand for delivery is enormous, so most restaurants in the Greater Malé Area now offer it. There is also more demand for fine dining outlets as opposed to the casual family style we had before.
More people are looking for healthier options, especially amongst the younger generation. Thus, I think the demand for Japanese food will increase as it is healthy and gaining in popularity, so there will be a need for Japanese chefs.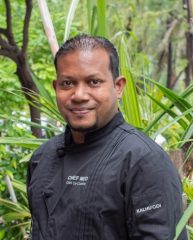 Featured Image: Chef Mohamed Shujau
HM: Tell us a unique/interesting fact about you?
MS: I achieved trip advisors' number one ranking for two years for the Seafire Salt restaurant when I was at Anantara Maldives Dhigu. I also love playing Garlando (table football) and have won a few tournaments.
HM: How do you spend your free time?
MS: I play table football or sometimes I go reef fishing. On my off days, I spend time with family and friends as it is easy to get to see them from Crossroads.
HM: Where do you see yourself in 5 years' time?
MS: I want to become an Executive Chef of a reputable resort in Maldives where I can gain recognition to develop a franchise of Maldivian restaurants in upcoming resorts. I'd also like to be part of creating a professional cooking school where we can share the culinary experience with many new beginners.
HM: What is one piece of advice would you give aspiring chefs? 
MS: Being a chef is very rewarding and takes time to learn, but is not as complex as people think. It's simply the art of making meals to balance the pallet of your customer. To achieve that, you must have skills, philosophy and always think positively. Don't get frustrated and shout as it doesn't serve any purpose.
HM: What is your favourite ingredient to work with?
MS: My favourite ingredient is bonito flakes. These dry fish flakes can be used in thousands of dishes with unbelievable flavours. It is, "the Umami secret…"
HM: Do you have a favourite / signature recipe to share? 
MS: Yes, it's a Seared Maldivian yellowfin tuna
Seared Maldivian Yellow Fin Tuna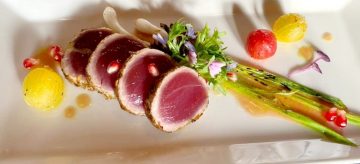 Ingredients
350 g tuna steak
120 g scallion whole cleaned
110 g cherry tomatoes
50 g pomegranate gems
Sauce
1/2 cup mayonnaise
2 tablespoons minced green onions (white and green parts)
1 teaspoon radish paste
2 tablespoons rihaakuru cream paste
1 tablespoon tuna broth
1 tablespoon unseasoned rice vinegar
4 8-ounce tuna steaks (preferably ahi; each about 1 inch thick)
vegetable oil
Preparation
Whisk the first three sauce ingredients in a small bowl to blend, adding more radish paste if desired. Cover and refrigerate.
Whisk rihaakuru sauce, tuna broth sauce, and rice vinegar in a small bowl to blend to make a paste
Place tuna steaks in a resealable plastic bag.
Add teriyaki style rihaakuru paste and seal the bag.
Turn the bag to coat. Let stand at room temperature for 30 minutes, turning the bag occasionally.
Brush the grill with vegetable oil. Prepare barbecue (medium-high heat). Drain tuna steaks.
Grill tuna to desired doneness, about 4 minutes per side for medium. Set aside to rest.
Grill mark the scallions and rest aside to lose the juices.
Top each tuna steak with about 2 tablespoons of radish mayonnaise and serve aside with sprinkled pomegranate seeds and truffle scent.