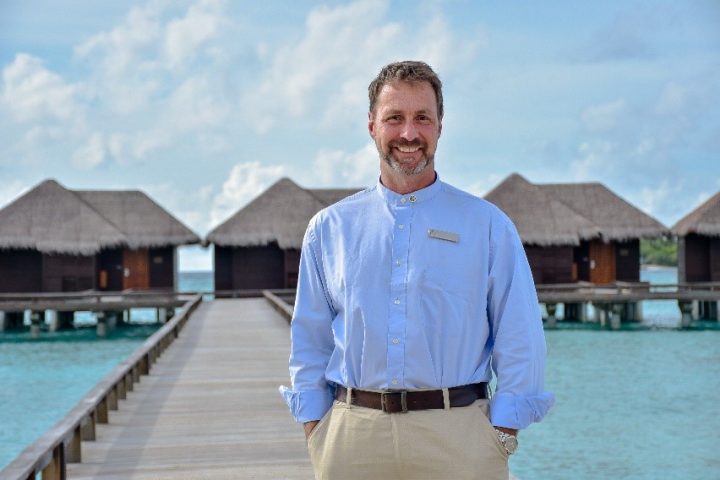 GM's View: Emilio Fortini, Sheraton Maldives Full Moon Resort & Spa
Emilio Fortini is the general manager of Sheraton Maldives Full Moon Resort & Spa. As a seasoned hotelier with over 35 years of hospitality experience in the Asia Pacific region, Emilio joined Rydges hotels and resorts in 1995 after 12 years with independents. He has held several management positions specialising in food & beverage. Sheraton Maldives Full Moon Resort & Spa on Furanafushi Island has a diverse range of room types ranging from idyllic cottages to secluded villas and lavish over water bungalows, villas and suites. Emilio speaks exclusively to Hotelier Maldives about what it is like being the general manager at Sheraton Full Moon Resort and Spa.
HM: As the role of a general manager largely involves leading and directing people, do you adhere to a certain management style or philosophy?
The question about management style is a quite common one, and I believe that it is more about our own philosophy than a specific style. Leading teams successfully hinges on adhering to a few basic principles, which would, in a nutshell, translate to treating people like you would like to be treated. It is about honesty, integrity, setting and sharing common goals and targets, mutual respect and having clear and realistic expectations. I try to be fair with everyone, always respectful (particularly towards the hard-working front-line associates), but firm with department heads and managers who are tasked with driving consistency, efficiency, ethics and standards. I try to instill into everyone a sense that nobody is above any kind of work, that in times of need we all need to help each other out and that "it's not my job" should not exist in our vocabulary. An open-door policy is important, as all associates should feel comfortable in discussing any concerns or ideas at any time, and regular discussions with the teams are crucial for a better mutual understanding.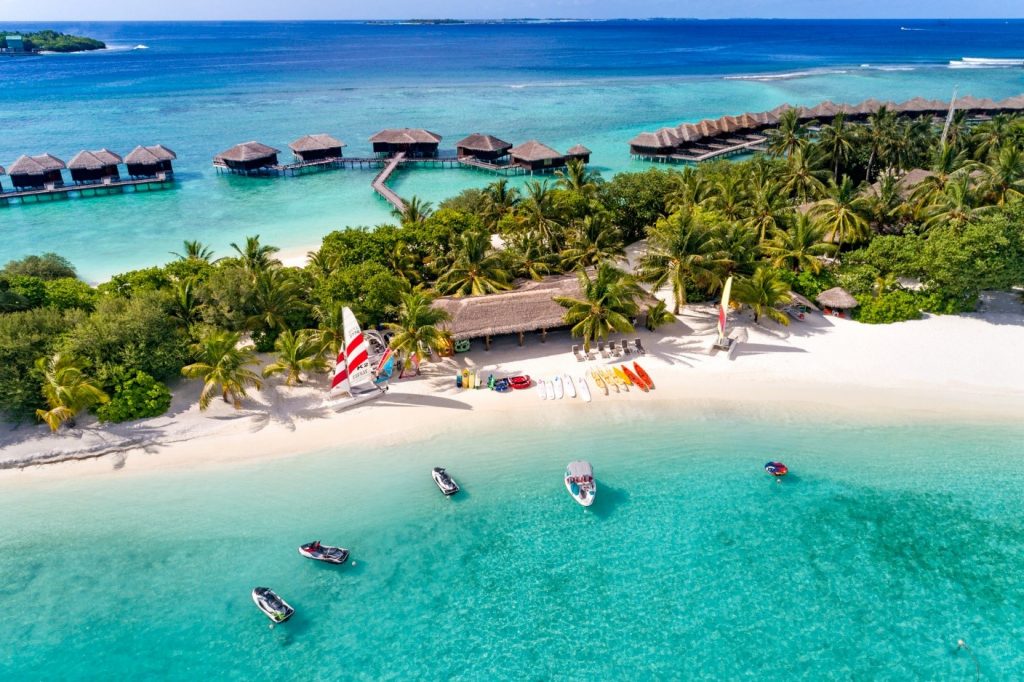 HM: You've worked in the Maldivian tourism sector for quite a long time, what are the main changes within the sector that you've observed over the years and are there any changes you anticipate for the near future?
The main changes I can see relate to the destination itself, once seen as the playground for the rich and famous only. We see more and more families coming to enjoy this slice of paradise, as well as less affluent tourists. Luxury and super luxury resorts continue to appeal to the elite travellers, however we see more and more affordable options that cater to a greater cross-section of tourists. Pandemic aside, the major increase in tourist arrivals into the Maldives has not been at the higher end of the spectrum but rather in groups that up until a few years ago could only dream of ever coming to vacation in the Maldives. We are also seeing a bit of a shift in guest attitudes towards the kind of holiday they want to experience. Whilst some will still want to come and simply relax by the beach for a week or two, more and more guests are looking for experiences, cultural immersion, sustainable activities or environmental tourism. This change has been happening around the world for some time, and it has now reached the Maldives, who, once things return to some sort of normality, has a great deal to offer its visitors. I think that over the next few years we will see more and more focus on experiential tourism and environmental awareness. As we see the world changing, I believe that the Maldives have a great opportunity to show the rest of the world that great things can be done to support the efforts made towards maintaining pristine environments and protecting the natural resources that ultimately attract visitors to the region, minimising the impact that we have on this part of the globe. I also believe that the Maldivian culture will be a star attraction in the future, one that can and should be shared more with our visitors. Traditions are unfortunately being lost in every continent, but cultural tourism is a great way to keep them alive and to expose guests to the breadth of the unique Maldivian history and lifestyle
HM: How has your experience prepared you to work in the Maldives?
I come from what you might call a family of vagabonds, and so far, from a young age, I have moved 32 times in various countries and locations: cities and tropics, mainland and islands, large and small properties. This has helped me adapt relatively quickly to new environments, challenges, cultures and business trends. Whilst the Maldives are unique in a lot of ways, integration and adaptability come naturally to me now, and I enjoy every move I make. Every move is a learning curve, as was my initiation in the Maldives, but I have enjoyed every single challenged that crossed my path.
HM: What is your most memorable island moment?
I don't know that I can pinpoint an exact time that I would consider the most memorable. Every day is special on the island, every interaction is special, every comment from our guests is special. My arrival to the Maldives was certainly memorable, as it is a country that I have been wanting to come to for quite a few years. It was impractical until a few years ago, as our children were still of school age, but eventually we made it here. The launch of our coral propagation program is also very close to my heart. Reefs are struggling around the globe, and anything that we can do to safeguard, protect and regenerate our local reefs will go a long way towards slowing down the environmental impact that reef damage will have on marine life and coastal areas. We were lucky enough to partner with Reefscapers and relocate coral colonies from a lagoon due to be reclaimed. Reefscapers manage our coral propagation project here at Sheraton, spearheaded by the "adopt a frame" program that our guests can participate in. They also built one of the largest man-made coral structures in the Maldives by developing several coral pyramids in our lagoons. These constructions have already seen new coral growth in just a few months, as well as the return of a multitude of fish varieties that had not been seen in this area for quite a few years.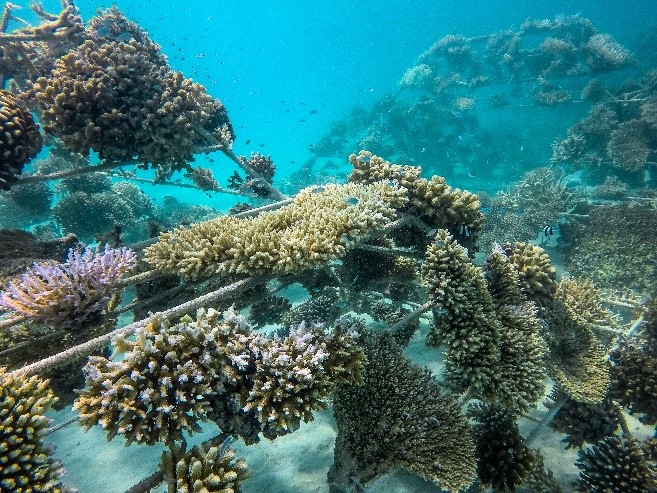 HM: Do you have any advice for hoteliers joining the industry?
It is an industry that has a lot to offer, that is constantly changing and adapting, and that can yield great satisfaction. Anyone looking to become wealthy might want to consider another field, however for those who are passionate about hospitality, guest experiences, connections with people from all walks of life, the hospitality industry is one that offers more than many other careers. It is a great opportunity to travel the world, so anyone growing up in this industry should never be afraid to embrace change or travel and should jump at the opportunity to grow in different geographies. The take-aways from experiencing different cultures, guests, locations and work practices are not something you can buy and the opportunity is definitely something that should be embraced by all who want to develop and grow.
HM: What hobbies do you enjoy when you are not at work?
It obviously depends on where I am currently working. Exercise and fitness are things I enjoy and take with me wherever I go, as they allow some private time and personal head space. I enjoy reading and going to the movies when possible. I like making things, when I have the space and materials available, and whilst I'm not particularly good at it, I enjoy making furniture from recycled wood when the situation permits.
HM: What qualities make a good general manager?
In terms of experience, I think that a good general manager is one that is well rounded and has experienced all facets of the operation. Experience not only helps in finding solutions when required, it also teaches us that we constantly need to adapt and change our approach to how we do things. The world, and consequently our guests and our business, are rapidly and constantly evolving, so having experienced various situations in different circumstances is very helpful. On a more personal level, being able to read people is important, as is the ability to listen. This does not mean that we need to please everyone all the time when making decisions, but we need to be able to make the right decisions for the business as well as for our colleagues, so being able to understand their needs is also important.
HM: What steps does one need to get to become a GM?
There is no set path to becoming a general manager. GMs may have a rooms background, or experience in F&B or sales or revenue or finance and depending on where your career has taken you so far, the steps will be different. There is one constant, though: to be effective in the role of GM we need to be able to make decisions for all departments, and the credibility and success of these decisions will be based on your previous experiences in those areas. More and more these days, everyone seems to be in a rush to move up the ladder, and there is nothing wrong with ambition and desire to grow. This ambition and desire, however, should be supported by the willingness to try different things that may be outside of their comfort zone, to sometimes take a sideways step (or even backwards) that will help each individual grow into a mature manager.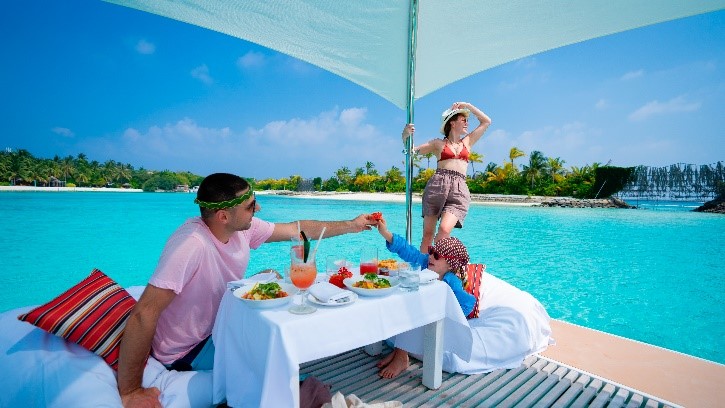 HM: You have worked in hotels around the world each must have their own merits, what do you love the Maldives most and do you see yourself staying here?
As mentioned earlier, the Maldives are special and unique. I have lived and worked in amazing locations, cities, tropics and islands, but unlike these other destinations, the Maldives have a global appeal that is unmatched: everybody wants to come and visit. And for a good reason: the majority of the workforce are locals, who take great pride in looking after our guests and in sharing their experiences, the sea and beaches are amazing, the water temperature never changes and marine life is abundant. The one-island-one-resort concept is unique to the Maldives, the combination of complete relaxation and active fun options is attractive, the fact that guests come from all over the world to experience the uniqueness of the nation makes working in the Maldives all that much more enjoyable. There are obviously no guarantees in anything that we do, however I have no plans to relocate elsewhere, and I really enjoy life on the island.
HM: What advice would you give to young hoteliers starting out?
It is not an easy industry to grow up in, it involves a lot of hard work, long hours, sometimes difficult situations, and unfortunately it is sometimes seen as a subservient industry, which it is not. A career in hotels and resorts is as rewarding as any other to those who have a passion for it, if not more. There are certainly greater opportunities in this field than in most others. My advice to those just beginning their hotel life, or just starting their managerial journey is to never stop learning, to be curious about what other associates and departments are doing, to disregard the negativity they might come across occasionally and to always remember the positives. A smile on a guest's face is more memorable than a complaint received, seeing a guest return after a great stay is surprisingly rewarding, an unexpected promotion is a great booster. Ours is one of the few truly global industries, one that allows those of us who are adventurous or have the wanderlust to travel, explore, experience new cultures and learn from peers around the world, so don't shy away from opportunities wherever they may be. Experience all facets of the operation, even those outside of your comfort zone, learn as much as you can from those around you, but most of all enjoy what you do, as this enjoyment is very visible and very contagious.
HM: What does Sheraton Full Moon offer that others don't? How do you consistently deliver on that promise?
When travellers think of the Maldives they think of a small secluded island, peaceful relaxation, total detachment, and it is hard to efficiently deviate from this ideal. We are all resorts on island with white sandy beaches and clear blue lagoons. But considering that the clientele in the Maldives has been changing over the past few years, that we see more families coming than before, that global travel is more prominent than ever (in normal times), we at Sheraton Maldives decided to have a slightly different focus, based on two key pillars: fun and food. Let's start with Fun: whilst a number of guests just want to relax on the beach or in the privacy of their rooms with private pools, more and more want the option to be active, to meet other guests during planned activities, to learn something about the destination and their culture, so we created a very comprehensive activities schedule separate from the traditional water sports and diving programs. At every hour of the day, rotating weekly, there is an activity or other that guests of all ages can join. Some signature Side by Side activities are designed for families and allow them to connect in a fun way (mum and daughter, father and son, parents and children). Some activities are run by our marine biologist and are more educational in nature. Some are specific cultural activities that connect our guests with the local culture, flora and fauna. Some are for relaxation or fitness. The idea is for everyone to have the option to either do nothing or do lots in a fun and educational way. Secondly, food: I am passionate about this, and sometimes very stubborn about it as well. My view is that as guests travel around the world more and more, they experience typical cuisines wherever they go. As our guests are usually confined to the island during their stay, we need to be able to offer a variety of dining options for the duration of their holiday. Whilst there is no set recipe for the mix and types of outlets and cuisines we should offer, my view is that if a guest orders an Italian dish, or an Indian dish, or a Thai dish or any other, they have a certain expectation of that that dish should taste like, because they probably had it somewhere in Italy, India or Thailand in the past. Maldivian food and cooking classes are also a big part of what we do here at Sheraton Maldives. Much to the dismay of many chefs around the world, I remain a purist in terms of food, and believe that classics and traditions cannot, and should not, be improved on. If a guest chooses Gulha from our Maldivian fish market buffet, it should taste the same as it would when purchased from a street vendor. If they order a pizza here at Sheraton Maldives, they will remember the one they had in Italy a few years ago, which is very important to me. This association of food and memories is crucial to the experience of the guests, and this is what we strive to achieve in all our outlets.
HM: Are there any exciting upcoming events we should know about?
The current global situation and travel restrictions have forced us to shelf most of our plans for this year. Our year-end festivities and NYE bash will obviously stay, and I hope that the world normalises a little before then. However, we are now preparing a calendar for 2022 with celebrity chefs and winemakers, themed holidays aimed at specific psychographics and more. This calendar will be released in the next few months with more exciting details.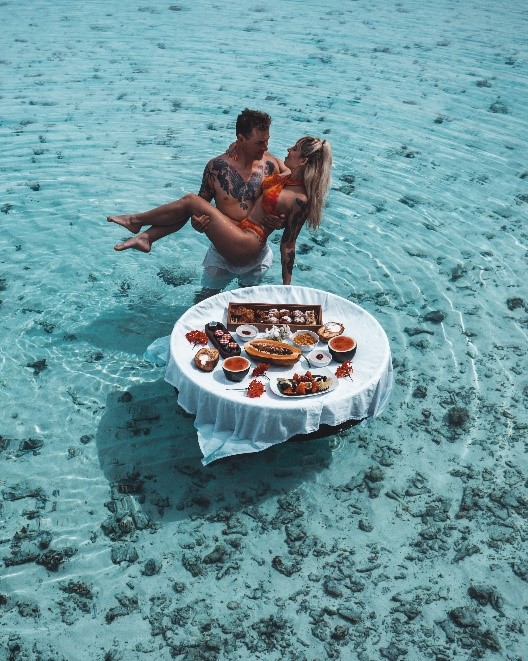 HM: What luxury experiences are available?
When you think of special experiences in the Maldives you automatically think of sandbank picnics, romantic beach dinners, movies under the stars, wedding vows and renewals, sunset cruises, all of which are available at our resort. In addition, we also offer private lagoon sunset champagne cruises on HamacLand, a unique and special experience. I think that a "luxury experience" is not necessarily related to price and glamor but more relevant to how it makes the guest feel. A private dinner with off-menu dishes, prepared by a specialty chef and with some local entertainment is as much a luxury experience as a sunset cruise on an 80" cruiser.
HM: What challenges have both resorts faced during the pandemic?
The pandemic has caused havoc across our industry worldwide, and last year the Maldives were not immune to this chaos. As the borders closed in late March 2020, the resort also closed its doors for six months, re-opening to a  slow start in October and November. Unexpectedly, December saw a great uplift in bookings and visitors, which held strong until the end of April. This posed a number of challenges, as our team was downsized in order to ride the downturn, and associates could not be brought back in time to cater for the influx of guests. I believe the summer will be tough, and hope that business will normalise again towards the end of the year. Our mix has changed, obviously. With so many travel restrictions around the world, we have seen very little from Europe, South East Asia and Oceania in the last eight months, but on the other hand we saw a substantial increase from Russia and CIS, Middle East and South Asia. As parts of the world re-open, travellers will have more options globally which may challenge our industry for the next few months, but we remain hopeful that the international appeal of the Maldives, combined with the safety of a holiday on an island, will continue to bring visitors to the country.
HM: What culinary experiences are available on the island?
We have seven outlets at the resort: Feast is our main buffet restaurant, offering international fare for breakfast and themed buffet dinners Anchorage Bar is our main beachfront bar and restaurant, with great Mediterranean selections and amazing pizzas all day Baan Thai is our traditional Thai restaurant Masala Hut delivers typical northern and southern Indian dishes for lunch and dinner Sea Salt is our specialty Seafood restaurant, converting soon to an Italian Seafood Restaurant ChopstiX focuses on dim sums, noodles and traditional Chinese fare Kakuni Hut is our other beach bar, serving Caribbean specialities for lunch on the beach The focus for each and every outlet is on tradition and freshness, using nothing but the best ingredients available locally and from overseas.
HM: What is your opinion of vaccination tourism and will your resorts participate in it?
I am a great believer in vaccinations, and I think that global immunization is the only way out of this pandemic. Whilst the current vaccines do not necessarily stop the spread of the disease and vaccinated individuals can still be carriers and transmit it, the purpose of the available, and quickly-developed, vaccines is to stop the population from getting too sick and to avoid putting so much stress on the medical systems around the world. As a destination I think we have done relatively well, and aside from a few supply challenges, we can honestly tell the world that as a result of the vaccination process and of the geography of the country, our resorts are probably amongst the safest places to be right now. Here at Sheraton Maldives we are very particular about processes and protocols, and we do the utmost to protect guests and associates alike. Marriott have very stringent protocols globally, and combined with local regulations, our resorts are as safe as they can be. Vaccination tourism is a great idea in principle, as the more people are vaccinated in the world the sooner we can return to some sort of normality in our industry. We need to be mindful of vaccine availability around the globe, and to ensure that access to tourist vaccines is fair when considering the less fortunate, however if the global supply is sufficient and the opportunity arises to vaccinate more travellers, we would certainly participate in this Government backed initiative.
HM: What staff development opportunities are there available on your resorts?
There are always opportunities available at our resorts. The nature of the business is such that associates move on, change roles, look for other opportunities, leaving gaps to fill in several positions. Marriott International has very comprehensive training programs for all associates at all levels, some of these are self-paced, some are structured, some involve cross training, and all are available to our people in the Maldives. The opportunity for growth is immense, with over 7,400 properties worldwide and new opening almost daily, and for those who choose to make hospitality their career of choice, who want to explore new horizons, Marriott offers more opportunities than most. We have worked in the past with the Universal Foundation, giving young school leavers the opportunity to test their interest in our industry, combining a short industry course with an internship at the resort. We hope to be able to resume this programme soon.
What new developments are on the horizon in your resorts?
We are obviously excited about the recent openings of the Ritz Carlton Fari Islands, North Male Atoll, and the forthcoming opening of Le Meridien Maldives in Lhaviyani Atoll. These amazing new properties join the portfolio of five existing resorts currently operating in the Maldives (Sheraton, Westin, W, JW Marriott and St Regis). With seven properties soon in operation, Marriott International will soon cater for guests at all levels, in both speedboat and sea plane destinations. Marriott International is always on the lookout for new agreements and conversions, and because the Maldives are one of the few performing regions in the world, who knows, there may be other announcements in the future.
Emilio Fortini is also a member of the Advisory Panel for Hotelier Maldives GM Forum. He will be giving a keynote speech at the upcoming GM Forum scheduled for 23rd September 2021 at Paradise Island Resort.